The iRobot, the company that pioneered the autonomous house cleaning space, has just outed a new version of their popular house cleaning bot. And it's now armed with a new sense: sight.
The seventh-generation Roomba 980 goes on sale in the US for $899 Thursday. Among its new features: An on-board camera, the ability to connect to home WiFi networks, and a companion app. Taken together, the 980 is the smartest robot in the Roomba lineup, one that could make itself right at home in a future hyper-connected household.
"iRobot is entering the 'Internet of Things,'" said Colin Angle, company founder and chief executive. "It's the biggest thing that we've done since we launched Roomba."
The company says it has sold 14 million home robots, including pool cleaners, floor scrubbers, and gutter cleaners, since the first Roomba Intelligent FloorVac went on sale in 2002 for $199.95. But the robotic vacuum cleaner is the most popular of the lot.
Also See : [p2p type="slug" value="samsungs-project-valley-foldable-smartphone" attributes="target='_blank'"]Samsung's Dual-Screen Foldable Smartphone Might Launch In January[/p2p]
The Roomba 980 continues the traditional disc-shaped design. Its guts include the "brushless extractors" that are supposed to suck in dirt and hair without getting them tangled in bristles, and the iAdapt cleaning software, both of which debuted in its predecessor, the Roomba 880. A more powerful lithium ion battery gives the 980 a full two hours of run time.
The low resolution notwithstanding, this vision system is actually quite advanced. Born out of military applications that enable much larger autonomous robots to navigate across minefield-ridden terrain, the system is called Visual Simultaneous Localization and Mapping (vSLAM). It's key ability is to deliver the ability to understand the device's own location in the environment in relation to its surroundings, enabling it to determine a more optimized travel path.
Also See : [p2p type="slug" value="qualcomm-snapdragon-flight-the-technology-to-develop-advance-drones" attributes="target='_blank'"]Qualcomm Snapdragon Flight – The Technology To Develop Advance Consumer Drones Ever[/p2p]
The [p2p type="category" value="applications" attributes="target='_blank'"]app[/p2p] adds a layer of convenience, one that home-owners have come to expect of other appliances, like their thermostat. It includes tutorials to use the instrument, keeps a record of cleaning sessions and distance tracked. At the store and expecting company? The app lets you start the Roomba remotely.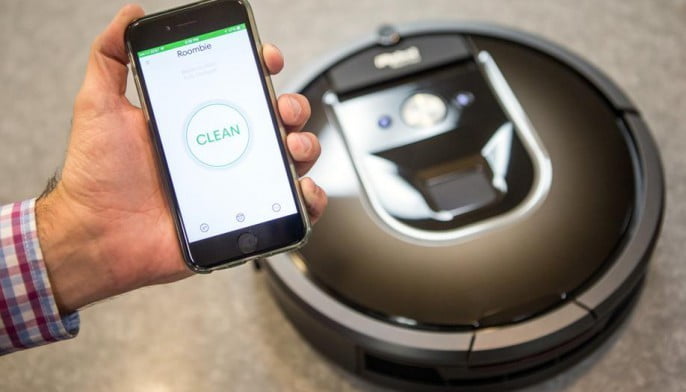 Colin Angle, company founder and chief executive and the founders of iRobot started off thinking about robots for space, but they very quickly became serious about robots for the home. Almost 15 years since the company launched, that goal hasn't changed.
Watch the power of this little beast: