We all love our privacy, especially the online privacy nowadays. Since we are using devices powered with operating systems developed by multi-million cooperates, privacy and security are just a myth.
Today the World only knows two mobile platforms — Android and iOS. One is under control of the search engine giant, Google, who own 90% of the internet world and the other under Apple, who only build devices with a luxury price tag.
But what about a device that respects our online privacy and gives us the full authority of its control. Yes, a company named Purism is soon going to launch a similar phone — Purism Librem 5.
Librem 5, runs on Pure OS — a derivative of Debian GNU/Linux main — primarily focuses on security and privacy of the users. Recently Librem 5 has met its $1.5 million crowdfunding goal with 2 weeks left in the campaign, Purism plans to start working on the next steps for bringing the phone to market.
Initial crowdfunding days, made everyone think Purism wouldn't make its $1.5-million goal. But after the incredible support from GNU/Linux enthusiasts and the Free/Open-Source community at large, forging partnerships with KDE and the GNOME Foundation help them to cross the milestone.
Now about the super secure smartphone, Librem 5 is going to be world's first encrypted, open smartphone ecosystem that gives complete device control to users. Running Free/Libre and Open Source software and a GNU+Linux Operating System made this possible.
As we already mentioned, the smartphone runs on PureOS, which comes with the best Free/Libre privacy and security software and apps for privacy "out of the box". The phone also comes with Hardware Kill Switches for Camera, Microphone, WiFi/Bluetooth, and Baseband — means you only connected when you want to be, no automatic background services.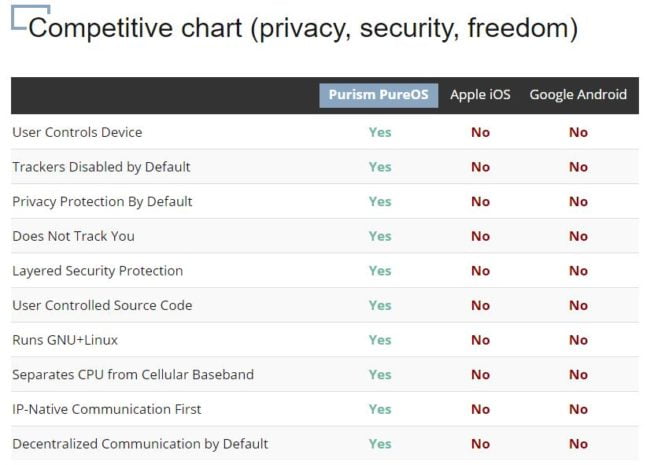 Purism only shared a little information about the hardware side of the device. Librem 5 will be equipped with 5 inch screen and works with 2G/3G/4G, GSM, UMTS, and LTE networks. And also it uses an i.MX 6 or i.MX 8 CPU, that separate from baseband to offer protection from modern communication challenges.
Since the company is boosting its hardware production as soon as possible to assemble a developer kit as well as initiate building the base software platform, which will be publicly available and open to the developer community.