Are you looking for ways to build a loyal community around your personal or company brand? Do you want to skyrocket brand awareness, build your influence across social platforms and drive organic, high-intent website traffic? Wouldn't it be great if you could generate qualified leads and drive more sales without escalating marketing costs?
If you've answered "yes" to any of the above questions, chances are you're already working on a social media marketing strategy.
Social Media Linking: Benefits and Limitations
With more than 3.6 billion users worldwide, social media has emerged as one of the most powerful digital marketing channels. It's a great medium to distribute the content you create, showcase your products, create a buzz about your brand, and establish a personal connection with your target audience.
Despite all its benefits, social media marketing has a few shortcomings. One of the biggest limitations is that platforms, like Instagram and TikTok, don't let users add any clickable links to their posts. Even if you include a URL in your caption, it won't add a hyperlink to the desired web page. While there's an option to add a URL in your bio, your options are restricted to a single link.
That makes it difficult for business owners and marketers to compel their audience to take desired action. Even if you add a link in the bio, you'll have to change it every time you implement a new marketing campaign.
That's where link-in-bio tools step into the picture. These tools let you create a custom landing page where you can add links to various content assets and product pages. All you need to do is add the landing page URL to your bio.
A simple Google search for link-in-bio tools will overwhelm you with options. But it's worth noting that all these tools aren't created equal. In the following sections, we've handpicked the top link-in-bio tools that'll help you drive website traffic and sales. Let's take a look.
1. LinkFolio
Developed by the people from influencer talent agency FamePick, LinkFolio offers all the features you'd expect from a standard link-in-bio tool. What sets it apart is the ability to sell products and services and directly collect payments on the LinkFolio landing page.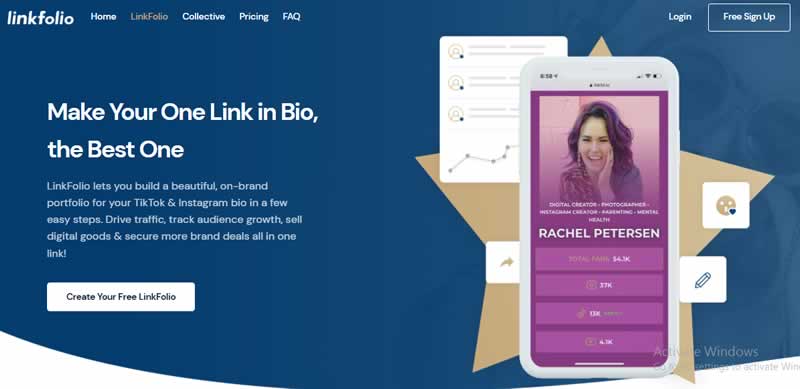 That makes it suitable for new-age content creators who are looking to make money through online courses, digital products, and merchandise. Also, it comes with an in-built contact form that simplifies lead generation.
2. LTX.bio
Developed by Lightricks, LTX.bio is a feature-packed social media bio link tool. It comes with a ton of sophisticated features that let you boost audience engagement and compel them to take the desired actions. Whether you want to get more newsletter signups or drive Instagram followers to product pages, you can add a wide array of calls-to-action (CTAs) using the tool. You can even use it to aggregate your latest posts from social media platforms.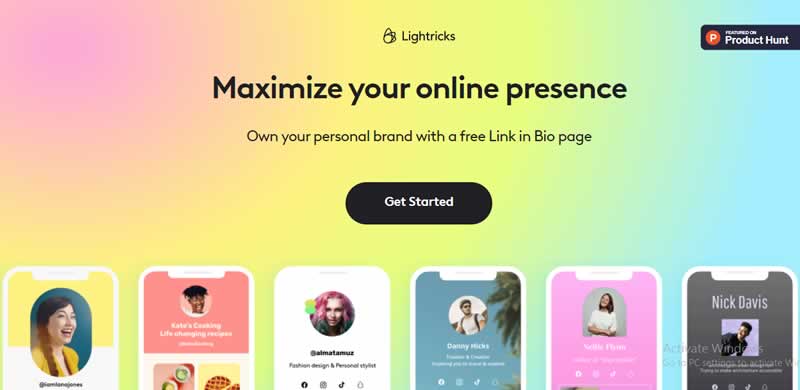 The best part is that LTX.bio offers a native "tip jar" tool to collect donations from your followers. It's particularly useful for content creators who are looking to monetize their social media communities.
3. Linktree
Linktree is one of the most popular link-in-bio tools, and it offers a host of features, including customizable landing pages and in-depth audience analytics. You can even retarget users on Facebook and Instagram using the Facebook Pixel.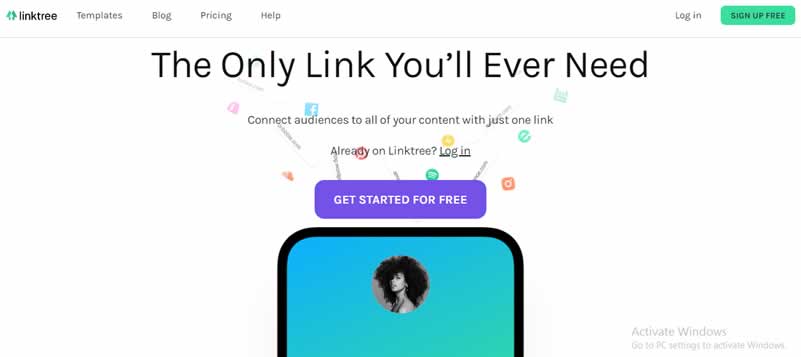 The best part is that you can schedule links to appear and disappear from your Linktree landing page, which is nice for creators promoting timely brand collaboration content.
4. Campsite.bio
Campsite.bio is a simple and intuitive tool that lets you build a customized landing page, and add unlimited links to product pages, blog posts, and social media profiles. It supports integration with Mailchimp and Google Sheets as well.
Also, you get access to detailed visitor analytics to identify the best-performing links. You can even schedule links for upcoming campaigns, as well as retarget visitors with Facebook Pixel and Google Ads.
5. Milkshake App
Unlike other link-in-bio tools in our list, the Milkshake app is a full-fledged website builder. You can use it to create an awesome-looking website with a few easy clicks. You can add a shopping cart and payment functionality to your website, as well as add buttons, to let followers call, message, or email you.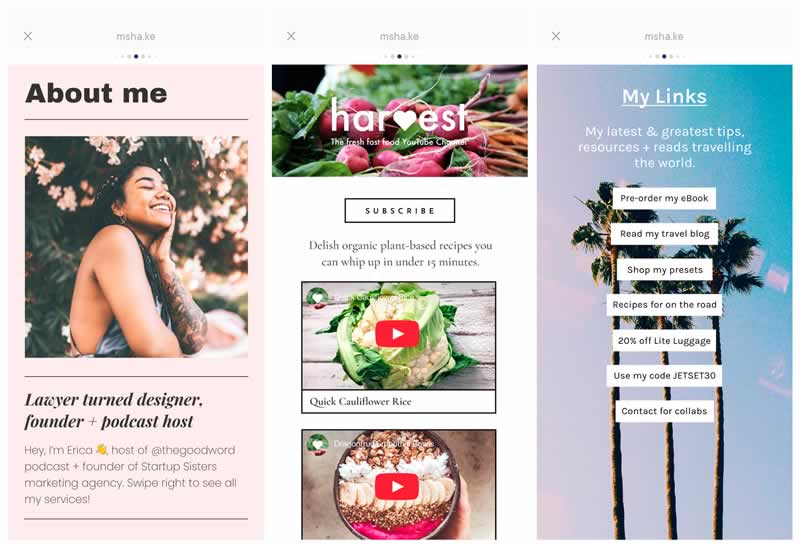 What sets it apart from other website builders is that the Milkshake app is optimized for mobile devices. Also, you can choose from a broad spectrum of customizable web page templates and themes.
Closing Thoughts
Whether you're using social media to monetize an audience, build brand awareness or generate sales, a link-in-bio tool will help you improve audience engagement. While we've listed the most useful tools, it's up to you to choose one that fits your unique needs.