Without much PR hype, Microsoft has announced the launch date and price of its first dual-screen smartphone based on the Android operating system — Surface Duo.
The market launch is to take place on September 10 at prices starting at $1399 — announced in an official blog post.
As expected, the mobile will not be anywhere near a competitive price. It will be in the line of folding smartphones on the market, although a little cheaper.
Microsoft Surface Duo comes with two 5.6-inch OLED screens in 1800×1350 resolution, thanks to its 4:3 aspect ratio. When opened, the total workspace makes up an 8.1-inch panel — called PixelSense Fusion display — in 2700×1800 resolution with a 3: 2 aspect ratio.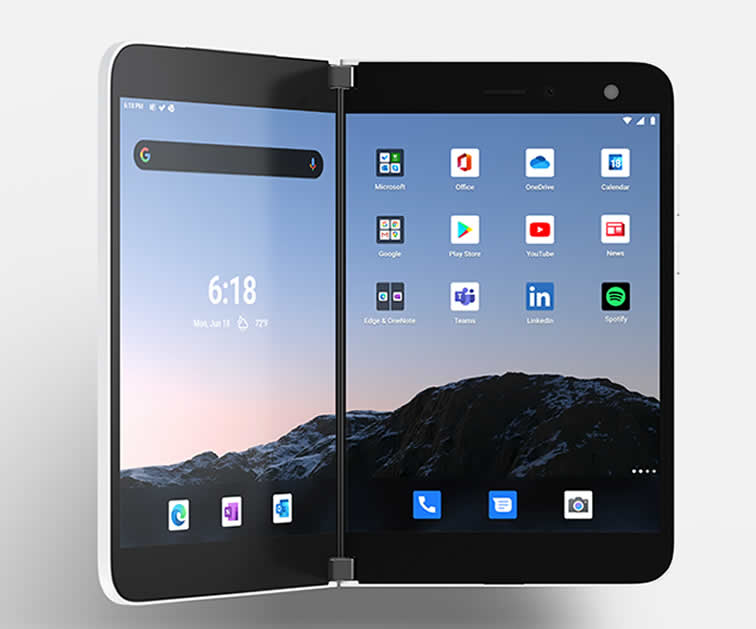 To protect the screens, Microsoft has adopted Gorilla Glass and includes a bumper in the package.
It has an 11-megapixel f/2.0 camera with a superzoom of up to 7x, which records in 4K and 1080p at 60fps and with electronic stabilization. It is the only camera that we find in the entire device. It is located in the edge of the right display, and it can be used as both primary and secondary cameras.
Under the hood, we can expect to find a Qualcomm Snapdragon 855 SoC combined with 6GB of RAM and 128GB or 256GB onboard storage.
The device is going to be equipped with two batteries on board, under the two screens — which overall guarantee a capacity of 3577 mAh — which, according to Microsoft, is sufficient for 15.5 hours of video recording, up to 10 days of standby and up to 27 hours of calls.
It will run Android 10 as a base, with a proprietary Microsoft layer that, of course, will exploit the device's multiscreen capabilities.
Developers can optimize the designs of their apps to make their interface compatible with this dual-screen technology. In fact, Microsoft's own apps for Android have already been adapted for the double screen.
Microsoft has also guaranteed Android updates over a period of three years following the commercial debut of the smartphone. This means that the Surface Duo should receive not only the update to Android 11 in autumn but also versions 12 and 13. 
This is the same level of support that Google guarantees for its Pixel devices, on average higher than that carried out by other smartphone manufacturers based on Android OS.
For the time being, the Surface Duo is only available in the USA, where it can be pre-ordered.