How about this — you walk into a restaurant, and instead of waiting for a waiter to hand you a physical menu, you simply scan a QR code on the table with your smartphone. Voilà! The menu appears on your screen, complete with photos, descriptions, and even customer reviews. Sounds futuristic, right? Well, the future is here, and it's called OddMenu.
What is OddMenu?
OddMenu is a digital platform that offers a range of features designed to enhance the dining experience for both restaurant owners and patrons. Originating from Ukraine, the company continues to operate despite the ongoing situation in the country. Their service is not just a digital menu — it's a comprehensive platform built around QR code menu aimed at improving customer service and boosting sales.
How is it Different from Normal Menus?
Unlike PDF or paper menus that are static and cumbersome, OddMenu's digital menus are interactive and easily editable. You can add photos, descriptions, and even promotions in real-time. Plus, there's no need to download anything, making it convenient for customers with low internet speed.
Features of OddMenu:
Let's dive into the features that make OddMenu a must-have for modern restaurants:
For Restaurant Owners
Access via Link: Share your menu on social networks, your website, or even Google Maps.
QR Code Access: Place QR codes on tables, windows, showcases, and doors for easy access.
Unlimited Categories & Items: Customize your menu to your heart's content.
Mobile & Desktop Versions: Cater to all types of users.
Remote Editing: Update your menu from anywhere, anytime.
Employee Management: Delegate menu management to your staff.
Multi-Location Management: Run a chain? Manage all your locations from one profile.
Hide Menu Items: Temporarily out of something? Hide it with a single click.
Pricing Updates: Easily update old and new prices.
Multi-Language Support: Cater to a global audience with multi-language menus.
Unlimited Photos & Descriptions: Make your menu as descriptive as you want.
Additional Info: Add your address, phone number, map location, and even Wi-Fi password.
QR Code Generator: Create QR codes effortlessly.
Unlimited Scans: No cap on the number of QR code scans.
For Customers
Quick Access: No more waiting for menus.
Rich Information: Photos and descriptions to help you choose.
Reviews: Leave and read reviews directly from the menu.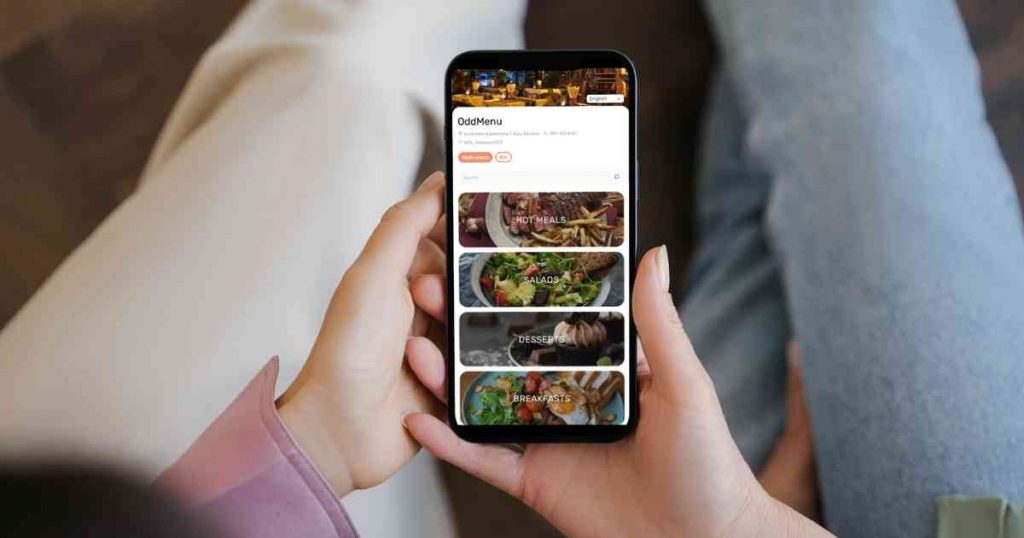 Why Choose OddMenu's QR Code Menus?
A Fresh Take on Eating Out
Let's face it, going to a restaurant can sometimes be a hassle. Waiting for a menu, deciding what to eat — it's all a bit old-fashioned. That's where OddMenu comes in. It puts the menu right on your phone, making life easier for everyone, from the diner to the restaurant owner.
Making Menus Fun
What's cool about OddMenu is that it turns menus into something you actually want to look at. You scan a code on your table, and suddenly you've got pictures, dish details, and even what other people think about the food. It's like having a food magazine on your phone, and it makes you want to try new things. More fun for you, more sales for the restaurant.
Keeping Up with the Times
Food trends change all the time. One minute it's all about avocado toast, the next it's some new superfood. OddMenu lets restaurants keep their menus fresh. Got a new dish? Add it in a flash. Run out of something? Just take it off the menu. It's super easy and keeps everyone happy.
Helping the Team
OddMenu isn't just about making customers happy. It's a big help for the people working in the restaurant too. The boss can let other team members update the menu, which frees up time for other important stuff. And if you've got more than one restaurant, you can look after them all in one go.
Good for the Planet
Ditching paper menus is also a thumbs-up for the environment. In a world where we all need to be a bit greener, OddMenu is a step in the right direction.
Pricing and Free Trial
When it comes to adopting new technology, one of the first questions that restaurant owners often ask is, "What's it going to cost me?". OddMenu offers flexible pricing options:
Monthly: $10
Bi-Annually: $57.6
Annually: $108
Plus, you can try it for free for a month — no credit card required.