What Is Fastreel?
Fastreel is an online video editor that lets you create short clips from scratch, enhance footage, and use templates to speed up the video-making process. This web service is developed by Movavi, a company that stands behind some other cool multimedia tools like Movavi Video Editor and Video Converter.
Fastreel is a great alternative to desktop software, as it works in any browser – Mozilla Firefox, Google Chrome, Opera, Safari – which makes it available for Windows and macOS users.
You don't have to download and install anything on your computer. Fastreel requires just a stable Internet connection, so you are good to go even without powerful hardware.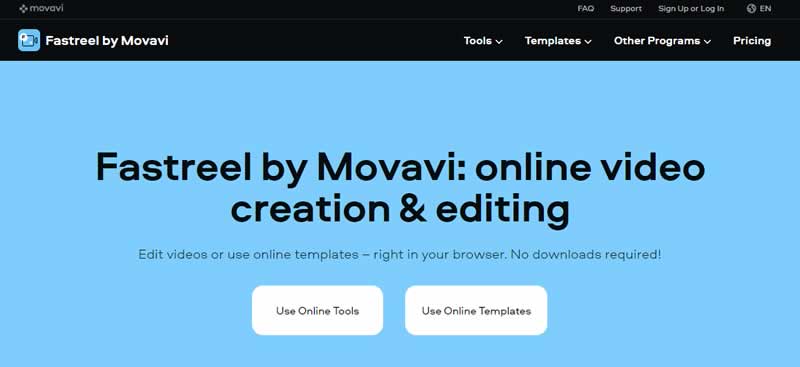 Overview of Main Features
Basically, there are two ways to edit video online with Fastreel:
Depending on your goals, you can choose whatever suits you best. Either way, you are left with quick and easy-to-use tools.
Templates
Ready-made templates come in handy when you don't want to spend much time thinking about the design of your video. There are plenty of options matching every possible video type: an advertisement, a birthday video, an explainer video, a promo, a resume, and lots more. You can use the selected template right away or click under it to learn helpful information about the type of video you're about to create and tips on making it better.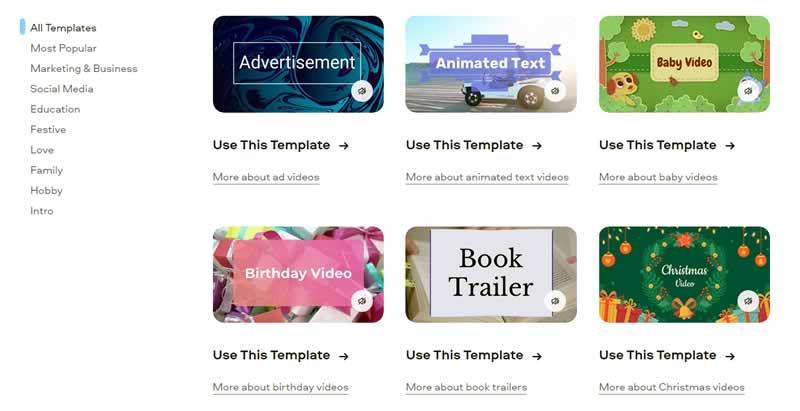 When you click on a template, Fastreel will take you to the editing mode where you can customize the clip:
Add more scenes or remove the unnecessary ones
Rearrange the scenes' order
Add text and edit its font and size
Add one of the royalty-free soundtracks and edit the volume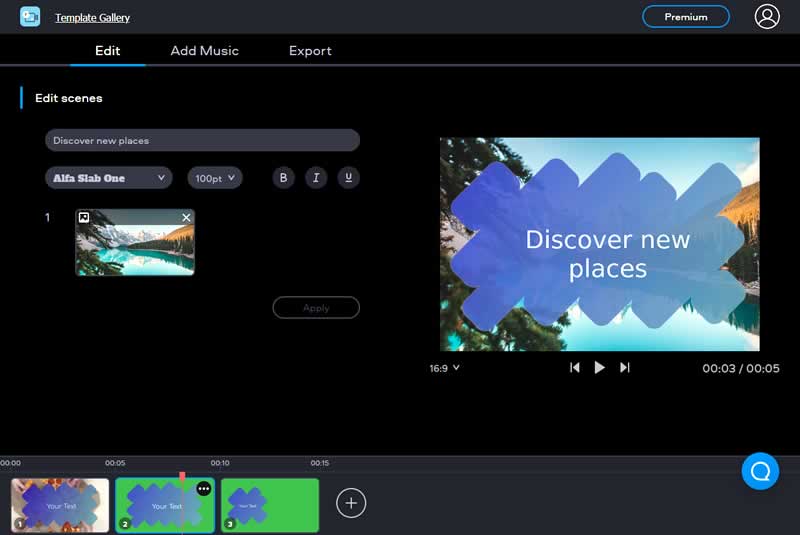 Toolkit
There are many tools and special effects, from basic trimming and muting to more advanced split-screen and stop-motion features.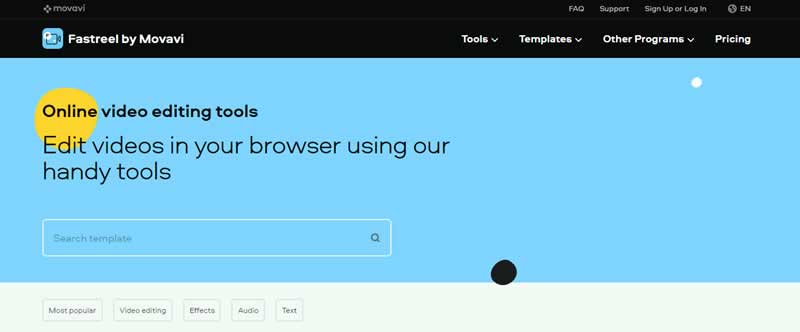 Basic Enhancing Tools
First and foremost, Fastreel enables you to cut video online. This is probably one of the most fundamental options you need in an editor. The timeline has handy markers, so you can select the parts you need and the ones you want to remove. This means you can record everything in one take and then cut out the bad pieces. However, Fastreel has a limit of 500 MB in total, so keep this in mind when you upload the footage.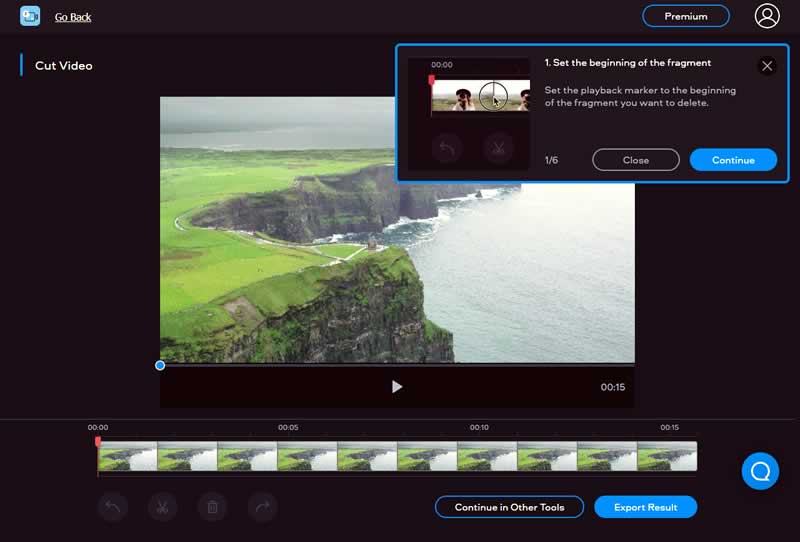 Other basic tools let you do the following:
Merge videos
Compress files
Add a watermark
Crop videos
Flip and rotate clips
Resize video files
Add captions
Mute videos
Add music
Add filters
Mind you, the tools are very easy to use, but each tab also gives you a short guide when you first launch an instrument.
Special Effects & Advanced Tools
You don't really expect much from an online editor. However, Fastreel has some interesting features that you can sometimes find in professional software:
Make a stop-motion video. This tool turns your footage into a cartoon-like video. You need to choose the clip rate (0.2, 0.4, 0.6, 0.8, 1, or 1.5), and the algorithm will extract the frames accordingly.
Make a split-screen video. With this tool, you can make a collage of up to four videos or images. You need to select a grid of appropriate size (1:1, 16:9, or 9:16), the number of files (2 – 4), upload the footage, and export the result.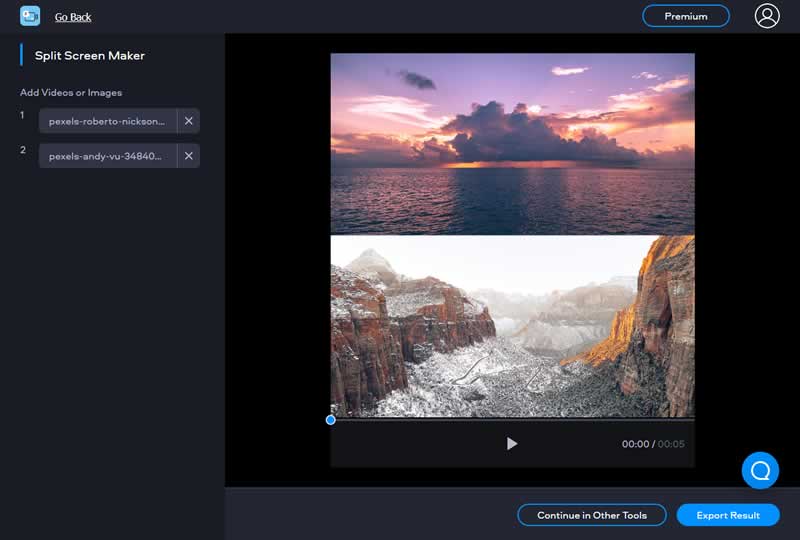 Change video speed. This feature lets you make the video up to four times faster or slower. You can also keep the sound or mute it.
Loop a video and reverse a video. These two options help you create something interesting out of your clip – repeat it several times or make it go backward.
Add subtitles. With this function, you can embed SRT files into videos. This feature is a real lifesaver as you don't have to spend time finding extra tools to do it – you just have it in your editor.
Moviemaking
Last but not least, let's talk about creating movies from the ground up. If you have enough footage, you can create a separate project where you can join clips with transitions and add background music. The moviemaking features are available under the "Make a video" and "Make a slideshow" tabs.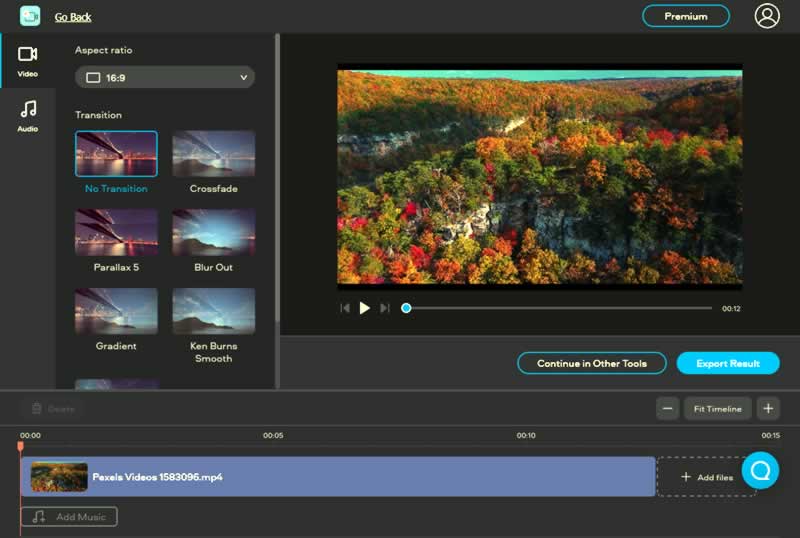 However, I find it lacking some of the essential features in the moviemaking mode. You cannot add text, apply color filters, or trim clips. Of course, you can do it with other tools, but it seems strange that you have to switch tabs just to make some edits. Plus, all the tools are available only with the premium account. But we'll discuss it later on.
Import and Export Options
Fastreel is quite versatile when it comes to supported formats. It accepts images (JPEG, PNG, and GIF), video files (MP4, MOV, MKV, AVI, and WMV), and audio files in MP3. You can also upload files from the connected Dropbox account. But your imported files shouldn't exceed the size of 500 MB in total.
As for the export, you can save the results in MP4. Fastreel first saves it to its cloud storage and gives you a link to access it for 24 hours. You can also upload the results to YouTube, but strangely enough, only if you work with templates.
Is Fastreel Worth It?
Although Fastreel is essentially a free video maker, meaning you can access all the tools and save the results, it will overlay a watermark on the output files. The pricing offers two premium plans:
The single premium for a one-time export without a watermark – $5.95 per video
The unlimited premium for multiple exports and access to all tools at a time – $19.95 per month. Alternatively, you can select an annual subscription for $9.95, which results in $119.40 billed annually.
The single premium may seem a bit overpriced, considering the fact that you will have to pay one more time if you want to use another tool. The unlimited premium plan seems reasonable in price because it gives you access to a lot of tools that desktop software is capable of. You won't, however, find good desktop tools for that price.
You can check out Fastreel Online Video Editor here.