Samsung has introduced the Galaxy SmartTag+, a new tracker that uses a more precise technology together with an app based on augmented reality.
The design of the new Samsung Galaxy SmartTag+ is similar to its predecessor, with a hole to attach it to the object that we do not want to lose, such as the key ring or the wallet.
For starters, this is a much more accurate locator, capable of indicating exactly where the lost item is. Normal SmartTags indicate an approximate location in which we should search due to the limitations of Bluetooth Low Energy (BLE) technology.
Instead, this new model adds ultra-wideband (UWB) technology which allows calculating the exact distance and the position in which the object is.
To take advantage of this more accurate location data, the Samsung app is now capable of using augmented reality to indicate the location of the tracker. The app will use the camera of our mobile to show the environment, and above, a series of points that indicates the approximate area in which we must search. As we get closer, we can make the tracker emit a sound by pressing a button in the app as a sound aid.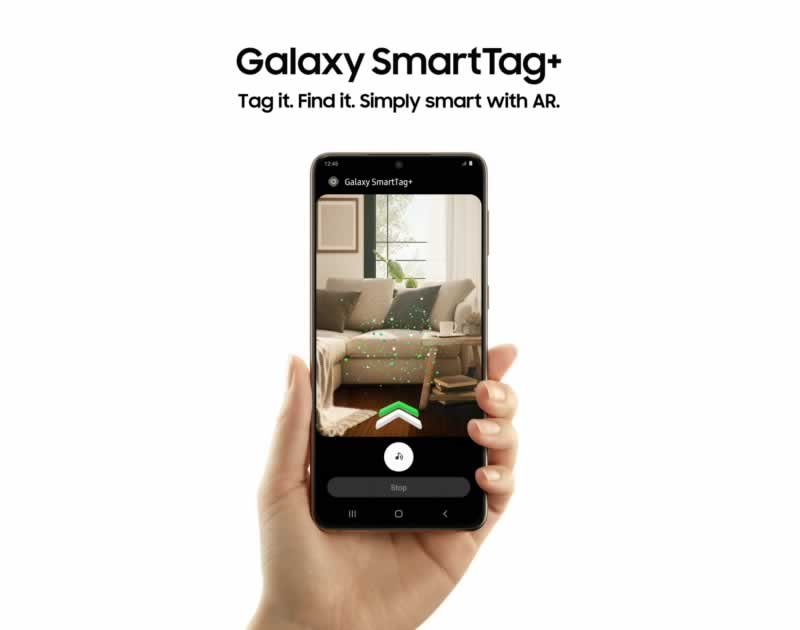 Augmented reality functionality is only available on smartphones that have UWB, and sadly, there are not many, being a relatively new technology. Samsung has been the one that has released it on Android, with the Galaxy S21 + and Galaxy S21 Ultra, but the iPhone 11 and iPhone 12 also have it.
Samsung's Galaxy SmartTag+ will be out on April 16th for $39.99.