As per a new report, the top mobile brand Samsung may be preparing to launch a foldable smartphone next year.According to a new leak published to Chinese social network Weibo, Samsung's most advanced flexible smartphone, which is codenamed Project Valley or Project V, will debut next January.
According to GForGames, the device has previously been rumored to feature a dual-display setup, with a larger display on the inside that might fold over when the shell is closed. There will apparently be two versions of the handset, both powered by Qualcomm Snapdragon processors.Regardless of the choice of CPUs, the terminal apparently has 3 GB of RAM, a built-in SD card slot for expandable storage, and a built-in non-removable battery.And reports also claimed that Samsung is heavily invested in testing the Snapdragon 820 and that the aforementioned company is the first OEM to receive test samples from Qualcomm Qualcomm's next flagship processor, which it may also be using in the Galaxy S7.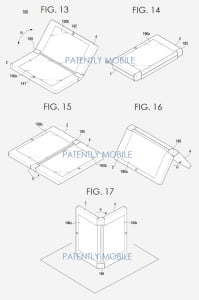 However, Samsung Display has previously stated that "the commercialization of foldable smartphones will be possible in 2016" and a patent for Samsung's dual-screen Project Valley foldable smartphone cropped up earlier this year too. Samsung certainly seems to be working on this type of device in some capacity, but there's always a big leap from prototype to a retail product.
That's all we know for now.Everybody is thinking its just a rumour so let's wait for a couple of months for the big launch.