A new milestone for SpaceX and Elon Musk — it is already the first company to take civilians into space.
The Inspiration4 became the first orbital launch of a new generation space race whose crew is composed entirely of civilians. The Crew Dragon capsule used for the Inspiration4 mission housed 4 civilians for 3 days. Providing them with everything they need to live with the right comforts. This time, the Crew Dragon capsule has a unique modification, a glass dome that will allow you to admire the space in all its splendour.
During takeoff, the dome placed on top of the spacecraft has been protected, but as soon as it has reached orbit, it has been uncovered. As SpaceX has explained, this dome is the largest that a spacecraft has ever had.
The launch occurred at 20:02 EDT on Thursday. Four people on the SpaceX spacecraft for the Inspiration4 mission are Jared Isaacman, founder and CEO of the payments company Shift4; Chris Sembroski, Lockheed Martin employee and US Air Force veteran; scientist Sian Proctor and Hayley Arcenaux, St. Jude physician assistant and childhood bone cancer survivor. They will remain up there for 3 days conducting scientific experiments.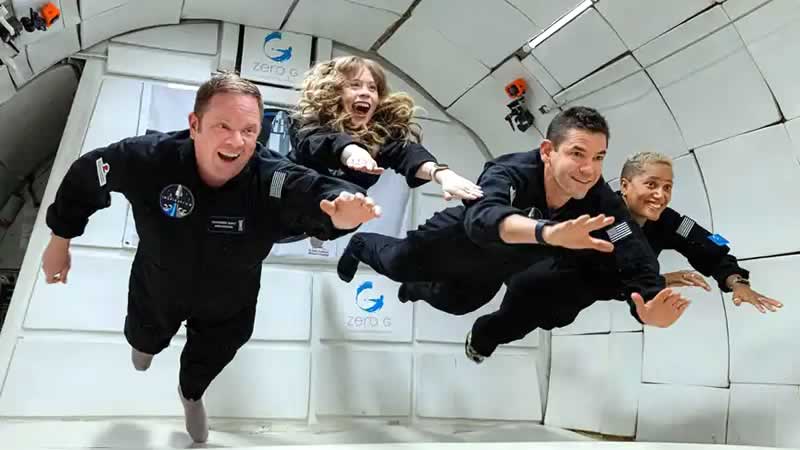 The live broadcast shows the successful launch of the spacecraft that will circle the Earth 50 times before falling back into the atmosphere. After launch, SpaceX's Falcon 9, which serves as a shuttle to take spacecraft into space, has returned to Earth, as usual, to be reused in the future.
Right now, the four SpaceX civilians are orbiting at an altitude of about 580 kilometers. They will live together for three days in the space of 37 cubic meters, the total interior of the capsule. SpaceX has calculated that they will make landfall again on September 18, off the coast of Florida.
Each of the four space tourists has an iPhone 12, an Apple Watch Series 6 and an iPad mini 4 to monitor their vital signs and analyze the impact that the trip has on their health and fitness.
The trip has caused so much excitement that Netflix has collaborated with SpaceX on a documentary series that can be seen throughout the month of September.