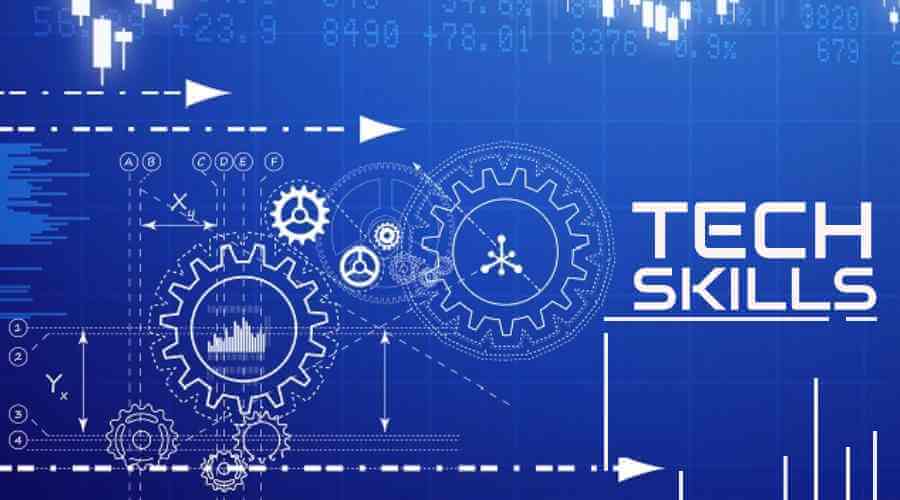 The technology sector is evolving day by day. Tech skills once considered as superior and evergreen have now become obsolete. Because humans are finding new ways within technology to attain ease of living thus opening doors to new tech skills — thus creating new tech employment opportunities.
Like whenever there is change, there is opportunity.
According to Modis reports, tech jobs are on the verge of rising and by 2024 the growth of tech employment is expected to be 12% — which means more and more jobs becoming available to IT professionals.
Actually "tech" is a broad field and as a beginner, one will be perplexed about the starting point — because you have to choose one of the best tech skills which is flowing with current trends and also helps to get you a promising job in future. So today, in this article we'll look top trendy area of modern technology.
Top tech skills to get best promising jobs:
1. Artificial Intelligence and Machine Learning
Artificial Intelligence (AI) sector is one of the most understaffed areas in the tech community. Artificial Intelligence and Machine Learning — a part of AI — are considered to be the futuristic techs that are going to change the world. So by mastering this technology will earn you a profitable tech skill to get a well stable job. Considering the applications, AI and ML are not only going to open jobs in tech field but also in other areas too — like healthcare, education, finance, etc.
2. Robotics
Like previous years, this year too, robotics is one of the most trendy tech skills to get your dream job. Nowadays robotics is more and more coined with AI to develop most advanced machines that work, thinks and react like humans.
3. Experience in multifaceted programming languages
Programming or coding has always been an essential tech skill of technology world. Maybe we can say, programming languages are the building blocks of today's tech. But simply learning any programming language is not going to get a promising job. Today's tech world requires programmers who mastered in multifaceted programming languages. Javascript and Python are two examples of such languages high in demand now.
4. Mobile app development
Smartphone users are increasing day by day. Android becomes the top mobile platform followed by iOS and developing apps for these platforms are highly salaried. Since app development is one of the easiest attainable skills on this list, anyone can kick-start their learning with the help of many free online tutorial sites. Check out our list of free online courses to become an Android app developer.
5. Web development
Like app development, web development is also an appealing tech trend of today. Work involving developing websites, complex web-based internet applications, maintaining web server and network security configuration is also highly demanded tech skills.
6. SEO/SEM
Search Engine Optimisation (SEO) and Search Engine Marketing (SEM) are related fields to web development aim in increasing website's visibility in search engines. There are companies looking for people with digital marketing skills to improve their company's web presence and visibility.
7. Augmented Reality
Augmented Reality (AR) — a technology that superimposes a computer-generated image on a user's view of the real world, thus providing a composite view — is one of the most prominent tech skills to get a good salaried job. Presently a number of companies produce hardware and software features to support augmented reality and machine learning and they are searching for highly talented IT professionals to envision, design, and develop applications to take advantage of this futuristic technology.
8. Cybersecurity excellence
Cybersecurity is always been a heating topic among the tech community. Securing online infrastructure of a company is somewhat more hectic — but highly paid job. So literally all top organizations are on the hunt for the best security expert to resist unknow infiltration in their networks.
9. Blockchain technology
When we heard blockchain, first things came to our mind are cryptocurrencies and Bitcoin. Although without any doubt, the blockchain is an undeniably intelligent invention in the tech industry. Learning blockchain technology going to get you a dream job in emerging Decentralized Economy.
10. Data Analysis
Data Analysis includes inspecting, cleansing, transforming, and modeling data in search of useful information. To become, a successful Data Scientist one should learn about fundamental stages of data science work — from Statistics and Systems Engineering to Data Mining and Machine Learning.
So to get a promising job in 2018 these are the best tech skills you should master in. However, nowadays employers are looking for a more balanced employee who has both technical skills and soft skills like communication skills, leadership, teamwork potential etc. So relying only on your particular tech skill is not going to land you on a high salaried job, you must also consider improving other soft skills that are not readily apparent on a resume.