From academic papers and business contracts to e-books and government forms, PDFs are the go-to format for preserving document layout and integrity. They bridge the gap between different operating systems and devices, ensuring that a document appears the same whether you're viewing it on a Mac, a PC, or even a smartphone. Their universal compatibility and secure nature make them ideal for sharing and storing sensitive information.
And to make the PDF processing easier for everyone today, we are going to introduce to an AI-powered PDF tool named UPDF. Compatible across all platforms — Windows, Android, macOS, iOS, and even iPadOS — UPDF has rapidly ascended the ranks to become Adobe Acrobat's fiercest competitor. And if that's not enough to grab your attention, UPDF is currently running a promotion where you stand to win an iPhone 15 and Airpods, and get 58% off on UPDF Pro with AI added-on.
Getting in-depth into UPDF:
With its intuitive interface and powerful features, UPDF makes a must-have tool for anyone who deals with PDFs regularly. Here some of the key features:
Edit Text and Images: UPDF allows you to edit text and images just like you would in a Word document. You can change fonts, resize text, and even reposition images without leaving your PDF.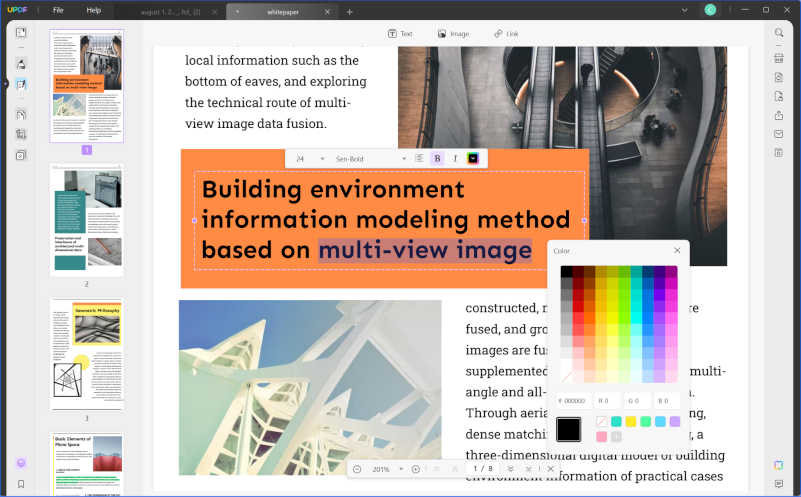 Convert PDFs with Ease: Need to convert your PDF to another format? UPDF has got you covered. It supports conversions to Word, Excel, CSV, PowerPoint, RTF, and even image formats like PNG, JPEG, BMP, TIFF, and GIF.
OCR Capabilities: Scanned a document and saved it as a PDF? UPDF's advanced OCR feature can identify text in over 38 languages, transforming your scanned PDFs into editable and searchable files.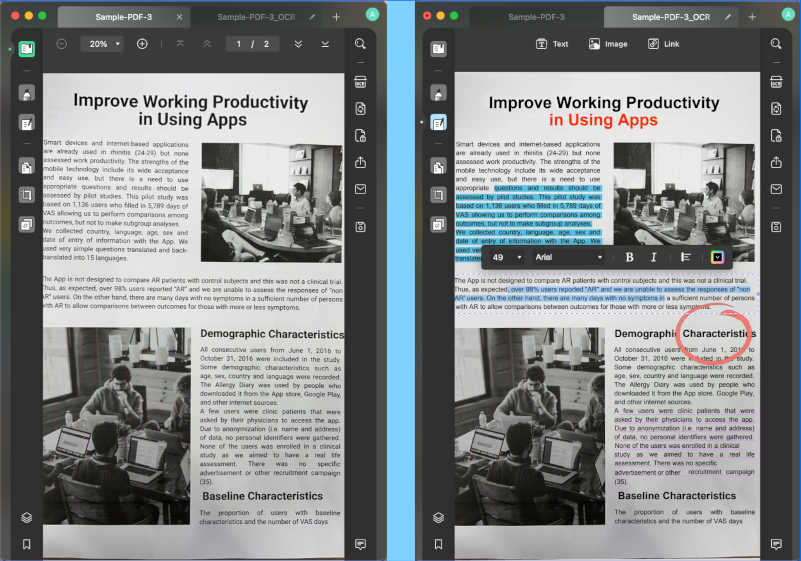 UPDF AI: UPDF AI takes things to the next level. It can summarize long PDFs, translate content into different languages, and even provide explanations for better comprehension — all in just a few clicks.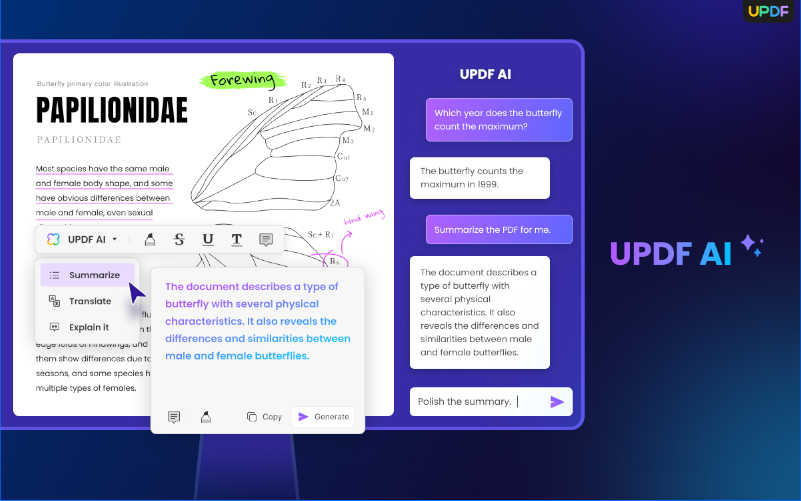 PDF Navigation and Annotation: Reading and annotating PDFs is a breeze with UPDF. It offers a variety of annotation tools, including text highlights, shapes, and more.
Manage Your PDF Pages: Whether you need to extract, rotate, rearrange, or delete PDF pages, UPDF makes it simple and efficient.
Why do we think UPDF is the best alternative to Adobe Acrobat?
For many years, Adobe Acrobat has been the go-to software for PDF editing, conversion, and signing. However, there is now a new alternative in the market that is challenging Adobe's dominance and providing a compelling option for users. UPDF is an excellent alternative to Adobe Acrobat, and it offers a wide range of features that make it a great choice for PDF editing. So now we will explore the reasons why UPDF is a compelling Adobe Acrobat alternative.
1. A Wallet-Friendly Choice:
Let's start with the elephant in the room — the cost. Adobe Acrobat Pro DC comes with a price tag of $239.88 per year. UPDF, however, offers a far more budget-friendly option at just $29.99 per year. That's a staggering difference, especially for small businesses and individuals who are looking for quality without breaking the bank.

2. Clear and Intuitive User Interface:
One of the most compelling reasons to consider UPDF over Adobe Acrobat is its user interface. Adobe Acrobat, while powerful, often overwhelms users with its complex and cluttered interface. UPDF, on the other hand, offers a clean, intuitive interface that even a first-time user can navigate with ease.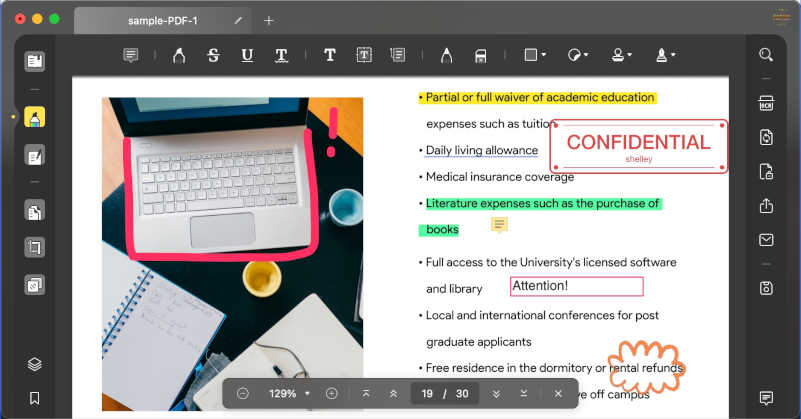 3. Universal Compatibility:
Adobe Acrobat subscription is limited to Windows, but UPDF takes compatibility to the next level. With a single-user license, you can use UPDF across Windows, Mac, Android, and iOS platforms. This is really helpful for those who work across multiple devices and need a seamless experience.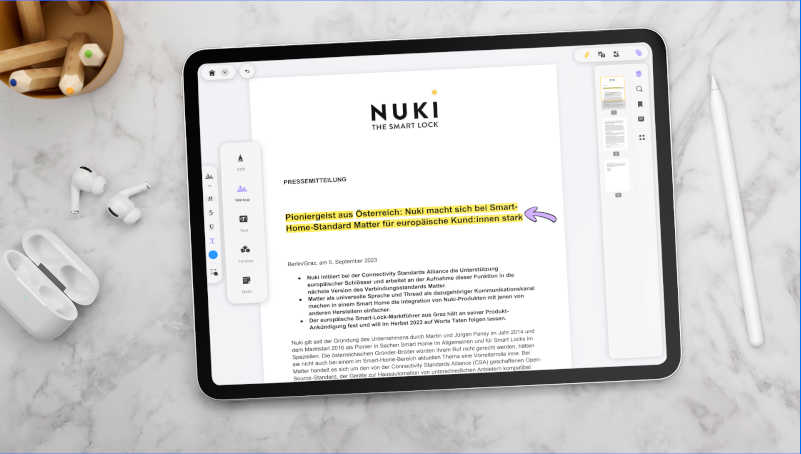 4. Simplicity Meets Functionality:
Many users find themselves in a dilemma:
They don't have the time to learn complicated features.
They don't need many of the professional, in-depth features that come with high-end software.
They're not ready to invest in professional software, but free products just won't cut it.
UPDF addresses these pain points by offering a user-friendly interface that doesn't require a steep learning curve. It provides the essential features that meet the needs of the average user, without overwhelming them with professional-level tools. And all of this comes without the need for a hefty investment.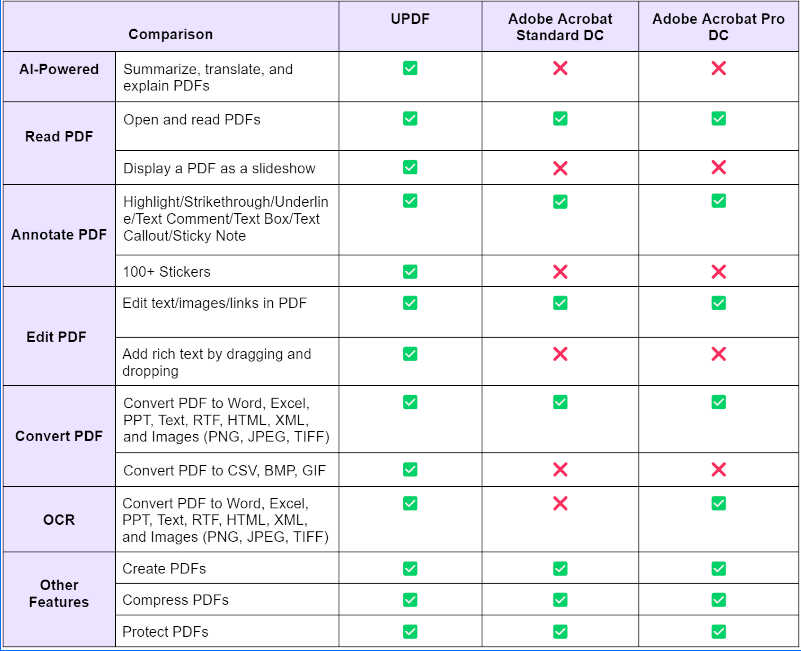 5. A Feature-Rich Experience:
From customizable stickers that add a personal touch to your documents, to a drag-and-drop text feature that simplifies the editing process, UPDF brings a fresh perspective to PDF editing. It even offers unique features like presenting PDFs as slideshows and an affordable OCR tool for scanned documents. And let's not forget the AI Assistant that can summarize, explain, and translate your PDFs. In short, UPDF provides a feature-rich experience that is not only comparable to but, in many ways, exceeds that of Adobe Acrobat, making it a compelling choice for a wide range of users.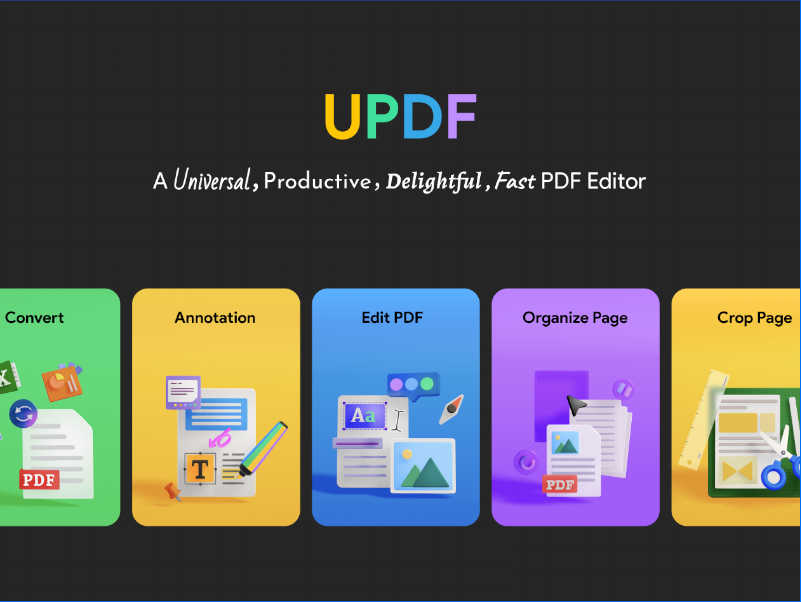 Conclusion:
So, as we wrap up, the question isn't whether you should consider UPDF as your go-to PDF solution. The real question is, can you afford not to? With its unparalleled features and user-friendly interface, UPDF is setting new industry standards. Maybe at first, you can try the free version to get familiar with the tool. But we advise you to upgrade to UPDF Pro and unlock the program's full capabilities. Also, UPDF is currently offering an incredible 58% discount on their Pro version with an AI add-on and stand a chance to win a prize worth $599 and free orders.