If you are worried about your privacy and like to find out if any app is spying on you — then use Access Dot, an ad hoc Android privacy application that warns you when someone spies on you with your phone's camera or mic.
Android is the most popular mobile operating system, and because of that, the platform has frequently been attacked by cybercriminals with malware, spyware, and adware.
When it comes to spying a user, hackers use various types of malware that hijack the hardware of the phone, in particular the camera and microphone, without user permission and most of the tomes, we fail to detect such malware. Because they are installed in the background and, without us realizing it, they record audio and video or take photos.
Google has attempted to limit these practices and to protect Android users, on Android 10, Google added a feature where users can grant camera and microphone access only when that particular App is running. But still, people fall into this malware.
Although, there is a way to find out this type of spying malware that uses the camera and microphone without user permission.
Access Dots, a Made in India app, warns you when your phone's camera or mic is in use.
Access Dots reanimate new iOS 14's privacy feature on Android — shows an indicator (a few pixels light up as a dot) whenever the camera or microphone is accessed.
So when your camera or recorder app is not opened in your Android device, and still the indicator lights up on the screen, then Access Dots is warning you that some app is accessing the camera or microphone in the background — maybe some app or malware is spying on you.
Setup Access Dots to Find Spying Apps
Setting up Access Dots is easy. First, install the App from Google Play.
When you open the App, on the screen, you can see a radio button, just tap on it. Then the app screen will redirect you to Accessibility settings. There under Downloaded Services/Installed Services, you have to turn on Access Dots service.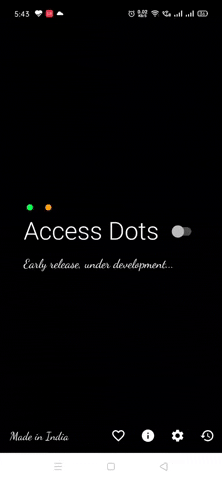 That's it; you successfully setup the App to find the spying malware.
By default, the App is configured to show iOS 14 style colored access dots — green for camera access and orange for microphone access. However, the App itself does not request for the camera or microphone access.
Via setting option in the App, you can change the camera and microphone indicator color and also can configure the location and size of the indicator.
Also, make sure the App is whitelisted under any kind of optimization setting your device has, if the App is killed from the background by the System, you may have to restart the phone to get the Access Dots active again.