Apple presents the new Apple M2 SoC at WWDC 2022 — second-generation Apple Silicon chips that come with a notable leap in features and performance, surpassing its predecessor in everything.
Apple claims that the development approach of this new SoC has been to focus on the performance/consumption ratio, trying to improve the former and contain the latter.
Apple M2 come with more transistors, more power, and more memory support than their predecessors, and Apple's tests show 18% and 35% higher CPU and GPU performance, respectively when compared to the M1.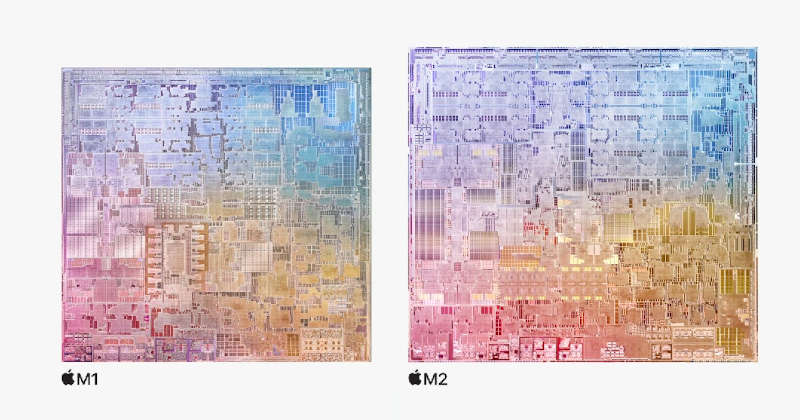 Apple M2 is made with a second-generation 5-nanometer manufacturing process (optimized 5 nm process), which allowed it to build a chip with 20 billion transistors, 25% more than its predecessor — 16 billion transistors on M1.
M2 feature a CPU with four high-performance and four high-efficiency cores, as well as a 10-core GPU capable of 3.6 TFLOPS of power. And it should also be mentioned the incorporation of a 16-core Neural Engine that promises 40% more performance and up to 15,800 billion operations per second.
Apple has significantly improved the memory interface of the M2 — not only will there be a choice between 8, 16 and 24 GB, instead of the previous 8 and 16 GB, but it also has a unified memory bandwidth of 100 GB/s, 50% more than what was offered in the M1.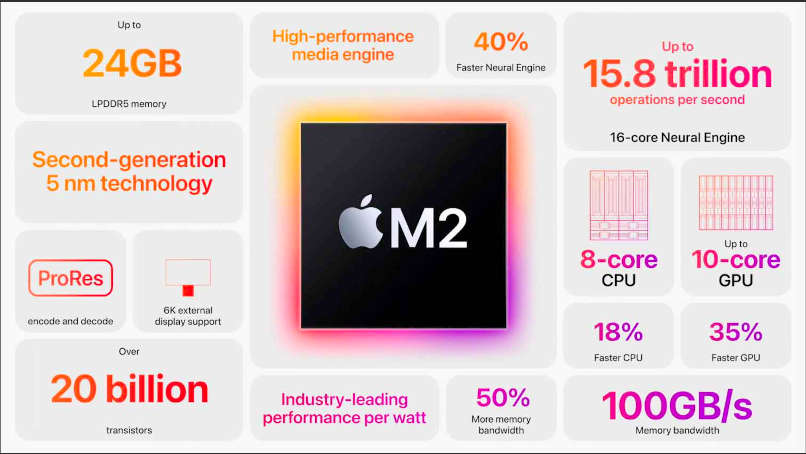 Apple has also expanded the Media Engine compared to the M1, which, like the M1 Pro, comes with a video decode engine, video encode engine and ProRes encode/decode engine. Apple did not mention AV1, which consequently cannot be decoded in hardware.
The first systems to hit the market with Apple M2 are the fundamentally redesigned MacBook Air with MagSafe charging port and the new 13-inch MacBook Pro.