Many of us have heard or had that problem of the Disc rot. Disc rot is common to all-optical media like CD, DVD, and all other optical storages. The cause of Disc rot could be both physical & chemical. There is a high chance that we damage/scratch the reflective surface inadvertently during everyday use.
On the other hand, the chemical decay of the sliver, reflective layer (usually made up of aluminum), reacts with oxygen, which called oxidation. This process will start at the moment the disc once sent out off from the factory, and the tendency is considered irreversible until the disc is completely unreadable, it's just a matter of time. Hence, as a disc media standard that released in 2004, a considerable number of the old DVDs are about to reach the last minute of their life span.
To face the real problem: the optical disc isn't perfect for movie collection, to make sure your DVD movies fully backed up with a digital form is decisively important to keep your DVD movie collection with you. And a DVD ripper is a must-have.
And physical copies always accompany with the storage space issue.
Why WinX DVD Ripper is the top choice to backup DVD?
WinX DVD Ripper is capable of backing up almost all kinds of DVDs, whether a family-recorded DVD or commercial released copy, WinX DVD Ripper is the competence tool to help you back your DVD up without any quality loss. Advanced error-correction function approved WinX DVD Ripper to read damaged DVDs and poorly structured DVDs. Also, it is capable of bypassing annoying copy protection and regional restrictions, which could be a great convenience to assist the customer in backing up every piece of a DVD disc on their collective stash to digital form for better keeping & using.
With the adapt of Intel's QSV & NVIDIA's NVENC technologies, WinX DVD Ripper is able to dig up the full potential of your PC, and backup/transcode your DVD movie with the amazing speed and lossless 1:1 quality to your computer. It can back up an entire DVD in just five minutes by utilizing Level-3 hardware acceleration tech (47X faster speed).
Various options are supported by simple click & choose, no matter if you want to keep the movie as juicy as it was just burnt in the garage. You can also transfer the title to a portable format that compatible with your digital media player, like a smartphone, smart TV, and MP4 flash drive player. WinX DVD Ripper is able to transfer your DVD movies to all possible video formats to help you play your movie on all different environments & circumstances or transfer to a storage-friendly format to help your DVD back up plan.
By concluding all these benefits that WinX DVD Ripper can bring us to the backing up DVD tasks, I would recommend it as one of the most competent DVD rippers on the market.
Versatile Product Features of WinX DVD Ripper
Convert DVD to MP4, H.264, HEVC, MPEG, WMV, AVC, MOV, AVI, etc.
Rip DVD & play on iPhone, iPad, Android, Xbox, PlayStation, and more devices
Edit DVD in a few clicks. Cut, merge, crop video, add subtitle, full parameters adjusting.
Batch processing, significantly decrease time complexity.
Lossless backup/covert support software/hardware encoding/decoding.
A brief introduction of how to use WinX DVD Ripper
WinX DVD Ripper has an easy-to-understand, interactive menu that presents very intuitive options for us to use and preview.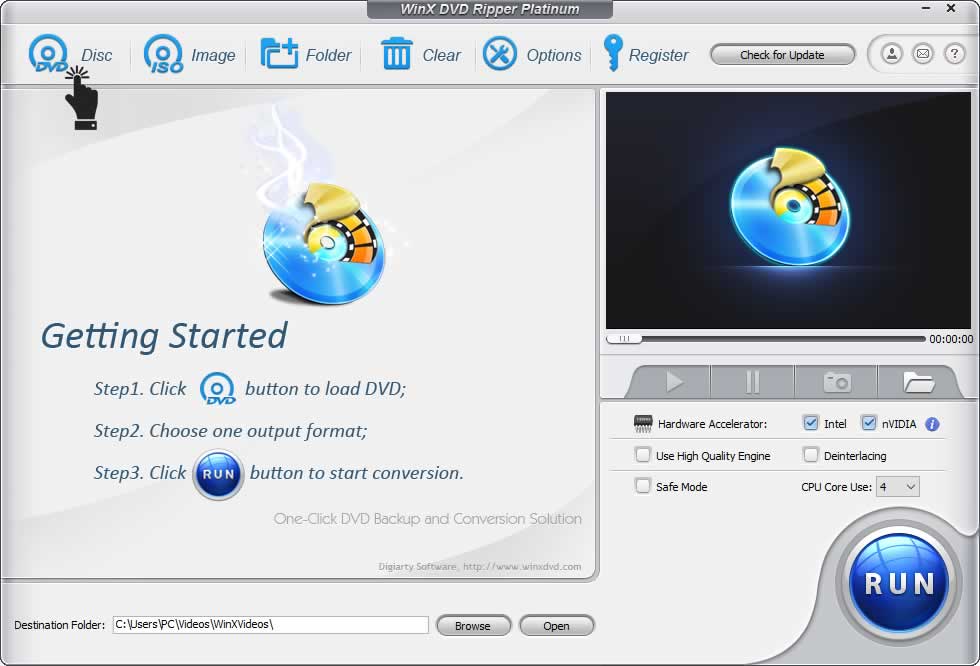 Insert the DVD disc and click "Disc."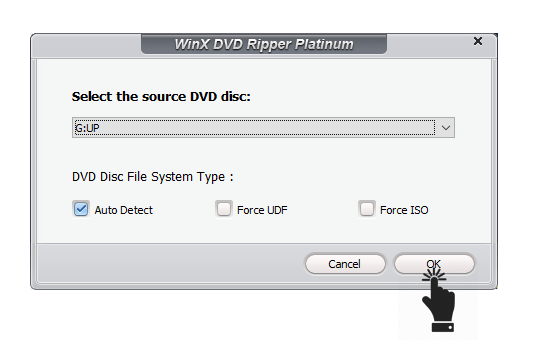 Choose the disc driver you've placed your disc in.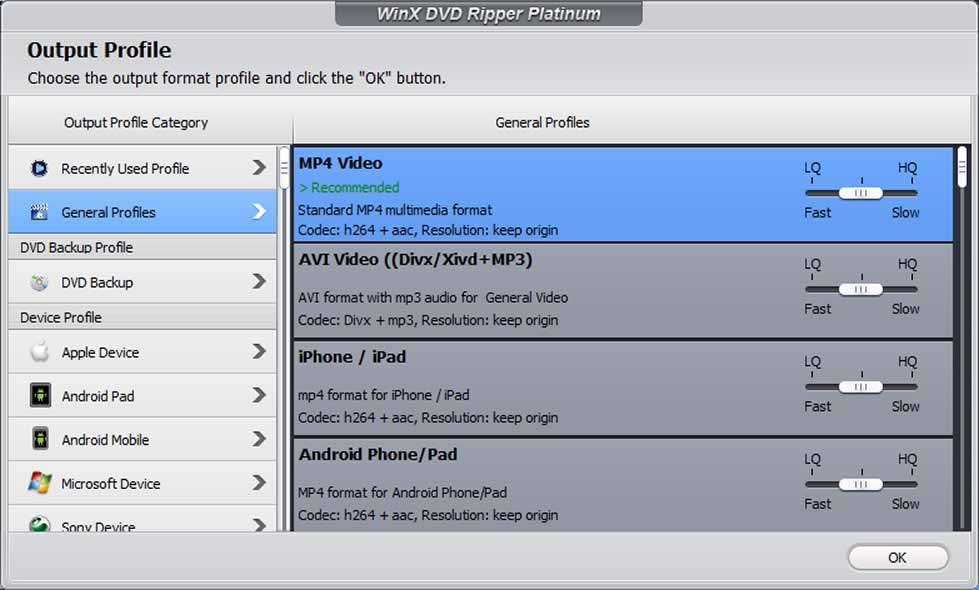 Select preferred data format to output, if a whole disc backup is needed, please select "DVD Backup."
Here is the full guide to backup DVD without losing quality.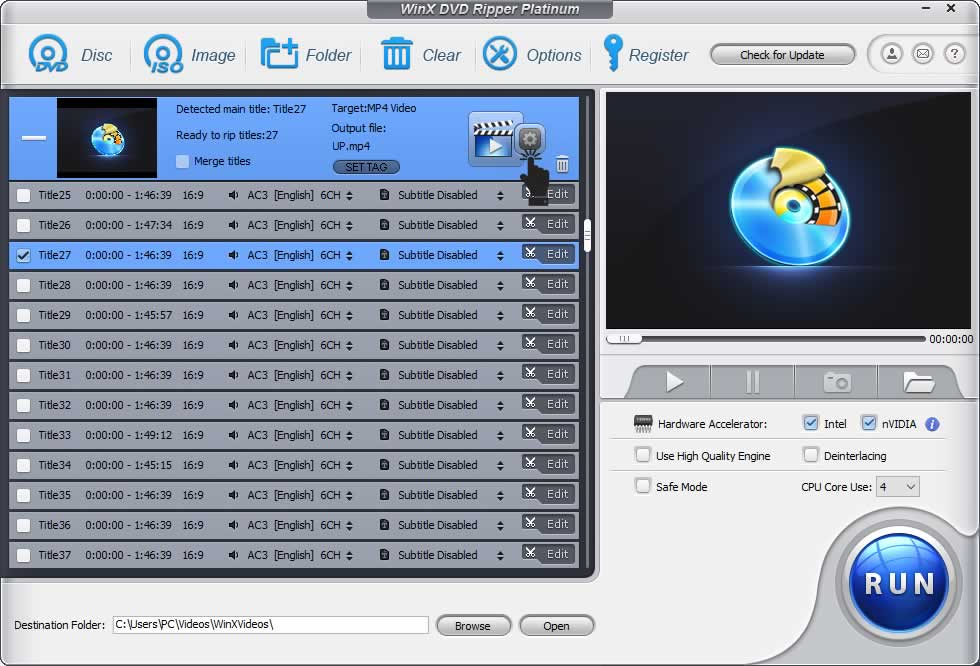 Click the "gear icon" for a detailed setting, including frame rate, bitrate, etc. Click the "Run" button to backup/transfer your DVD disc to the PC digital format.
Promoted by Intel QSV & NVIDIA NVENC, WinX DVD Ripper could reach an incredible speed rate, through the backing up time would be varied according to different media/ titles, it still saves a great amount of time on my DVD backing up tasks.
Consider that the WinX DVD Ripper could be a great assist to my plan to back up my DVD collection, competence, speed, and accessibility are very promising. I would recommend this outstanding DVD ripping and backup software to all of my readers for convenience.