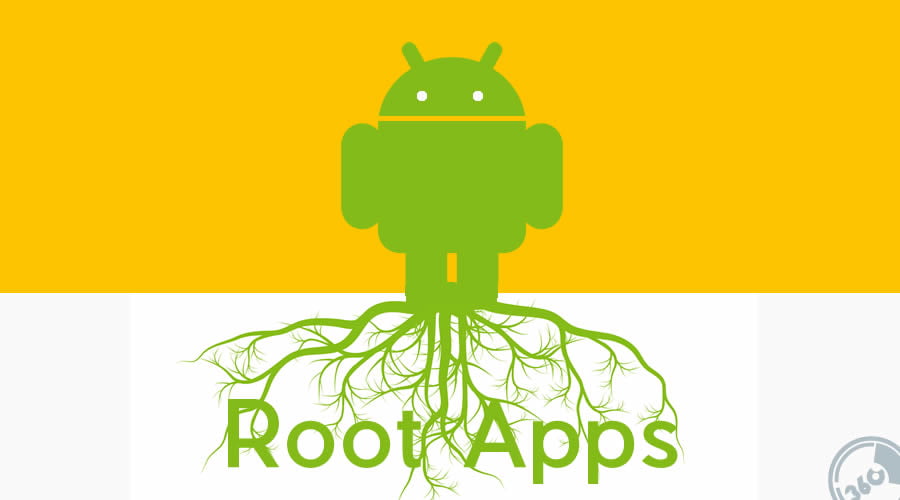 Android Root apps — a special set of applications to enhance and open new possibilities to your rooted Android devices.
A rooted Android device allows us to easily tweak our phone to a next level by installing some special apps and also can do some hacking by installing some Android hacking apps. More over rooting helps you to change your stock ROM to some custom ROM with stylish interface. That we will discuss later.
With below mentioned top root apps for Android you can do some heavy lifting with your phone. Because root apps helps to improve android battery life, eradicate bloatware and provide more room for new apps, get your Android work better. And also keep in mind there are also some bad root apps that will do exactly opposite.
In short by installing best root apps in your Android device can enhance performance of your device compared to a phone that has not been rooted.
Anyway here is the list of best root apps that we think could bring some handy customization option to your Android phone.
Best Root Apps For Android:
---
1. Greenify
Greenify — one of the best root apps for Android to identify and put the misbehaving apps into hibernation when you are not using them, to stop them from lagging your device and leeching the battery.
Interestingly Greenify works well with non-rooted devices too but with root privileges this app can do wonders. It is designed and implemented in extremely lightweight, with an average RAM footprint less than 5M, and nearly zero CPU and battery consumption.
2. System App Remover
System app remover — a simple tool to manage system apps and other user installed apps with full root privileges.
If you ever think to uninstall those factory installed system apps — also known as bloatware — to free some internal memory and provide more space for new apps. If you rooted your phone you can easily do this task by installing System app remover.
Instead of removing pre-installed system apps this Android root tool also helps you to uninstall user app, move app to sdcard, move app to phone etc.
3. Flashify
Flashify — a perfect tool for every root users to to queue up stuff to flash from recovery without having to reboot your phone.
With this app you can flash boot and recovery .img, zip files, mods, kernels etc. without even needing to go to recovery. Simple easy to understand user interface make this app a great tool for root beginners or amateurs.
4. Tasker
Tasker — a complex tool to integrate total automation of your device at its peek.
Tasker is a powerful root app to change your Android smartphone into a fully automated machine from Settings to SMS. App can even work without root permission but to get the full range of things you'll be able to do, root will be required.
5. ES File Explorer
ES File Explorer — one of the best file manager app for both rooted and non-rooted devices.
ES File Explorer helps manage your android phone and files efficiently and effectively. The app came with powerful tools put desktop-grade features in your pocket. Since majority of features work without root permission.
But in rooted device this app comes with an extra feature — root explorer — the ultimate set of file management tools which provides access to the entire file system and all data directories, and allows the user to change permissions.
6. Titanium Backup
Titanium Backup — most powerful backup tool available on Android.
With this app you can backup and restore your apps + data + Market links. This includes all protected apps & system apps, plus external data on your SD card. Also with pro pack you can freeze apps — means leaves apps installed and never allows them to run ever again.
7. Servicely
Servicely — control apps that draining your battery just like Greenify.
Another app for rooted Android devices to to select which apps will be put to sleep when the display goes off. The free version will allow you to put the brakes on up to three apps. There are a few other perks as well, like the ability to stop individual services instead of stopping an app entirely, but basically, if you have more than three apps to kill, you'll want to go Pro.
8. 3C Toolbox
3C Toolbox — a collection many great apps into one giant toolbox with a modern and easy-to-use interface.
3C Toolbox has every tool you need to monitor, control and fine-tune all your Android devices. It includes the features of many other apps, including Titanium Backup, Greenify, BetterBatteryStats, App2SD, Seeder, ROM Toolbox Pro, SetCPU, System Panel, Root Explorer, Autorun Manager, Terminal Emulator, Script Editor, SD Booster, BuildProp Editor, ATK and so much more. The app is available for both rooted and non-rooted devices.
9. DiskDigger
DiskDigger is one of the best file recovery tools for Android. Although the app does not require your device to be rooted, it is more likely to recover more photos and files if your device is rooted.
10. Root Booster
Root Booster — an app for every root users who need more performance to run applications smoothly without lags or for those who need to improve a poor battery life.
In Root Booster there are some preset modes which ensure speed boost, battery boost or stability boost setings. Root Booster will also find battery draining and performance demanding applications and auto hibernates them. It also cleans empty folders, gallery thumbnails and uninstalled apps trash to speed up your device and free up your storage.
11. Wakelock Detector
Wakelock Detector — detect battery draining apps in your Android phone by checking wakelock usage history.
Sometimes your smartphone screen doesn't turn off automatically when it should have, or you find your phone battery drained even when you exited apps and turned off the screen because of wakelock holding apps. "Wakelock" is a mechanism of power management service in Android OS, which can be used to keep CPU awake (Partial wakelock) and keep the screen on(Full wakelock). Applications which use wakelock privilege improperly leads to situations where the CPU or phone screen stays active without user's knowledge and thus causing dramatic battery drain.
"Wakelock Detector" shows wakelock usage statistics for all applications, which ever held wakelock since boot and helps you to capture those battery draining apps.
12. RootCloak Plus
RootCloak Plus — app which never tell anybody that your phone is ever rooted.
If your device is rooted, many apps like banking, enterprise, streaming etc refuses to run their service in your phone because of security reasons. Here RootCloak comes for your rescue. RootCloak Plus hides all indications of root, thereby enabling those apps to run, without disabling root.
13. ROM Toolbox
ROM Toolbox — combination of all the great root apps into one monster app to make your Android device fast and customized to your liking.
ROM Toolbox combines apps like Titanium Backup, ROM Manager, Root Explorer, SetCPU, MetaMorph, Autorun Manager, Terminal Emulator, Script Manager, SD Booster, BuildProp Editor, Font Installer, Boot Animation Installer & many more apps into an all-in-one app.
14. App Quarantine ROOT/FREEZE
App Quarantine — app to take care of misbehaving and useless user/system installed apps.
App Quarantine is the ultimate tool for root users to freeze unwanted apps on your droid. Quickly get rid of the overrated bloat that is added by your phone manufacturer or network provider. Without draining any battery you can quickly disable apps that you don't need very often and with the homescreen widget you get them back in action with a fingertip.
15. Link2SD
Link2SD — move your apps to SD card with ease.
Link2SD is an application manager that makes it easy for Android 2.0+ users on their device to move applications to the SD card. It enables you to manage your apps and storage easily.
16. Dumpster
Dumpster — recycle bin for your Android smartphone. With Dumpster now you can easily recover accidentally deleted photos and videos. Once you've installed the app, it will automatically backup and save all of your newly deleted data, allowing you to easily undelete pictures and videos, and instantly restore them to your phone.
17. Root Firewall
Root Firewall is one of the best root apps for Android to save your mobile data and battery life of the smartphone. Root Firewall controls internet usage of each app and also comes with the inbuilt ad-blocking feature.
18. Boot Animations
Like to get rid of that typical startup loading animation on your device, then Boot Animations is the perfect root app for you. The app comes hundreds of beautiful boot animations and also there is an option to create your own by converting an animated GIF to a boot animation.
19. Device Control
Device Control helps you to tweak your Android device to next level. Device Control is an app to control several features of your device accompanied with extra features like a Tasker, App Manager, Editors, Entropy Generator, Wireless Filemanager and more.
20. Magisk
Magisk Manager — one of the top powerful root apps and is the best alternative to SuperSU. Magisk is best known for hiding root permission from the applications Pokemon GO, Android Pay, and other banking apps. Unfortunately, the must-have root app is not available on Google Play. So you have to get it from the official website as apk.
So how is the list guys ? Do you think we miss to add any Android root apps in the list then please let us know in comment section. And also do share.