Brave launched Brave Search beta — a search engine without tracking and advertising, which is integrated into both the mobile and desktop version of the Brave browser.
Brave Search is now available for the public for testing after being tested for months with a limited number of users. Logically, as it is still in development, it may present some aspects to be polished, but it comes to meet a goal as clear as it is complex — that users are not tracked when browsing the web. The company promises to respect the privacy of the users with the offer, unlike the competition.
An interesting point to keep in mind is that access to the Brave search engine is not limited to users of the Brave browser. This means that anyone who enters the site, search.brave.com, can start using the beta, no matter what browser they have installed on their computer or mobile device.
According to the announcement, Brave is relying on both its search engine and its browser not to use tracking or to create user profiles. For example, no personal information or IP addresses should be collected in order to improve search results. A separate search index should also reduce the dependence on third-party providers. In addition, the company would like to make the so-called ranking, and the search algorithms used publicly available in the future and developed it further together with a community.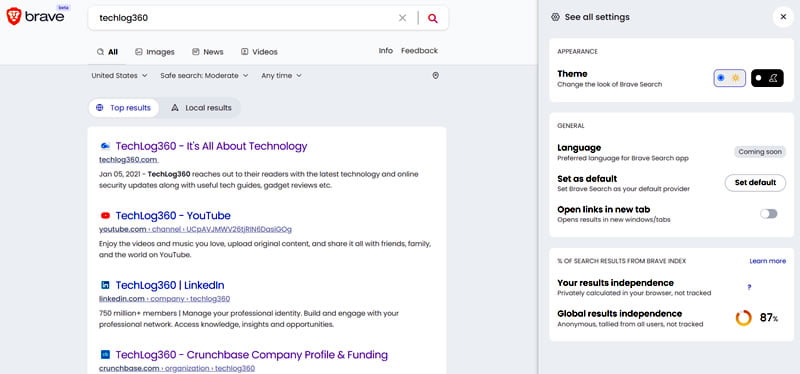 The developers name the following seven principles for Brave Search:
Privacy: no tracking or profiling of users. 
User-first: the user comes first, not the advertising and data industries. 
Independence: Brave has its own search index for answering common queries privately without reliance on other providers. 
Choice: soon, options for ad-free paid search and ad-supported search. 
Transparency: no secret methods or algorithms to bias results, and soon, community-curated open ranking models to ensure diversity and prevent algorithmic biases and outright censorship.
Seamlessness: best-in-class integration between the browser and search without compromising privacy, from personalization to instant results as the user types.
Openness: Brave Search will soon be available to power other search engines. 
Brave took over the technology for the search engine in March of this year with Tailcat. This is the team that was previously responsible for Cliqz's offers, which belonged to Hubert Burda Media.
According to the company, around 100,000 users have applied for the closed test phase since then. Now the Brave Search Beta is also available to the general public for testing. According to Brave, a paid version of the search engine is also conceivable later.