After the official presentation of Windows 11, the web has been plagued with doubts regarding the compatibility of the new operating system.
Microsoft will release the software as a free update for those already using Windows 10, but not all PCs will be able to install it. In general, the minimum hardware requirements did not change much, but questions were raised regarding which processors are compatible with Windows 11 and how to check your PC is compatible with Windows 11.
Windows 11 minimum system requirements:
The minimum requirements to install Windows 11 on your computer are:
2 core processor
4 GB RAM memory
64 GB internal storage
Secure Boot
TPM 2.0
How to check your PC is compatible with Windows 11?
But even though Windows 11 is not yet available for users to install it on their computers, it is possible to know if our PC is compatible. This requires a small software called "PC Health Check".
What the software does is check different aspects of the computer and check if it is possible to install Windows 11 on it.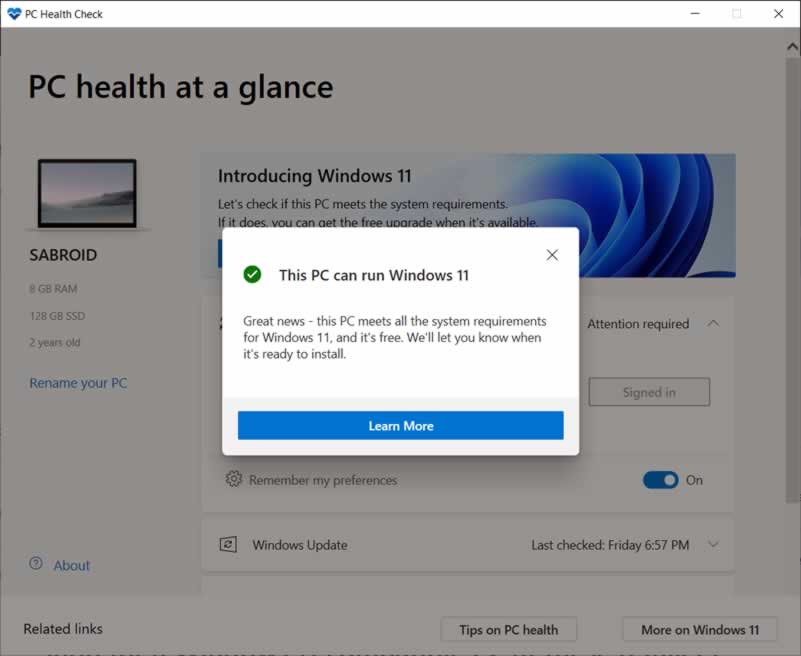 Initial feedback from the community indicates that in many but not all cases, a deactivated TPM module or Secure Boot in the BIOS ensures that the system is classified as incompatible. Microsoft also announced that the PC Health Check app should be further improved "over the coming weeks". The current version spits out partly contradicting information on Windows 11 compatibility and does not give any feedback on the background to users whose PC is supposed to be incompatible.
Windows 11 compatible processors:
According to the specifications revealed by the Redmond corporation, Windows 11 will only be officially compatible with Intel Core processors from the eighth generation onwards, in addition to the newer models of the Pentium, Celeron, Atom and Xeon lines. Check out the complete list of compatible Intel processors.
In the case of AMD, the processors compatible with Windows 11 are the Ryzen 2000 models onwards, along with the second and third generation EPYCs, and some Athlon. You can check out the list of compatible AMD processors here.
Apart from that, Microsoft has also mentioned the compatibility of its new operating system with some versions of Qualcomm's Snapdragon family.
According to The Verge, Microsoft established Windows 11 compatible processors as a "soft floor" for operating system installation. This means that the new software can probably be installed and run without major inconvenience on older generation CPUs than officially supported ones.