Crello software is an excellent tool which can be a game changer and your ultimate tool when anything visual is concerned. Using the Crello software, you can easily get to edit your pictures to make them suitable for your social media handles, various types of travel and personal or even technical blogs, greeting cards on auspicious occasions and even to create ebooks and printing of posters. The Crello software can easily fetch you hundreds of templates which have been created by skilled professionals in that domain and they are certainly going to meet your needs and requirements.
Why Should You Use Crello?
Every time you come across a different product in the market, the obvious question you would ask is why should I use this product and not my previous one. Therefore, this question has been well addressed by the developers of Crello software and they have provided tons of features at an affordable rate to their users with hefty discounts. This is very useful as this may save you the spendings on different types of image editors and graphic designers. Also, you can use this tool to be your own master and create things the way you like them to be.

Features of Crello
The Crello photo editing software and graphics designer tool has an awesome collection of features which come out to be very useful in the process of designing the templates, graphics and even during the editing if pictures. There are several exporting and importing features apart from animating techniques available to be used in this outstanding software which tries to incorporate different types of users from different backgrounds. The following features have the widest usage among the users of Crello:
Photo Editing Features:
The following are the major features available in Crello under the photo editing section:
Multiple Filters: The Crello software has hundreds of filters under various categories which allow the users to create different shades in their pictures. The filters are further sorted into different categories so that the users may use them efficiently. The filters have a preview option as well as a one-click apply feature.
Multiple Layers & Transparency: There are various times when the pictures need to be transparent especially when they are joined with another picture. However, this may seem very difficult but with the transparency option available under this tool, they can be sure of getting a well-edited version of the pictures which is as per their needs and requirements.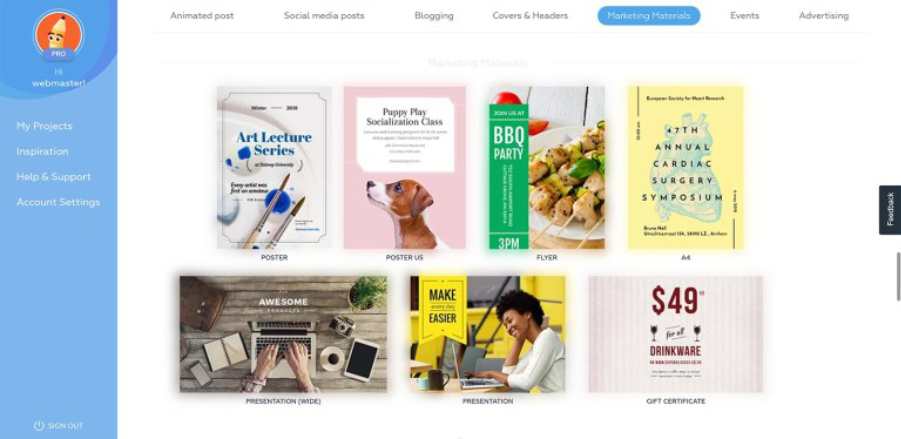 Crop & Blur: Even crop and blur features hold huge importance in the photo editing section as they are used almost by every user. Whether you want to blur some sensitive information or you want to crop out some unwanted detail from the pictures, you can do it one click using this feature.
A Huge Amount Of Templates: The Crello software has more than 50 million photo templates which have been designed by their highly skilled professionals and help you to choose your photo to be edited in a similar fashion. Also, if you want your picture to be set in a particular format, you may do it using a couple of clicks in less than 10 seconds, which is indeed a fast pace.
Designing Tools:
There are various other features which can be accessed from the Design Section of Crello.
Resizing of Designs: Many times you realize that your graphics are too large or too short for being used at a place or for a particular purpose. Using the resize feature you can easily change the size of the graphics without having to make a change in their quality or pixel density. This is one of the most revered features of Crello software.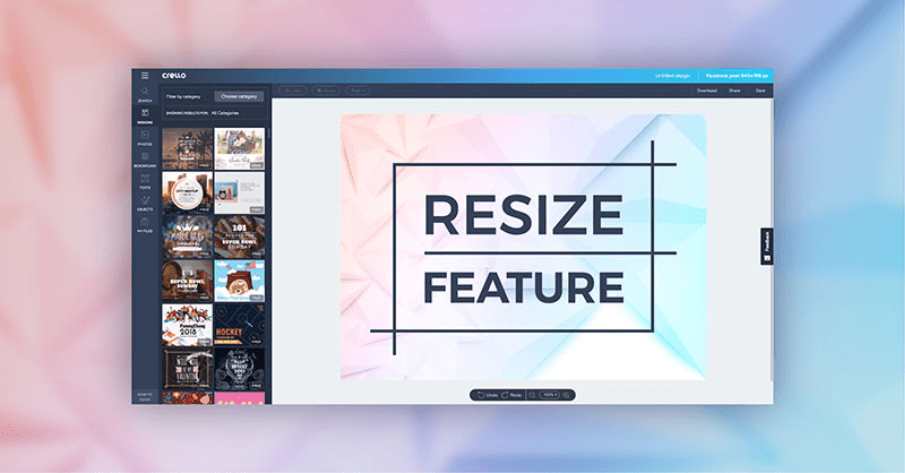 Stickers & Shapes: If you want to add shapes and stickers to your already designed graphics, you're on to it using this amazing feature. This also helps you to keep your graphics loaded with plenty of information and look highly attractive to the audience intended.
Tons of Pre Designed Templates: This software has a lot of predefined templates to help users who cannot do a design right from the start. Hence, you should search for a required template as per your requirements and then within a few seconds, you shall get your template which you can customise as per your needs and requirements.
Pros of Crello:
It is very easy to use.
It has unlimited usage for commercial versions.
The animation templates make it easy to create short videos.
A large number of photo and graphics animation templates available.
Hundreds of backgrounds available
Very easy to customize the pictures and graphics using templates
Very affordable prices
A major part of the features are available for free
Cons of Crello:
A few features are priced higher.
The customer support system is not up to the mark.
No smartphone version available yet.
Who Can Use Crello?
Crello is a software which can be used by a lot of people working in different sectors throughout the globe. A student might use Crello to create graphics to include in his protects whereas business personnel might opt for Crello to create pictures and graphics to be presented in his business meetings. Again, the people with a huge social media presence can use Crello to edit the pictures to be put as Instagram stories whereas the photographers can use the Crello software to edit their already captured pictures. Crello software is available for use on Desktop computers only and therefore people trying to visit it from a smartphone would receive an error message. This is an underdevelopment feature which shall be available soon.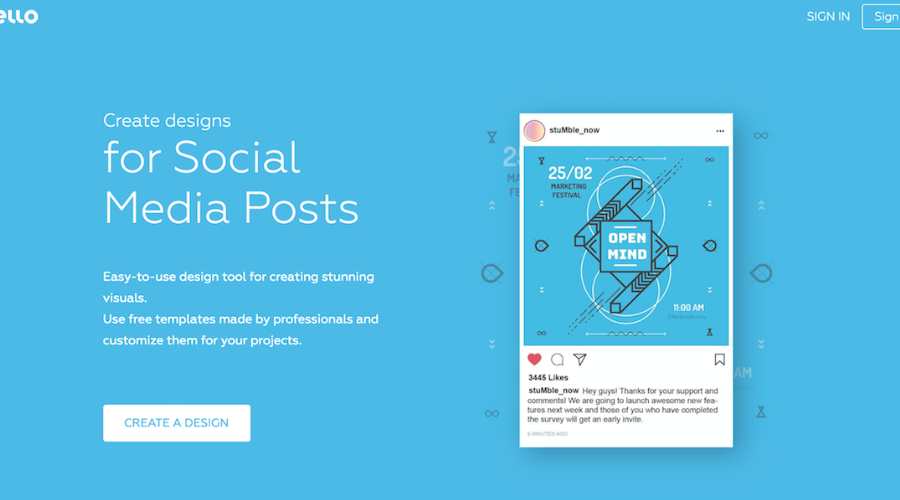 Pricing Information of Crello
The Crello software is an amazing tool if you're on a very tight budget. The pricing makes sure that you are not made to spend huge sums of money on software alone. A monthly subscription of Crello software costs only $9.99 whereas if you go for the yearly subscription, it would cost you less than $100, which is even lesser than $8 per month. Again, there's always a free version with limited features available for use to all the users Crello.
Conclusion
This was a detailed review of Crello software which offers you immensely helpful features for graphic designing as well as photo editing. The brilliant features available with this tool make it one of the leading products in the market and that too, with an option to use it for free.