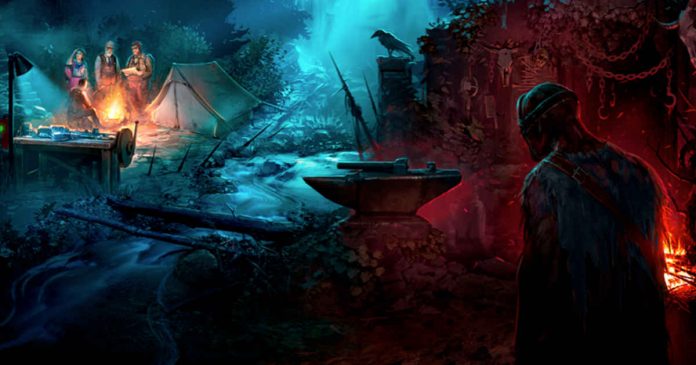 Are you a fan of horror games? Do you love the thrill of being scared out of your wits? Look no further if you're seeking some of the finest horror games for Android and iOS! Horror games are a terrific way to get your heart beating and adrenaline flowing.
We've produced a list of the top ten horror games for Android and iOS that are sure to terrify the heck out of you. These games have it all, from jump scares to psychological horror.
There's something on this list for everyone, whether you like classic horror or want something more modern. Now turn out the lights, put on your headphones, and prepare to be terrified!
Must-Play Horror Games for Smartphones:
1. Goosebumps Night of Scares
Goosebumps Night of Scares is one of the best horror games for Android and iOS, based on bestselling horror series. This is the first-ever Goosebumps game for smartphones and tablets and features Goosebump's most frightening monsters, including Slappy the Dummy, evil gnomes, werewolves, and more. It is a terrifying survival game of hide-n-seek, and in the game, you have to survive a night in R.L. Stine's house — a living trap filled with his most famous monsters. The game also supports virtual reality mode — just place your phone in a VR-compatible headset to get even closer to the action.
2. Dead by Daylight Mobile
Dead by Daylight Mobile is an exciting multiplayer horror game for Android and iOS that can be played by up to five players. The game is based on traditional hide-and-seek action and includes atmospheric aspects and frightening shocks. One friend pretends to be the murderer, while the other four hide and attempt not to be discovered. You may alter the appearance of your favourite characters from the game series, such as Mike Meyers, Amanda Young, and Ghost Face. The visuals are outstanding, and the locations are constructed authentically.
3. Mimicry: Online Horror Action
Mimicry blends aspects from Dead by Daylight and Among Us. You and your buddies are part of a group of nine individuals, but one of you is a terrifying monster waiting for the group to split apart. The game is played in the third person, and each map is unique owing to randomised level generation. The creators included voice chat to improve the survivors' destiny, yet the grim mood persists.
4. CASE: Animatronics
CASE: Animatronics is a scary and challenging first-person stealth horror game for Android and iOS. You play as a detective at a police station in the middle of the night, surrounded by Animatronics who want to eat you alive. While avoiding the Animatronics, you must complete puzzles that arise in new locations each time you enter. The game's storyline is disclosed through notes spread across the locations, and fans of Five Nights at Freddy's will notice several connections to the franchise.
5. Slenderman Hide & Seek Online
Slenderman Hide & Seek Online is a frightening multiplayer horror game for the smartphone in which students compete against Slender Man. Players must locate and destroy Slender Man's dolls and amulets while evading capture by Slender Man. You can play as either a student or a Slender Man and must utilise their talents to either dodge or catch your opponent. Catch all the pupils as Slender Man before they ruin all the amulets and steal your lives. The game has gorgeous graphics, terrifying sounds, and straightforward gameplay.
6. SCP Containment Breach Mobile
SCP Containment Breach is a popular cult game among gamers. The game has been customised and "sawed" hundreds of Wikipedia articles, resulting in a cult following for SCP. The mobile version challenges you to escape the disaster-stricken research facility. The game has several endings, and it is hard to predict the activities of SCP creatures, resulting in absurd circumstances.
7. The School: White Day
The School: White Day is one of the best horror games for iOS and Android where the player must help one of four girls escape from a spooky haunted school. The game has no violence but rather ghosts and other mystical things. To proceed through the game, the player must solve challenging puzzles and interact with the environment, and they can play at various difficulty levels. You play as a character attempting to flee while avoiding a furious watchman, ghosts, and other supernatural forces. The game's high-quality audio, horrific atmosphere, and various endings make it an excellent pick for horror enthusiasts.
8. Granny
Granny is a smartphone horror game in which you are confined in a house with an evil grandma who wants to murder you. To escape, you must explore the home, gather things, and solve puzzles while escaping Granny's grasp. The game has gorgeous visuals, eerie sound effects, and an atmospheric ambience to have you on the edge of your seat.
9. Eyes Horror & Coop Multiplayer
Eyes Horror & Coop Multiplayer is set in an abandoned home haunted by an evil spirit. You take on the role of a burglar who has broken into the mansion to steal a precious relic, but you quickly find that you are not alone. Randomised scares, numerous endings, and a stressful atmosphere will have you on the edge of your seat in this game. This free multiplayer horror game will test your survival skills like never before, where you and your friends may visit the haunted mansion together to acquire riches while being terrorised by the wicked ghost. You may converse via voice chat and collaborate to flee the mansion.
10. Horrorfield Multiplayer Horror
Horrorfield is an unnerving asylum-themed multiplayer horror game for Android and iOS. Players can choose to play as a survivor, with unique skills and the aim of evading a killer, or as a murderer, with their abilities and the purpose of tracking down the survivors. The game offers hundreds of mantraps, creatures, and creepy surroundings, with seven survivor characters and four killer characters to pick from. Playing as a survivor allows you to collaborate with other people online. However, playing as a killer means you're on your own.
In conclusion, horror games can be a thrilling and terrifying experience for smartphone gamers looking for a good scare. From the classic survival horror of Goosebumps to the multiplayer madness of Horrorfield, there is something for every horror fan on iOS and Android.
These top must-play horror games for Android and iOS provide a range of gameplay styles, settings, and scares, allowing players to dive into the genre and enjoy a spine-chilling adventure on their mobile devices. So, turn down the lights, put on your headphones, and get ready to face your fears with these terrifying horror games.