Intel and Broadcom are working together to bring Wi-Fi 7 to the real world as quickly as possible, starting with notebooks. The two companies released the video of the first "cross-vendor" demonstration of Wi-Fi 7 at over 5 Gbps.
The test was carried out with Dell's Latitude 5430 notebooks with 12th generation Core i5 processors and the Wi-Fi 7 solution connected to a Broadcom Wi-Fi 7 access point.
Systems with Wi-Fi 6 and Wi-Fi 6E were also used for the demonstration to illustrate the higher transmission speed of Wi-Fi 7. A little over 1 Gbps was achieved with Wi-Fi 6, but 2 Gbps with Wi-Fi 6E and the new 6 GHz band that this standard offers. Wi-Fi 7 thus achieves 2.5 times the speed of Wi-Fi 6E.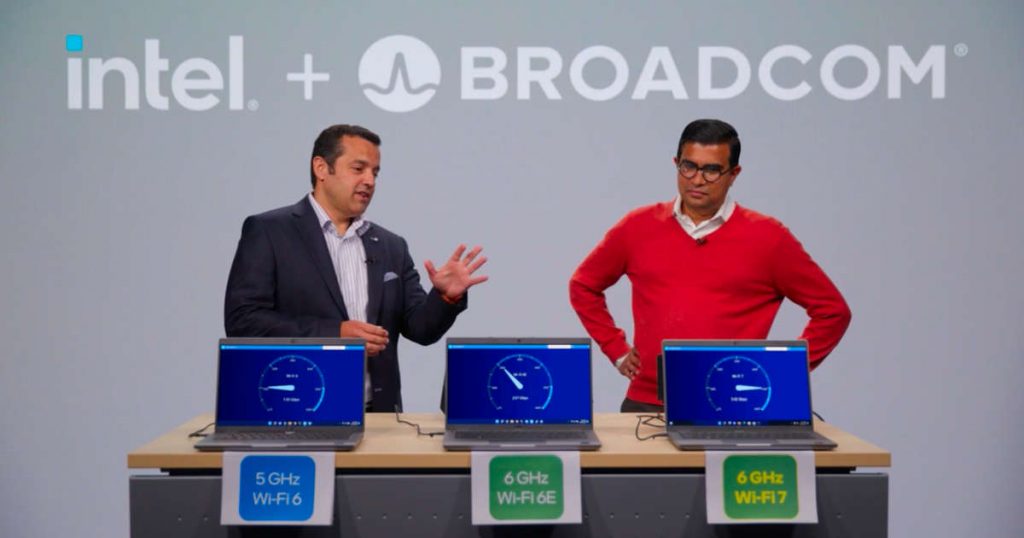 The test was performed with Iperf 3.11, with one of the notebooks working as the remote station for the measurement and using 10 Gbit/s for it —Thunderbolt adapter is connected to the respective router. A standard Asus ROG Rapture GT-AXE16000 is used for the older standards, and a Broadcom Tri-Band AP for Wi-Fi 7, which is still under development.
According to the two companies, the interoperability between Intel and Broadcom for Wi-Fi 7 that has now been demonstrated should also be used for the development of products for the official certification of the standard.
Wi-Fi 7, the marketing name for IEEE 802.11be, is set to become the wireless standard for the next 10 years, which requires higher transmission speeds and lower latency. Wi-Fi 7 should offer both, for which, among other things, wider frequency bands with 320 MHz in the still unlicensed 6 GHz range and multi-link operation for the simultaneous connection over several bands are used. Wi-Fi 6E currently uses a maximum of channels with a width of 160 MHz. In addition, the QAM-1024 modulation is changed to a QAM-4096 modulation.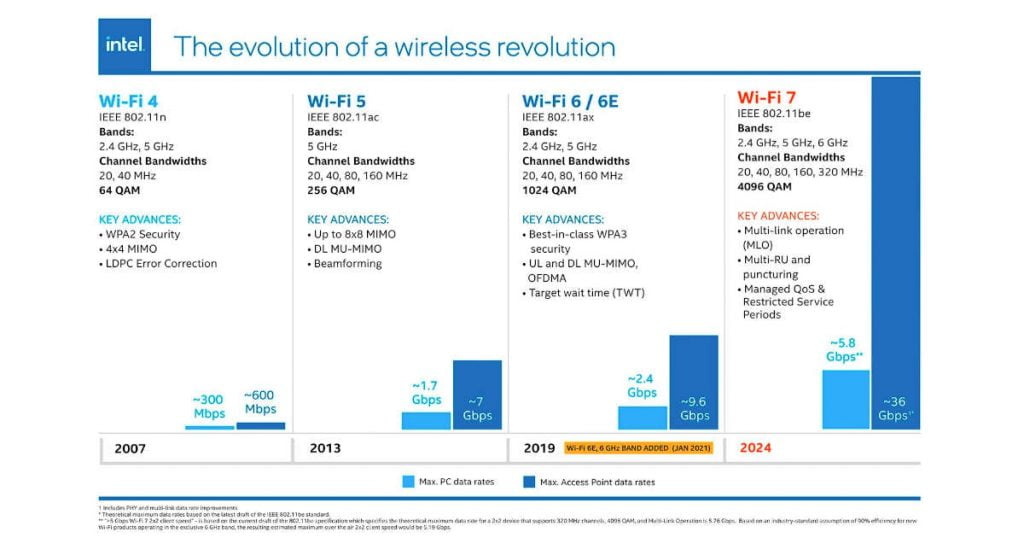 However, end customers will have to wait a little longer for the new standard because devices with Wi-Fi 7 will probably not be available in stores until the second half of 2023. As always, the expensive devices will be equipped with it first before the mass market is gradually addressed.
Competitor Qualcomm presented the first Wi-Fi 7 chipsets at the end of February this year at the MWC in Barcelona. Also, MediaTek showed the world's first demo of Wi-Fi 7 technology.