In this technological and modern era, the upbringing of children has become challenging. The main reason is that the kids are now more exposed to technological gadgets and a vulnerable environment. This can affect their mindset and indulge them in unethical or illegal activities. That's why being a parent; you should take effective measures to examine your children's daily activities.
This article will introduce the best parental control app known as Wondershare FamiSafe. By reading this article, you can learn how to use the FamiSafe app efficiently.
Part 1: Main Reasons to Use a Parental Control App
Have you ever used a parental control app? Nowadays, many parents prefer parental control tools to monitor their child's activities without making them feel insecure. This part will briefly discuss some of the major reasons for the usage of parental control apps.
1. Restricting Online Gaming
Online gaming can be extremely addictive to your children. There are various online games that promote violence, drugs, and other unethical activities. If your kid spends extensive hours on such online games, it can affect his/her mental health. Moreover, it can arouse violent behavioral patterns, leading to negative consequences.
By using a parental control app, you can check the types of online games your child is playing. Also, you would be notified whenever your child exceeds the playing limit you have set before.
2. Monitoring Web Browsing History
While browsing through the internet and different websites, there is a high possibility of the presence of unethical content. The content can be related to self-harm, suicide, drugs, or bullying. Moreover, your child may be redirected to adult websites. In such a situation, the parental control app can help monitor your kid's web browsing search history and activities. 
By relying on an advanced parental control app, you can easily block explicit or adult websites. Also, you can analyze their daily activities on the websites efficiently.
3. Management of Time 
Time management of your kids, especially in this digital age, is a hectic job. If your kid spends unlimited time on social media apps or other platforms, he won't be able to manage his academic career. That's why parental control apps help in time management. Using this tool, you can check the amount of time spent on particular social media apps.
Moreover, the parental control app also allows you to modify the personal settings of your kid on social media accounts. By doing so, your child would use social media apps without the risk of privacy invasion.
4. Prevents Cyberbullying 
Cyberbullying is an unfortunate factor that has taken several lives. To protect your kid from cyberbullying, threats, or trolling, you should use a reliable parental control app. It will help you instantly check the messages received on your kid's phone. Furthermore, you can check the added contacts and the respective conversations easily. This will protect your children from cyberbullying issues or any security threats over the internet.
Do you want to use a reliable parental control app? Wondershare FamiSafe is a complete parental control app offering tons of options for the safety of kids. It's a compatible tool that can be downloaded on multiple platforms like Android, iOS, Mac, Windows, Chrome, and Kindle. Through this efficient app, you can ensure the web safety of your children through the features like Web Filter, Safe Search, and Browser History.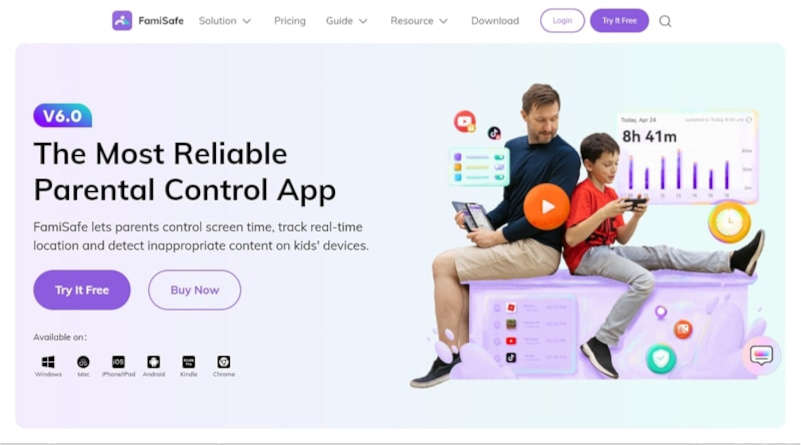 Moreover, you can check your children's screen time on their devices and the daily apps under their usage. It also functions as a location tracker through which you can check the real-time location of your kid. You can also check the activity report through this tool to check the apps and platforms your kid has accessed. By using this app, you can check your kids' daily activities on their devices and prevent online dangers.
Part 3: Method to Use the FamiSafe App to Check Your Kid's Activities
Are you ready to use the FamiSafe app? This section will offer detailed instructions on how to set up and use the FamiSafe app effortlessly.
3.1 Set Up FamiSafe on Parent's Phone
Step 1: First, start installing the FamiSafe app on your phone. You can visit Play Store or App Store, depending upon your phone. Once you have downloaded the app, register yourself through a Wondershare ID. Or you can use your Facebook, Google, or Apple account to log in.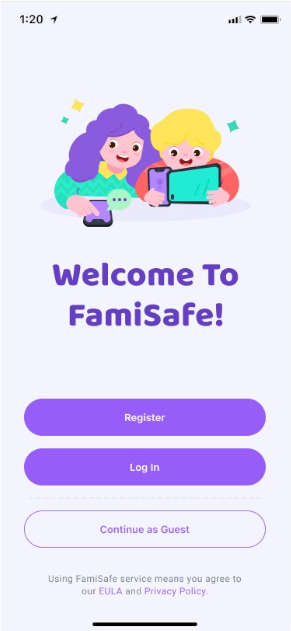 Step 2: To proceed, continue as a parent and use the QR code or pairing code to establish a connection to your kid's phone. After establishing the connection to your kid's phone, set a PIN code to protect your FamiSafe account, and you are good to go.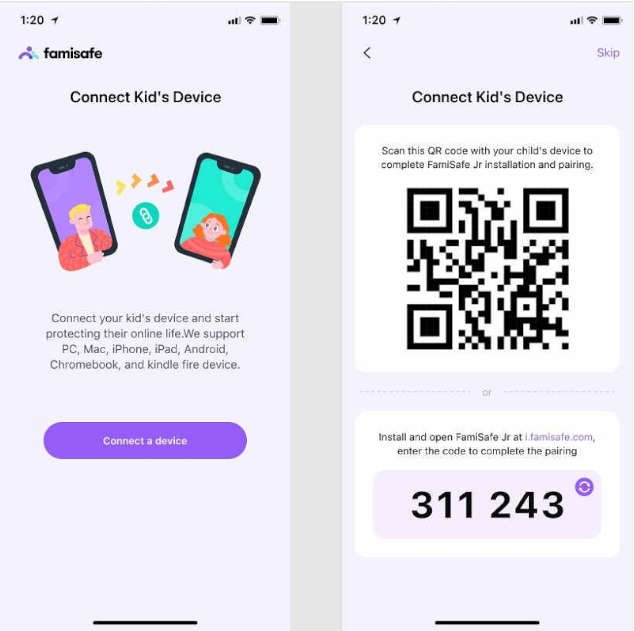 3.2 Set Up FamiSafe on Kid's Phone
Way 1: You can install FamiSafe Jr on your kid's phone by scanning the QR code on the parent's phone. This will automatically install and pair the FamiSafe app on your kid's phone.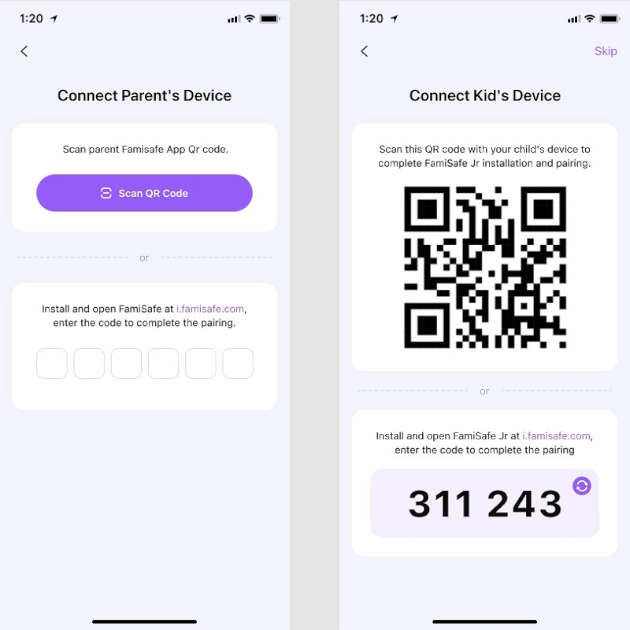 Way 2: You can also use the pairing code to set up FamiSafe on kid's phone. For this, download the FamiSafe app from Play Store or App Store. Once done with downloading, press the "Start" button and enter the pairing code you have received from the parent's device.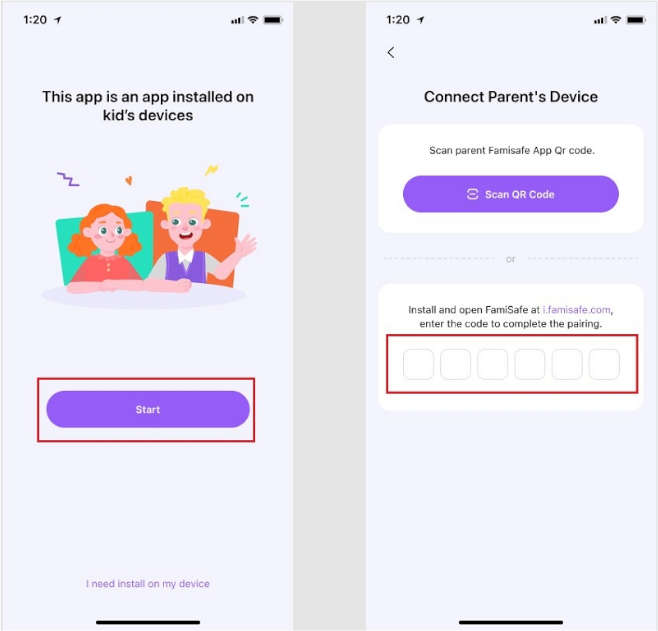 3.3 Grant Permissions on Kid's Android Device
Step 1: To use the FamiSafe app efficiently, you need to grant permissions on the kid's phone. For this, activate "Accessibility" by navigating to the Installed Services. Afterward, locate and enable FamiSafe Jr.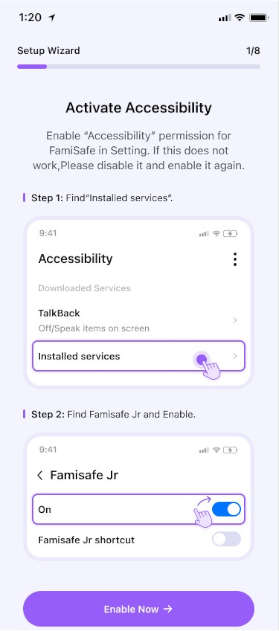 Step 2: To block certain apps, you can enable the option "Start in Background." Moreover, you can enable the options like "Display over other apps," "App Supervision," "Notification Access," "Device Administrator Permission," "Auto-start," and "Battery Saver." Moreover, also enable the location to allow FamiSafe to track the exact location.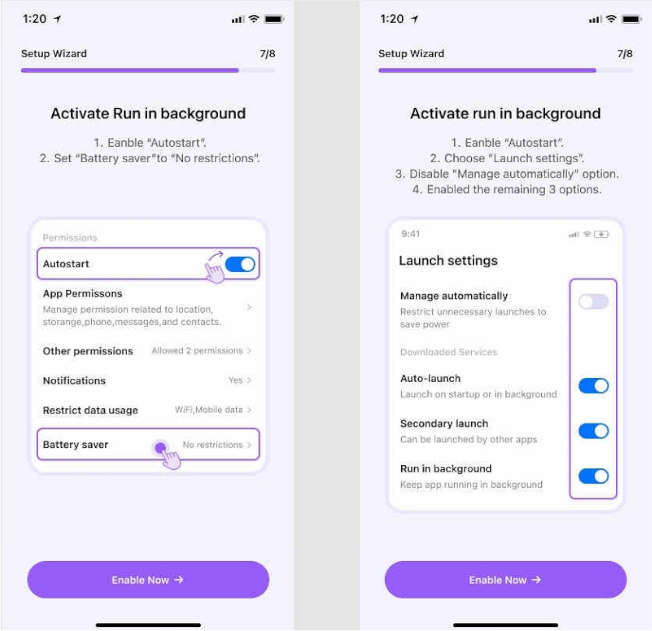 3.4 Grant Permissions on Kid's iOS Device
Step 1: On your kid's iOS device, navigate to Settings and select FamiSafe. Afterward, tap on "Location" and enable "Always Allow." This will activate the accessibility of FamiSafe.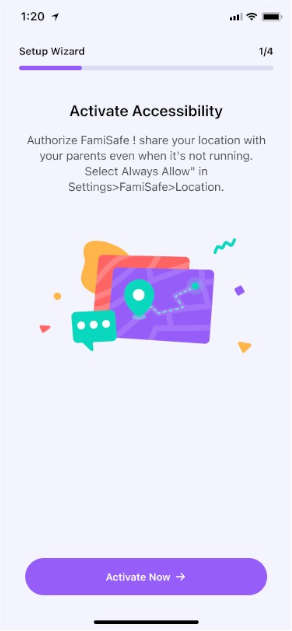 Step 2: Next, install the iOS profile to allow FamiSafe to control and monitor the device. Just follow the on-screen instruction to enable the necessary permissions.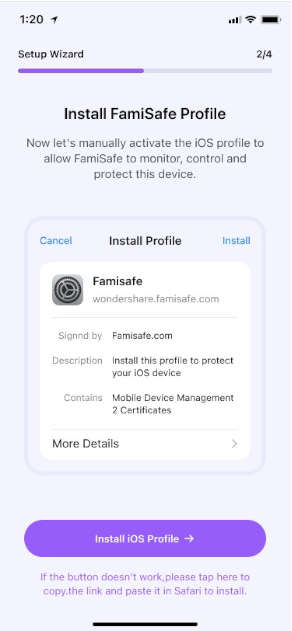 Step 3: To block the inappropriate content from Safari, proceed to Settings and choose "Safari." Afterward, tap the "Content Blockers" option and activate FamiSafe.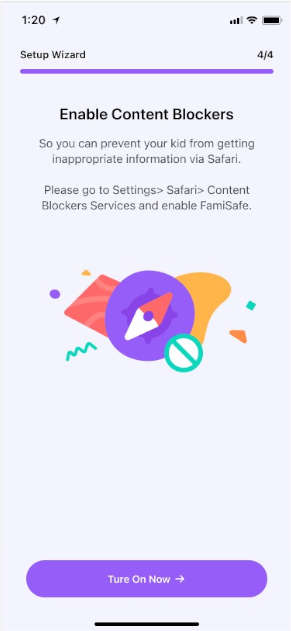 3.5 Start Managing the Kid's Phone
Once you are done with setting up FamiSafe and granting the necessary permissions, you can start using the app. You can generate Activity Report to analyze the daily activities of your kid. You can also trace the real-time location of your kids through this app to ensure their safety. Moreover, you can check the location history, web search history, and driving report efficiently through this app. FamiSafe also allows you to set restrictions on YouTube and TikTok to prevent unethical content from the children's reach.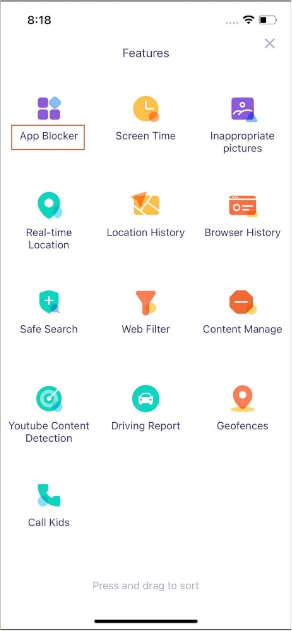 Conclusion
Are you worried about your kid's daily activities on the phone? This article has introduced FamiSafe as an advanced and efficient parental control app. Using this tool, you can easily ensure your kid's safety and online activities. Moreover, it will help you to keep a check and balance on your child regarding his daily activities with technological gadgets.