The Taiwanese manufacturer MediaTek once again snatches the first position in the smartphone SoCs sales from Qualcomm.
MediaTek was able to increase its market share for smartphone SoCs and application processors in the second quarter of 2021 compared to the second quarter of the previous year from 26 to 43 percent and thus overtake Qualcomm, whose market share fell from 28 to 24 percent in the same period.
MediaTek Dimensity line processors have become one of the most viewed in current smartphones, mainly the most affordable category. This panorama has hit Qualcomm again, which has lost its leadership for more than a year.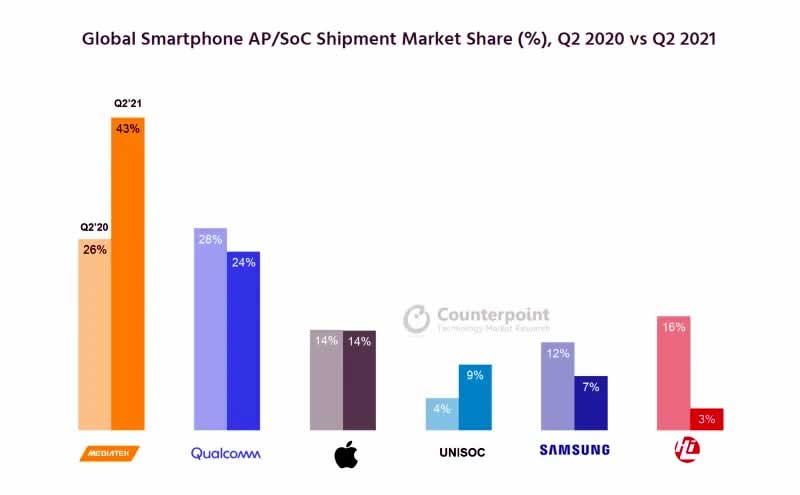 With an unchanged market share of 14 percent, Apple follows in third place, while HiSilicon has fallen from 16 to only 3 percent because Huawei was no longer able to manufacture the Kirin SoCs due to the US trade restrictions.
Samsung's market share also fell from 12 to 7 percent, but this is mainly due to the fact that the company relies on Qualcomm and MediaTek as SoC suppliers for more smartphones. Unisoc's growth, on the other hand, is due to the use of its own SoCs by Honor, Realme and Motorola and the increased acceptance of these processors in China.
Overall, the market for smartphone SoCs grew by 31 percent year-on-year in the second quarter, which can be attributed in particular to the growth in the 5G area and the pandemic-related lower sales in the second quarter of 2020, according to Counterpoint Research.
Qualcomm continues to dominate the 5G modem business with a market share of 55 percent — not least due to the company's use of a 5G modem in Apple's iPhone 12 series.