The Redmond giant has presented Microsoft Pluton — a security chip designed to improve the protection of any compatible PC based on Windows 10.
Microsoft, in collaboration with Intel, AMD, and Qualcomm, aims to raise the security of the Windows platform with this custom Pluton chip integrated within the processors.
With the Pluton chip, Microsoft offers a very interesting solution that adds a layer of protection at the hardware level that is also supported at the software level — an approach we've already seen on Xbox One and Azure Sphere.
Until now, the Trusted Platform Module or TPM has represented the hardware approach adopted by manufacturers to increase the security of their platforms. It contains, in a secure form, the keys that allow you to maintain the integrity of a system against unauthorized access and use. The implementation of increasingly sophisticated ways of attack, also thanks to the possibility of having physical access to the system even for a short time, has made it necessary to go beyond the forms of security made accessible through the TPM module.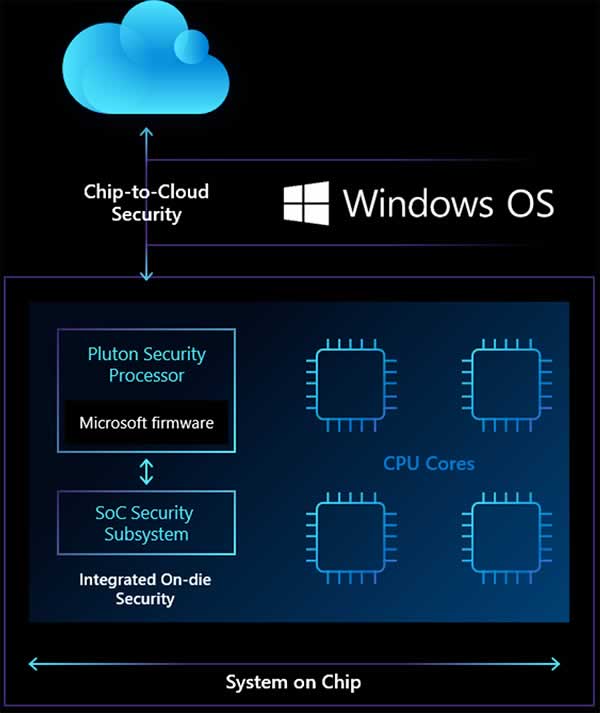 Pluton is therefore integrated inside the processor, operating primarily as a real emulator of a TPM chip as if it were installed in the system and following the TPM specifications implemented up to now. In this way, a system based on Windows OS will immediately use Pluton to protect access credentials, user identification systems, data encryption keys as well as personal information.
Entering these data into Pluton does not allow access, as they are present inside the processor and isolated from the rest of the system.
The integration of Pluton into the system also makes it easy to update the system firmware through the entire ecosystem of PC solutions. Thanks to Pluton, it is possible to install update firmware supplied by Microsoft through Windows Update. Security updates are implemented in an end-to-end mode for the entire platform.
Microsoft has confirmed that it is working with Intel and AMD to integrate this new chip into their processors. And according to reports, Qualcomm will also be committed to integrating this new security solution in its upcoming Snapdragon SoCs.