Nintendo, completely unexpectedly, has presented its new Nintendo Switch with OLED screen. A new model that comes with a renewed design and general improvements.
A launch that has been practically by surprise since many of us expected that Nintendo would take advantage of its last Nintendo Direct in the context of E3 to present the console. This new model has been officially announced on the company's YouTube channel.
The new Switch is equipped with a 7-inch OLED display, which, according to the manufacturer, should deliver intense colors and high contrast. The model offered so far comes with a 6.2-inch LC display. The resolution remains unchanged at 1,280 × 720 pixels.
The dimensions of the game console itself, including the Joy-Con controllers, are marginally larger and are now 242 × 102 × 13.9 mm (W × H × D) — previously, it was 239 mm in width, the other details are the same. The new weight is 320 instead of 297 grams, with Joy-Con controllers 420 instead of 398 grams.
Another novelty of the new Nintendo Switch OLED is table mode that is implemented using a new stand on the rear. This takes up the entire width of the housing and covers a larger angle that can be freely adjusted by the user by using a small stand that could be opened.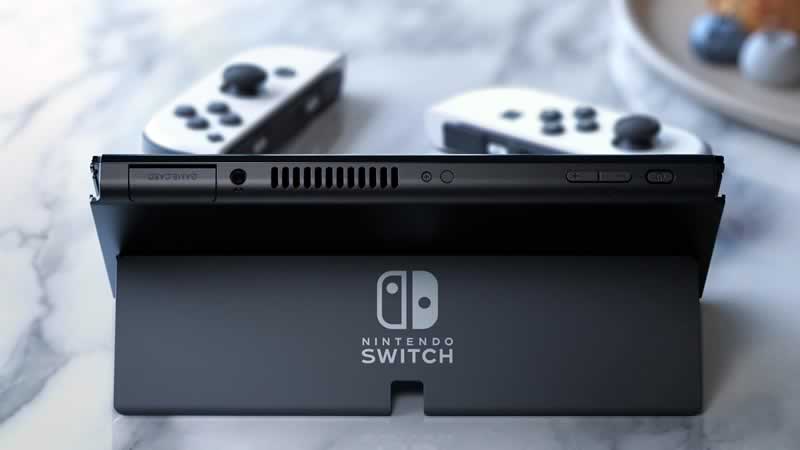 For the 4310 mAh battery, Nintendo still gives 4.5 to 9 hours of battery life, depending on which game is being played — The Legend of Zelda: Breath of the Wild is 5.5 hours.
A new dock is also included. It offers two USB connections, an HDMI port and, recently, a full-fledged LAN connection, which should ensure a stable Internet connection in TV mode when games are played online or when major downloads are pending.
Whether Nintendo is installing a stronger Nvidia Tegra chip, which, according to rumours, should support DLSS for up to 4K, is not clear from the information so far. However, the fact that a maximum of 1080p60 can still be output in TV mode speaks against this. However, Nintendo has expanded the memory, which is now twice as large at 64 GB. Nintendo has also improved the integrated stereo speakers. The new Switch will be available in white or neon blue/neon red. Rumours from the run-up to a new processor are officially rejected.
With the new Nintendo Switch OLED, we can play all the Nintendo Switch games available, and the Joy-Con continue to use the same rail system from the last generation. Thanks to this, users can continue to use their Joy-Con with the new console without having to adapt to a new system.
The new Nintendo Switch OLED will be launched worldwide on October 8 of this year, so we will still have to wait a few months to buy it. Its price will be in the United States at $350.