News arrived now that certainly will not please all those who use Google Photos to store their photos in the cloud as Google has decided to no longer allow unlimited photo storage.
Google is changing the terms for the Google Photos cloud storage service. From June 1, 2021, it will no longer be possible to save any number of high-quality photos and videos on Google Photos but will be counted towards the storage quota belonging to the Google account.
Preinstalled on millions of Android mobiles, Google Photos can automatically upload the photos we take with our device; therefore, it is a simple way to have a backup of our memories in the cloud, associated with our Google account.
However, Google has already set some stakes that will allow users to have a less traumatic passage than it would seem from the news. All the photos and videos already processed and, therefore, already in the archive will not be touched and will not contribute to the new storage limit, which we anticipate, will now be only 15GB per user.
So from June 1, 2021, all the new photos and videos uploaded from that date will be counted in the total storage space that is made available for free to all accounts. However, this space is equal to 15GB, although it can still be expanded for a fee thanks to Google One.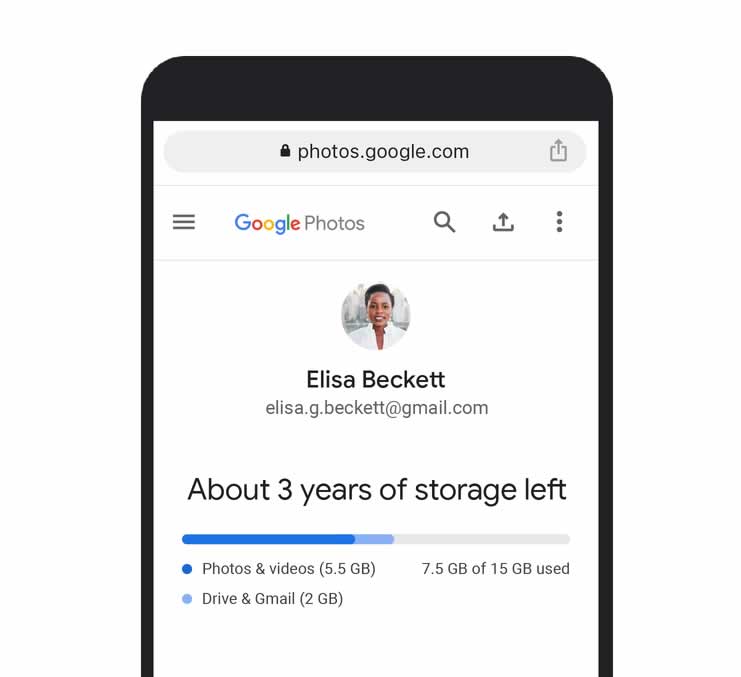 The company justifies this move by saying that it is important that Google Photos is not only a great product but one that works well in the long term and that allows to respond to the demand for more storage among users. In other words, it seems that Google feels that it could not continue to offer users so much free storage and, at the same time, continue to improve the service.
In addition, Google has also announced other new guidelines regarding its online storage — from June 1, 2021, the company reserves the right to delete data stored on Drive under certain conditions.
This applies to stored data from the Google services Gmail, Drive (i.e., Docs, Sheets, Slides, Drawings, Forms, and Jamboard) as well as photos. If users have not accessed or saved any data in one of the services for a period of two years – i.e. they have been inactive – Google reserves the right to delete the data.
According to Google, the easiest way to prevent deletion is to use Gmail, Drive or Google Photos regularly. To do this, of course, users must be logged into the respective service online.