A few months ago we heard Oppo has been working on its own SoC. And now at Oppo Inno Day, the Asian manufacturer's annual technology conference, the smartphone manufacturer has announced a major hardware innovation that will take Oppo smartphones a step further in terms of mobile photography.
Oppo has presented MariSilicon X — its first NPU (Neural Processing Unit) for state-of-the-art imaging entirely built in-house.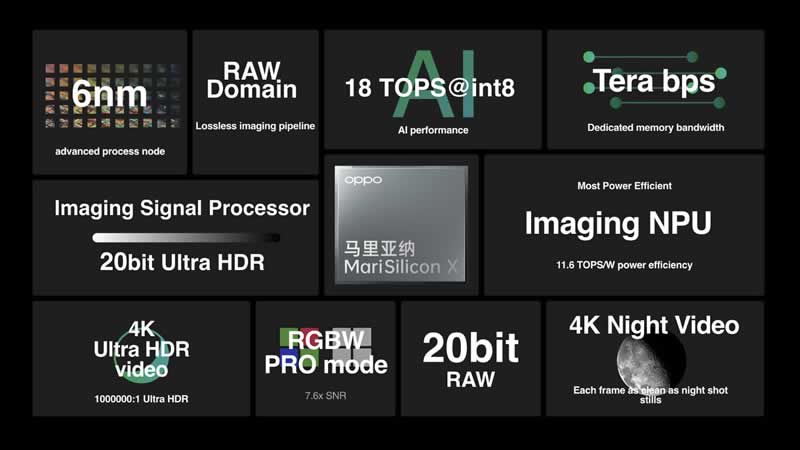 Made with a 6nm manufacturing process, MariSilicon X combines an advanced neural process, an ISP and a multilevel memory architecture. All this power pack to deliver incredible performance with a truly high energy efficiency that not only makes RAW image processing possible in real time but also 4K and HDR video in night mode via artificial intelligence with live preview.
At the performance level, the NPU is capable of managing up to 18 trillion operations per second (TOPS), a power that, according to the manufacturer, is more than enough to process all the tasks related to the camera's artificial intelligence algorithms. The performance is also not limited by the memory of the smartphone since MariSilicon X has a dedicated Tera bps memory.
The ISP included in the MariSilicon X allows you to take photos with a dynamic range of 20 bits at 120 dB, as well as a contrast level of 1,000,000:1, which translates into more realistic images. Noise reduction algorithms based on artificial intelligence are also applied to video, making the results, according to Oppo, clearer and sharper.
MariSilicon X will arrive in the first quarter of 2022 with the Find X series. Apart from the new NPU, Oppo also presented revolutionary OPPO Air Glass.