Qualcomm launched Snapdragon 480, the cheapest series from Qualcomm for entry-level smartphones that integrates a 5G baseband. Snapdragon 480 aims to offer some of the features typical in the past of the high and mid-range models, at a lower price than the latter.
A little more than two years after the introduction of the 5G standard in the Snapdragon 800 series, the new cellular generation with the Snapdragon 480 has arrived. In addition, Qualcomm speaks of an immensely higher performance of the integrated CPU cores, the graphics unit, and the functional blocks for artificial intelligence compared to the Snapdragon 460, which was announced around a year ago.
The Snapdragon 480 integrates the Snapdragon X51 5G modem, capable of supporting both the Sub-6 GHz bands and the faster mmWave bands, with full compatibility with SA and NSA (Standalone and Non-standalone) access modes. Both Time Division Duplexing (TDP) and Frequency Division Duplexing (FDD) are also supported, as well as Dynamic Spectrum Sharing (DSS).
The Snapdragon 480 is an 8LPP instead of an 11LPP design, so it is produced by Samsung Foundry in an 8 nm process. While the Snapdragon 460 had four modified Cortex-A73 and four Cortex-A55, the Snapdragon 480 has two adapted Cortex-A76 (Kryo 460) and an additional six Cortex-A55. Qualcomm speaks of a more than doubled CPU performance, which sounds realistic.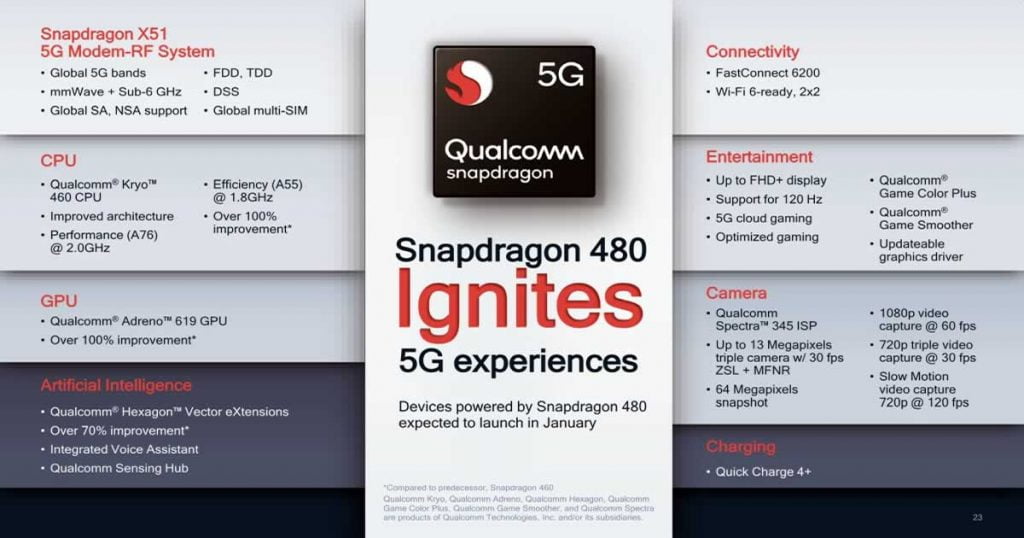 Qualcomm also promises more than 100 percent more performance for the graphics unit. In terms of nomenclature, the Adreno 619 is used instead of the Adreno 610. With the GPU, displays with a resolution of up to FHD +, i.e. Full HD in stretched formats such as 20: 9, can be controlled with a maximum of 120 Hz.
Snapdragon Elite Gaming, for example, for HDR gaming, is reserved for top chips like the Snapdragon 888, but the Snapdragon 480 supports selected features such as the Adreno GPU drivers that can be updated via Google Play.
Another feature of the Snapdragon 480 is the Spectra 345 image processor, which, like in the Snapdragon 888, is designed as a triple ISP, capable of three times 13 megapixels with 30 FPS series images without delay (Zero Shutter Lag) with parallel noise reduction over several frames ( Multi-Frame Noise Reduction).
With only two cameras, this also works with one 25 and one 13 megapixels, and a single camera is supported with 64 megapixels. In the video sector, the chip supports one Full HD with 60 FPS or two Full HD with 30 FPS or three times 720p with also 30 FPS. 4K resolution and HDR are reserved for the higher price ranges.
According to Qualcomm, the first smartphones with Snapdragon 480 should hit the market early this year. Nokia, OnePlus, Oppo, and Vivo are among the manufacturers who have already shown interest in the new platform.