Qualcomm has just presented us the new Snapdragon 888 Plus 5G (or Snapdragon 888+ 5G) mobile processor, which, as its name suggests, comes as the direct and improved successor to the latest mobile platform, Snapdragon 888, announced last December.
The Snapdragon 888 Plus has the same specifications as its predecessor, the SoC is equipped with a Kryo 680 CPU, which now includes 8 cores with a maximum of 3GHz — 2.995 GHz, to be more exact —, compared to 2.84 GHz of the previous generation. It maintains the limit of RAM memory of 16 GB at 3200MHz.
The new processor also improves the AI ​​engine. The same Hexagon chip from the Snapdragon 888 is included — a Hexagon 780. However, the performance of the SoC in artificial intelligence tasks is 20% better. According to Qualcomm, it is capable of up to 32 trillion operations per second (TOPS), compared to 26 TOPS for the previous model.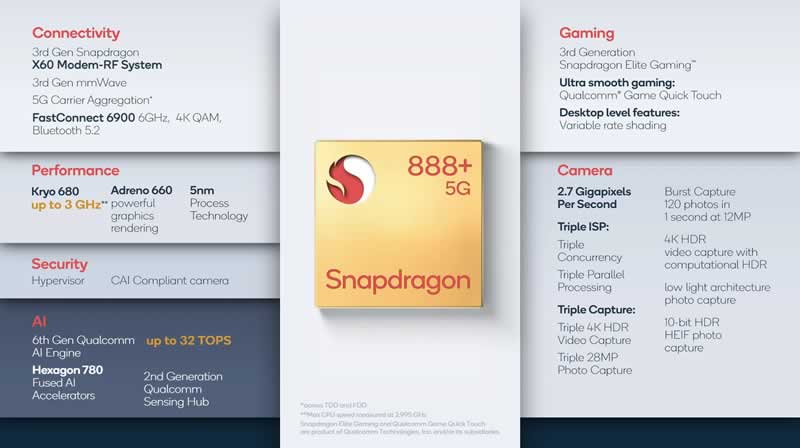 The rest of the specifications are very similar to the Snapdragon 888. Qualcomm has confirmed that this new processor will be present in some of the Xiaomi, Motorola, Honor, Asus or Vivo devices. These manufacturers will launch their first models with Snapdragon 888+ during the third quarter of 2021.