Qualcomm has been in the development of so-called XR solutions, i.e. platforms that can be used for AR (Augmented Reality), VR (Virtual Reality) and MR (Mixed Reality). In the premium market, for example, the Snapdragon XR2 Gen 1 and XR2+ Gen 1 are available in the Meta Quest 2 and Quest Pro, while the Snapdragon XR1 Gen 1 serves the upper class.
After the announcement of the Snapdragon 8 Gen 2 and Oryon at the Snapdragon Tech Summit, Qualcomm presented the Snapdragon AR2 Gen 1 — the system was specially developed for AR headsets and should not only increase performance and efficiency but also optimize the space required by the SoC in the headset itself.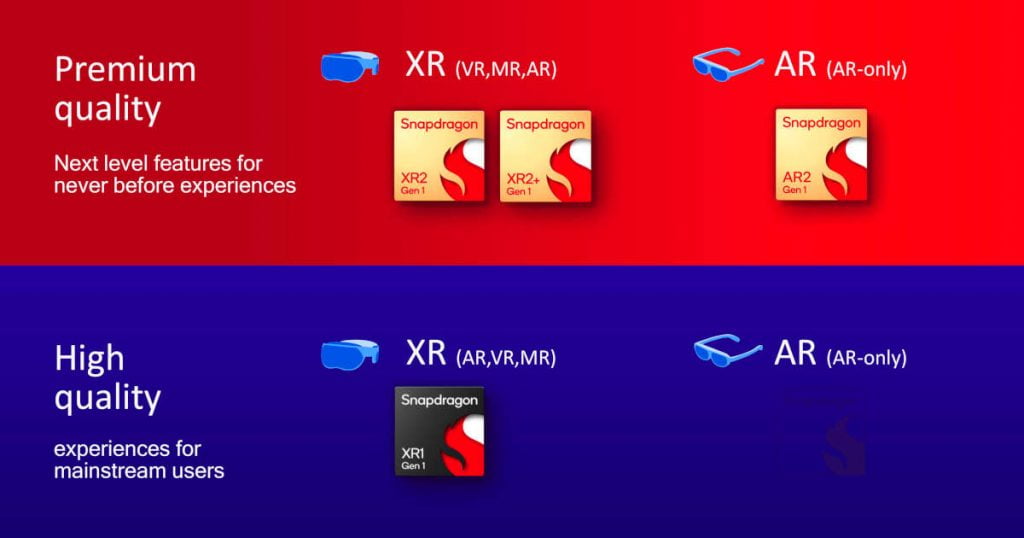 Qualcomm uses a multi-chip distributed processing architecture, so it doesn't put all the components on one big board. Rather, the main processor is built into one of the arms of AR glasses, while the coprocessor is housed in the bridge, and the connecting chip in another arm.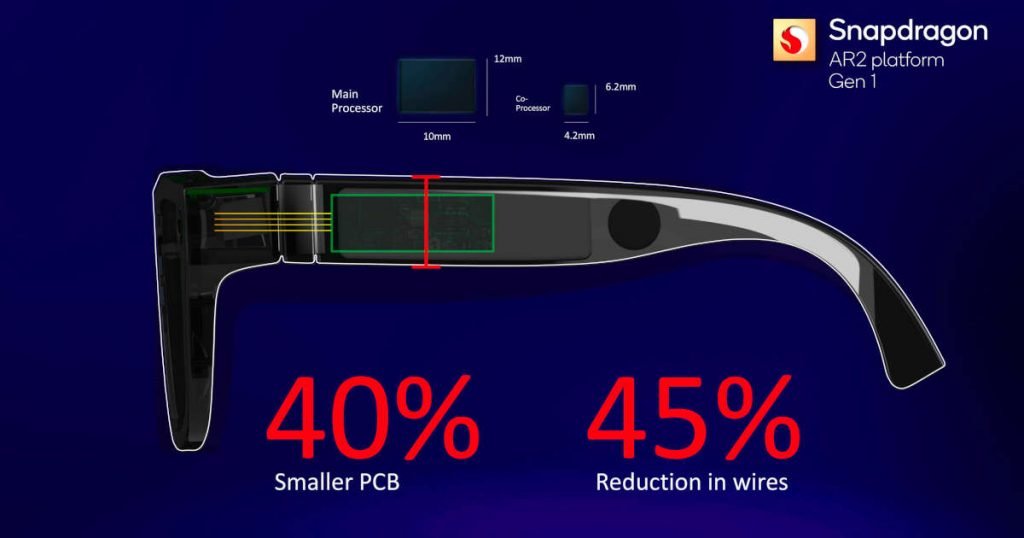 This architecture means that the main processor board is said to be 40% smaller than that of the Snapdragon XR2 platform. Thanks to the tensor processor, the Snapdragon AR2 Gen 1 is 2.5 times more powerful in AI calculations and requires 50% less energy. This should make it possible to build AR glasses with a power consumption of less than one watt.
This 4nm AR processor can handle up to nine cameras simultaneously to comprehend the user and the surroundings. The Engine for Visual Analytics is in charge of object detection. Other specialised hardware enhances motion tracking and localisation during hand tracking. 6DoF work with reduced latency through AI accelerators. The chip is also designed to control display output, including a reprojection engine that ensures visual overlays remain fixed as you move.
The AR coprocessor integrates camera and sensor data to make it more efficient through eye tracking. The AR2 Gen 1 supports Wi-Fi 7 and is said to achieve a latency of less than 2 ms between the glasses and the end device.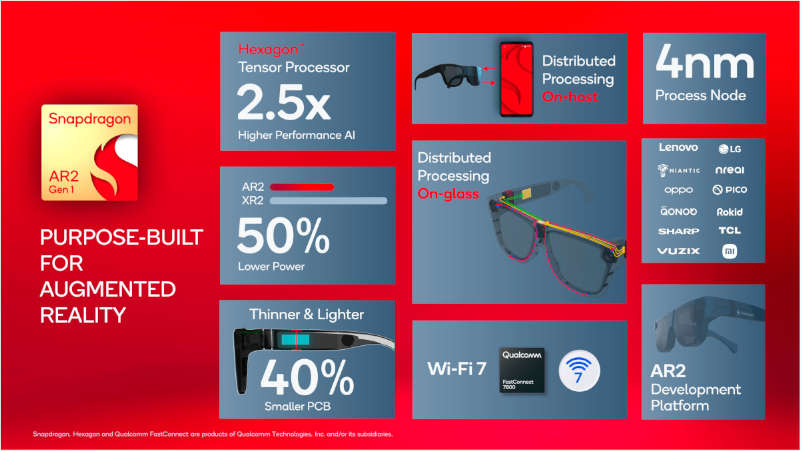 In addition to the SoC, Qualcomm also introduced Snapdragon Spaces, a developer environment for AR applications. Like the Snapdragon AR2 Gen 1, the new smartphone chip Snapdragon 8 Gen 2 is Snapdragon Spaces Ready.
Qualcomm reports that Lenovo, LG, Niantic, Nreal, OPPO, Pico, QONOQ, Rokid, Sharp, TCL, Tencent, Vuzix, and Xiaomi are all working on adopting the Snapdragon AR2 Gen 1.
Qualcomm has also announced S5 Gen 2 and S3 Gen 2 sound platforms that support spatial audio with dynamic head tracking, lossless audio quality and 48ms latency specially built for slim AR glasses.