Qualcomm has announced another milestone in making augmented reality the next computing platform with the Wireless AR Smart Viewer reference design powered by the Snapdragon XR2 platform.
The new Qualcomm AR glasses make co-processing possible on a wirelessly connected smartphone. The computing power of the smartphone or PC is used via WiFi 6 for the demanding rendering tasks, while the chip in the glasses takes care of the 6DoF tracking locally.
The reference design presented by Qualcomm is aimed at OEMs and ODMs, who can use this as a basis to develop their own AR solutions at low cost to deliver an immersive experience that opens up the metaverse. The solution developed by Qualcomm together with Goertek relies on two micro-OLED displays, each with full HD resolution for each eye and a refresh rate of 90 Hertz. A launch that is ahead of Apple, which has been working on its own mixed reality glasses for years.
Compared to the previous generation, the new AR glasses are updated not only on the outside but also on the inside, debuting the Snapdragon XR2 Gen 1, which boasts greater processing power for computer vision and other tasks.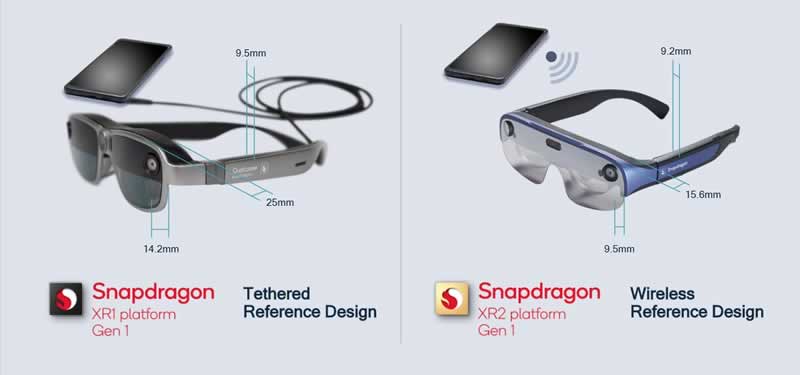 In addition, Qualcomm boasts of having achieved an ultra-fast latency of only 3 milliseconds between the glasses and the device to which they have connected, thanks to FastConnect 6900 technology for WiFi 6E and Bluetooth connections. Qualcomm predicts that the glasses' 650mAh battery will only last about 30 minutes with continuous use, so its actual usefulness is pretty limited.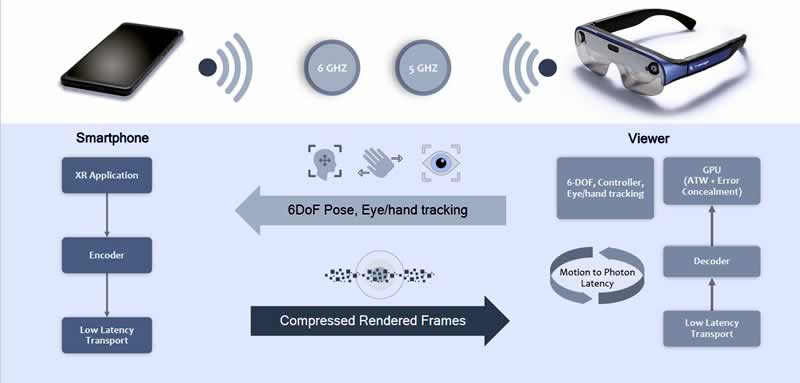 The Snapdragon XR2 in the AR glasses uses image data from two monochrome cameras and a classic RGB camera to track head movements. According to Qualcomm, this should ensure reliable 6DoF tracking as well as hand and gesture control. To date, most competing products have not been able to do this 100 percent reliably, even with more cameras, especially in poor lighting conditions.
Since Qualcomm is not targeting the end customer market with the reference design, there is neither an exact price nor a statement as to when products based on this technological basis can be expected.