Along with Snapdragon X Elite for notebooks, Qualcomm has officially launched its Snapdragon 8 Gen 3 SoC for high-end mobile phones. This next-gen chip is not just about ramping up performance; it's a full-scale commitment to artificial intelligence and a host of other features that promise to redefine the smartphone experience.
Snapdragon 8 Gen 3 With Generative AI:
Snapdragon 8 Gen 3 is the first of its kind to support the execution of multimodal generative AI models. This means the chip can run massive language models like Meta's LLaMA 2, OpenAI's Whisper, Baidu's Ernie 3.5, and Stability AI's Stable Diffusion, among others.
Qualcomm has doubled down on AI capabilities, introducing what they call the "AI Engine." This is essentially a powerhouse that combines the chip's Hexagon Neural Processing Unit (NPU), Kyro CPU, and Adreno GPU. The Hexagon NPU alone is 98% faster and optimizes performance per watt by up to 40% compared to its predecessor.
The AI Engine is designed to support Large Language Models (LLM), Language Vision Models (LVM), and automatic speech recognition (ASR) with over 10 billion parameters. This means that the chip can efficiently run complex AI tasks directly on the smartphone without the need for cloud computing.
Performance Metrics:
Built on a 4-nanometer architecture, the Snapdragon 8 Gen 3 features an 8-core Kyro CPU with a new 1+5+2 setup. This configuration promises a 30% increase in performance and a 20% boost in efficiency compared to its predecessor. The Adreno GPU also sees a 25% improvement in both performance and energy efficiency. For gamers, ray tracing is 40% better, thanks to Unreal Engine 5.2 support, allowing gameplay at up to 240 frames per second on 240 Hz screens. It also supports LPDDR5X RAM memories of up to 24 GB and 4800 MHz, as well as UFS 4.0 internal storage units.
Memory Standards:
Qualcomm has joined forces with SK Hynix and Micron to redefine memory standards in smartphones. SK Hynix introduces LPDDR5T-9600, standing for "Low Power Double Data Rate 5 Turbo," boasting an impressive 9.6 Gbps data rate. Micron isn't far behind, offering LPDDR5X-9600, which is essentially the next evolutionary step of LPDDR5X, now with 12% more bandwidth.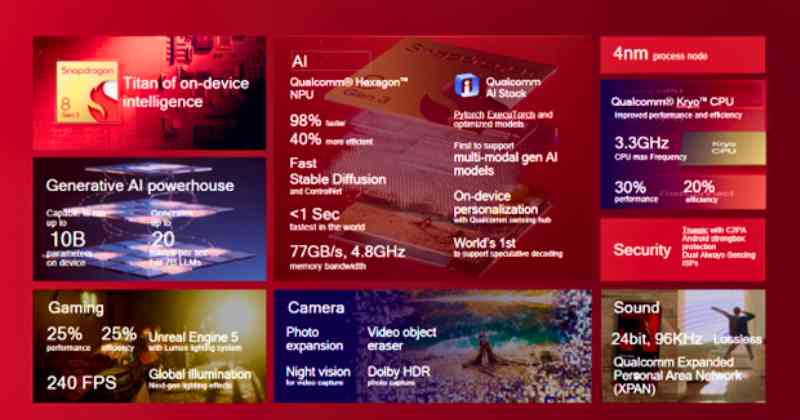 Multimedia and Display Capabilities:
It supports 4K screens but limits them to a 60 Hz refresh rate. For higher refresh rates of up to 144 Hz, QHD+ panels must be used. It also offers an adaptive refresh rate ranging from 1 to 240 Hz for other resolutions.
When it comes to multimedia capabilities, the Snapdragon 8 Gen 3 can capture HDR content, supporting photos of up to 64 MP and 8K video recording at 30 fps. It is compatible with various HDR standards like HDR10, HDR10+, Dolby Vision, and HLG, as well as Google's Ultra HDR format introduced at I/O 2023.
Connectivity:
The Snapdragon 8 Gen 3 incorporates Qualcomm's new 5G modem, the Snapdragon X75, which is the first to feature hardware acceleration optimized with AI. It also supports Wi-Fi 7 and Bluetooth 5.4 through its FastConnect 7800 system. The chip is compatible with Qualcomm's Quick Charge 5 fast charging technology.
Availability:
Qualcomm has announced that the first flagship smartphones featuring the Snapdragon 8 Gen 3 will be released in the coming weeks. Brands like Xiaomi, OnePlus, OPPO, Asus, Realme, Honor, Sony, Vivo, and ZTE have already signed on. Interestingly, Samsung was not mentioned, sparking speculation about its plans for future devices.