Qualcomm unveiled Snapdragon X Elite, a chip that's not just aiming to compete with Apple's M series and Intel's offerings but is set to redefine the entire PC market.
At the heart of this chip is the Oryon CPU, Qualcomm's own creation and Snapdragon X Elite is the first SoC to feature this proprietary design. The chip is manufactured using a 4nm process and boasts 12 high-performance cores that can clock up to 3.8 GHz. Interestingly, two of these cores can turbo-boost to 4.3 GHz, focusing purely on performance without any dedicated efficiency cores, unlike its competitors.
The Snapdragon X Elite claims to be 50% more potent than Apple's M2 in multi-core Geekbench tests. When pitted against Intel's Core i7-13800H, the chip not only outperforms it but also does so at a fraction of the power consumption — just over 30 watts compared to Intel's 90 watts.
The chip features an Adreno GPU that promises up to 4.6 TFLOPs of performance and can support up to two external 5K displays or a single 4K display at 120 Hz with HDR10. It also includes a dedicated Neural Processing Unit (NPU) with 45 TOPs and a Micro NPU in the Sensing Hub, making it a robust platform for AI applications.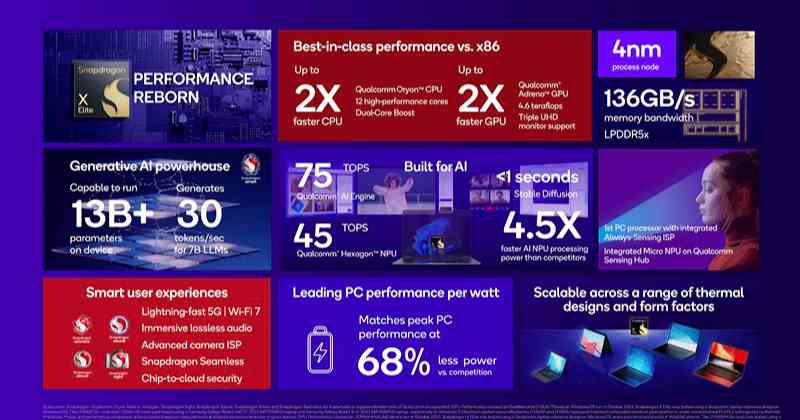 The Snapdragon X Elite supports up to 64 GB of LPDDR5x RAM with a bandwidth of 136 GB/s. It also offers storage interfaces for NVMe SSDs over PCIe Gen 4 and is compatible with UFS 4.0. The chip features a dual 18-bit ISP and "always-sensing" technology, allowing for 4K video recording and images up to 64 megapixels. It comes with an integrated 5G modem promising up to 10 Gbps download speeds, along with Wi-Fi 7 and Bluetooth 5.4 support.
Qualcomm has been trying to bring ARM technology to PCs since 2011, with limited success. However, the acquisition of NUVIA in early 2021 and the industry's growing acceptance of ARM-based processors have set the stage for the Snapdragon X Elite's potential success.