Laptops have long been favoured for their portability and convenience, but their small screens and lack of privacy have been a constant disadvantage. However, Sightful, a pioneering Israeli tech company, claims to have tackled these issues head-on with the introduction of their latest innovation, the Spacetop laptop. The Spacetop offers a unique solution by eliminating the traditional screen altogether and instead utilizing augmented reality glasses to create a virtual 100-inch display.
Designed with users in mind who crave a larger screen without compromising privacy. This Arm-based business tool runs on the Android open-source OS (AOSP) and comes equipped with a custom AR headset. The laptop's body closely resembles a regular laptop, measuring 26.6 cm wide, 25 cm deep, and weighing 1.5 kg, including the headset. The only notable difference lies in its thickness, measuring 4 cm, which deviates from the slim profile seen in most modern laptops. Manufacturing for the Spacetop is handled by the Chinese ODM manufacturer, Wistron.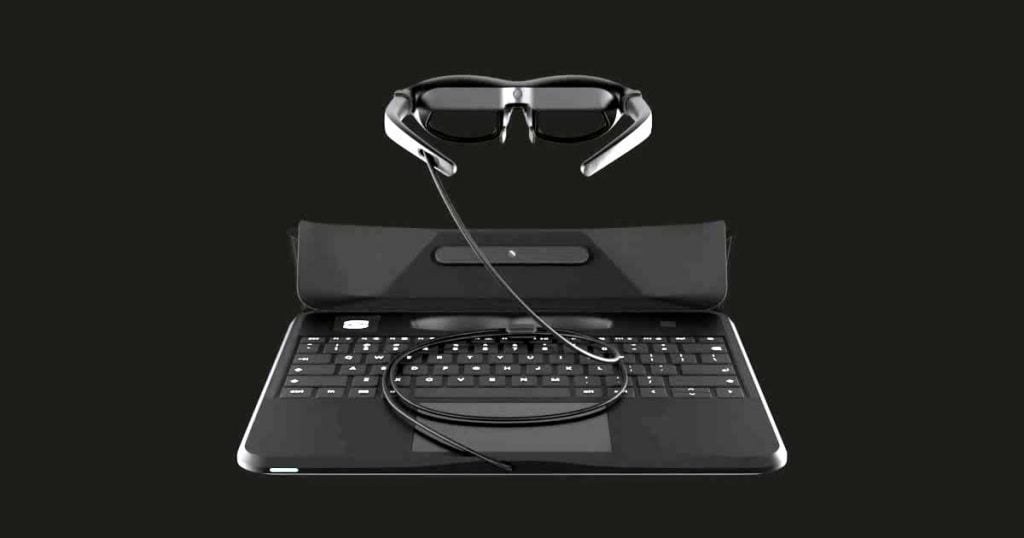 Under the hood, the Spacetop AR laptop is powered by the Snapdragon 865 processor, a flagship mobile chip from 2019. It boasts 8 GB of RAM and 256 GB of built-in storage. Connectivity options include 5G NR Sub-6, Wi-Fi 6, and Bluetooth 5.1 wireless modules. The laptop features a high-resolution webcam with a pixel count of 2560 × 1920. Additionally, a built-in fingerprint scanner provides an added layer of security. Two 10Gb/s USB-C ports supporting the DisplayPort 1.4 standard allow for the connection of an external display if required.
The centrepiece of the Spacetop experience is the augmented reality headset, delivering a 1080p resolution to each eye at a refresh rate of 72Hz. Weighing a mere 106 grams when unfolded, the headset measures 146 x 175 x 44 mm and supports an interpupillary distance range of 56 to 70 mm, ensuring a comfortable fit for users. With a 53-degree diagonal field of view, the headset strikes a balance between displaying the virtual and real worlds.
When wearing the AR headset, users are presented with a large curved virtual screen featuring a multi-window interface reminiscent of Windows. Navigation is similar, with users utilizing the touchpad to drag the cursor, resize windows, and move them around the screen. Unique gestures, such as swiping up and down with three fingers, allow for easy zooming in and out on the virtual "screen." This feature enhances comfort and enables users to examine windows more closely. A small "taskbar" located at the centre of the screen provides easy access to adding windows and selecting applications.
Reviews from those who have personally experienced the Spacetop indicate that text on the virtual screen is clear and usable. The developers of the Spacetop laptop have justified the relatively low volume and sound quality of the built-in speakers by emphasizing the importance of maintaining confidentiality.
The Spacetop's battery lasts over five hours on a single charge, which is comparable to other modern laptops. However, it charges up to 85% in less than two hours, providing some convenience for users who need to quickly recharge and get back to work.
To gauge market response and assess the viability of their product, Sightful has announced the release of a limited edition of 1,000 Spacetop AR laptops. Priced at $2,000, this laptop represents more than just a current technological gadget; it is an investment in the future of computing.
Interested customers can order the limited edition Spacetop AR laptops on Sightful's official website. As technology enthusiasts and professionals eagerly await the arrival of their screenless laptops, the true impact and user experience of the Spacetop will become clearer over time.