Spotify is already testing some of its users for the launch of a new subscription plan, which would cost twice the basic plan but would have significant advantages over the rest.
More than a year and a half ago, Spotify jumped on the high-definition bandwagon with the announcement of Spotify HiFi, a new mode that will offer the highest sound quality on the platform to date. However, the announcement did not actually follow the release of the new subscription plan, and to date, the company has not yet released any type of Spotify plan with lossless high-quality audio streaming.
Now it looks like Spotify with HiFi quality seems to really exist, but it could be called Platinum.
This is what emerges from a survey carried out by the company to a user who had cancelled his Spotify subscription and switched to Apple Music and who was offered a decidedly different subscription option from what is currently present in the Spotify catalog. A new Spotify plan that is twice as expensive as the Premium version offered by the platform.
According to the Reddit user, who claims to have received a survey asking if he would upgrade from his current subscription to a "Platinum" one, which includes more benefits beyond lossless audio.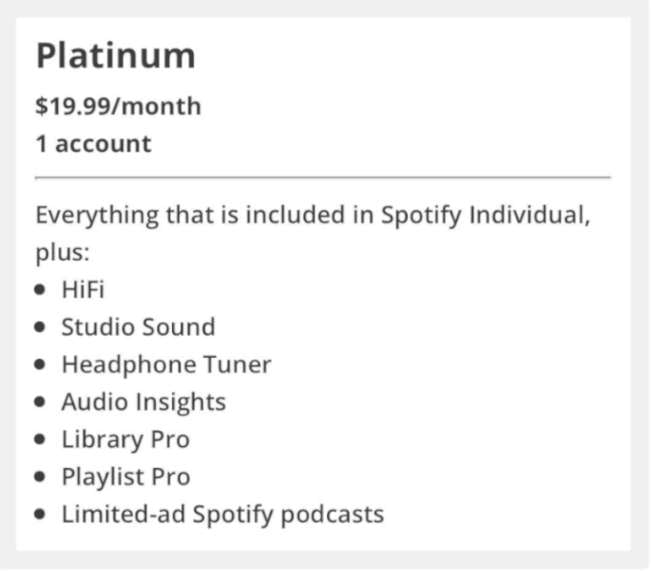 By default, Spotify's paid subscription costs $9.99 in the US. The Platinum subscription mentioned in the survey would cost $19.99. The music would be in high resolution, and additional functions for the music library and playlists are mentioned but not described in detail.
In addition, there could be special adjustments for the use of headphones. There would also be access to Spotify's own podcasts, which would be advertised. Spotify does not provide any further information on this either.
Spotify has not yet confirmed the future availability of this Platinum plan with HiFi, but the Reddit user claims that the survey asks if he would be willing to upgrade to this subscription "within the next 30 days." As a result, Spotify HiFi is expected to be announced during the month of November.