Valve made the Steam Deck official, its first portable video game console.
Previously traded under the name "SteamPal" and the code name "Neptune", Valve's PC handheld Steam Deck, inspired by the Nintendo Switch, is based on a custom APU with Zen 2 and RDNA2 and the free Linux system kernel.
The device comes in three versions, which only differ in the built-in mass storage device — the rest of the hardware is the same. Zen 2 architecture of the system offers four cores and works with eight threads at 2.4 to 3.5 GHz. The integrated GPU consists of eight RDNA2-CUs (512 shaders) that run at up to 1.6 GHz.
According to Valve, this should lead to a theoretical performance of around 1.6 teraflops. 16 GB of RAM (LPDDR5-5500) are installed as standard, which, according to the latest information, cannot be expanded because it is soldered. This means that the entire system should also be able to handle the display of current PC games.
As for storage, it will be offered in three versions: 64GB, 256GB, and 512GB. The last two options jump on the NVMe SSD (PCIe Gen 3) bandwagon to cut load times significantly. It also has a microSD card slot.
The screen of the Steam Deck is a 7-inch LCD touch panel with a resolution of 1280 x 800 pixels and a refresh rate of 60 Hz along with a brightness of 400 nits. The also newly announced Nintendo Switch OLED offers a resolution of 1280 x 720 pixels with a display of the same size.
Steam Deck can be connected to larger screens via HDMI 2.0 and Displayport 1.4. Ethernet and multiple USB ports are also available, including USB-C for power. Bluetooth 5.0 and WLAN (IEEE 802.11 a/b/g/n/ac) are available for wireless connections. Speakers, a 3.2 mm headphone jack and microphones are also on board.
According to Valve, the 40-watt-hour battery lasts around two to eight hours of gaming. Specifically, it certainly depends extremely on the game in question. The handheld should have to be connected to the power supply quickly for performance-hungry action titles.
And, of course, its main attraction is that it will offer access to your entire Steam library, as you would through any computer. Its operating system is SteamOS 3.0 (Windows can be installed).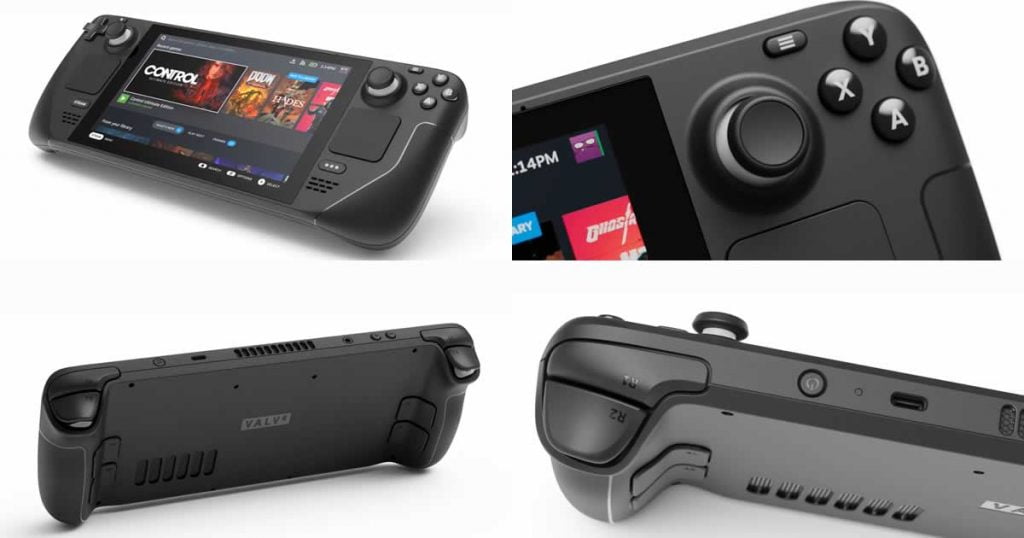 It is controlled via the touchscreen as well as with buttons and analog sticks. A special feature underneath is a small trackpad with haptic feedback. This is reminiscent of the Steam Controller — but should offer 55 percent better latency, says Valve. Another extra is motion control so that you should be able to target an opponent yourself by raising and lowering the steam deck.
The Steam Deck will be available from December, starting at a price of $399 for the most basic version with 64 GB (eMMC storage). The 256GB and 512GB variants come with NVMe SSDs and will be available for $529 and $649, respectively.
However, the initial release will be limited to the United States, Canada, and the United Kingdom. According to the manufacturer, the Steam Deck can be pre-ordered from 7 p.m. on July 16, 2021, via the official website. Valve promises that in 2022 they will expand availability to other countries.