All cars in the world can be tracked and geolocated in real-time — that is the shocking promise of The Ulysses Group, a specialized surveillance company that has offered this service to the US military.
Motherboard researchers have gained access to a document in which the company describes this new product, part of its range of services related to espionage and surveillance of targets.
The document makes promises that would normally be too absurd to believe, but we are not talking about just any — this company already has contracts with the United States Special Operations Command (SOCOM) for other tracking technologies.
Now, Ulysses would be offering a new service that would be able to geolocate vehicles remotely, something that would work in every country in the world except two: North Korea and Cuba. The movement of the tracked car could be recorded in "near real-time", by any road and location through which it passes.
Ulysses explains in the leaked document that the company has achieved this because of the large number of sensors and technology integrated into modern cars — that reportedly managed to obtain the data recorded by the cars and their internal components.
Nor would it be necessary to obtain data from the manufacturer — the companies behind the GPS services would be another source of information.
Most new cars sold today have some "smart" function, in addition to a multitude of sensors to operate basic elements such as airbags, engine temperature, or the state of the seat belt.
According to Ulysses, these data would be transmitted directly to the manufacturer or to third parties and can be aggregated and sold to interested companies, such as for marketing, market research, and advertising.
Ulysses would have managed to do the same, but with the information obtained and shared by modern cars, that would have allowed it to associate thousands of data points to a specific vehicle, being able to record its location and other usage information.
According to figures from Ulysses, it would already be able to access the information of 15,000 million cars each month, located in locations around the world. Very valuable information, especially for military commanders interested in pursuing specific objectives without being suspicious. That is why the company promotes this service as a way to "dramatically improve intelligence" and reduce research costs — after all, the company claims, it is the same to geolocate a vehicle or 25 million.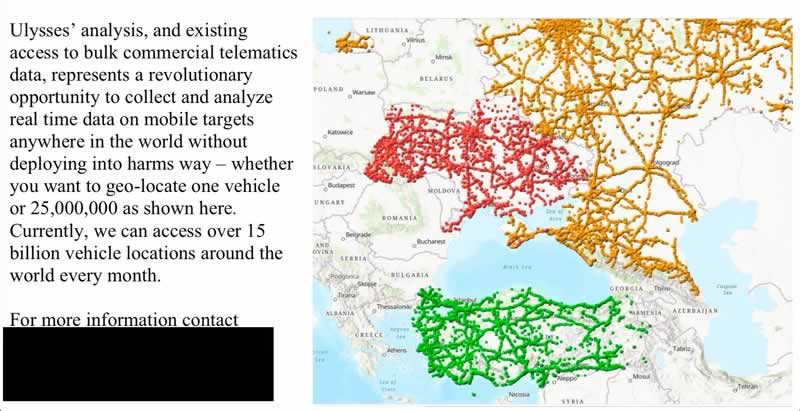 To prove it, Ulysses shows several maps that are supposed to show the exact location of cars in Russia, Ukraine, and Turkey. However, these are promises that raise many doubts, especially considering that most cars on the road are not "smart" and do not send information to external servers.
In response to the investigation, the company has stated that at the moment, it has not sold this service to the US government or has any related contracts. The various military branches have also admitted contact with Ulysses but have not confirmed anything else.
The Ulysses president has attempted to downplay the document, claiming that it is "promotional material" that is "aspirational" and based only on publicly available information. However, the document has already caught the attention of some senators, who promise an investigation into the sale of personal data obtained, for example, in our cars.