Recently Xiaomi has applied for the authorship of some futuristic patents, such as a document that depicted a particular smartphone with a 360 ° display and 108Mpixel camera with support of Artificial Intelligence.
Now the company returns with another particular project, in the form of a patent for now, which involves the production of a smartphone with integrated true wireless earphones.
The news was originally reported by LetsGoDigital — they render the design for the smartphone that hides a pair of wireless earphones inside, and shows how Xiaomi wants to conquer an innovation leader role by shaking off the reputation of a company behind "cheap" products.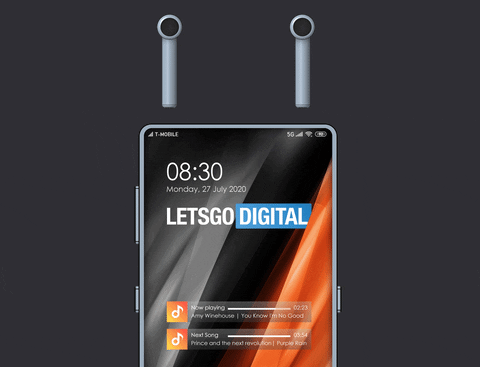 The renderings are the result of information present on a patent that the Chinese company obtained in the previous weeks from WIPO, the World Intellectual Property Office.
Why has the smartphone caught the attention of technology experts so much? Very simple, because it is the first device to integrate earphones inside. True wireless earphones that can be removed from the body and used to listen to music or to answer a call if necessary.
The earphones are very unique — in fact they do not only work wirelessly, but once placed in the body they become speakers to be used also in speakerphone.
Apart from the integrated wireless earphones the front camera is also hidden under the screen. A novelty that we will see shortly on many devices, but we will still have to wait a couple of months.
The patent unfortunately does not refer to any technical details on the operation of the system.
As is the case with all patents, the chances of this device being launched on the market are few. Xiaomi should understand if a smartphone of this kind is truly feasible then how to protect the device from water infiltration when the earphones are not in their slot.