Today with many modern platforms, the online marketplace is evolved into something different. It doesn't matter which type of service you are providing or what type of product are you selling, there is always a way around the internet to attract your audience like via social media.
But what about having an official website for your business?
It doesn't matter how small your business venture is — a website is an essential part of your business in today's world. The website will provide an identity to your business and increase its credibility. It doesn't matter you use social media to promote your business — only a website can ensure the genuineness of your service and product to your customer.
Remember, on the digital age website is your number one marketing asset of your business and most consumers won't consider a business without a website.
Now where to start:
As you own a small business, so might be you can't afford a professional website. But don't worry, there are several online services available for you to assist in this matter — with the help of such service you can develop a website with ease.
One such platform is 8b Website Maker — where you can create a fully functional website with few mouse clicks and you don't have to a tech-savvy.
8b Website Maker is a free and simple online website builder that lets anyone create fast, mobile-optimized and Google-friendly websites in minutes. It saves a lot of time and lets you avoid struggling with code.
How to use 8b Website Builder:
Just go through 4 simple steps and get a fully-featured website for your business.
Step 1: Sign Up
Like every service, in 8b Website Builder you have to create an account to start creating your website. You can sign up with Google or Facebook. Also, there is also an option to proceed with your email address too.
Step 2: Choose a website design
In the next step, choose an appropriate template for the website that suits your business. Remember to choose a simple and clean theme for your website. Because a distraction-free website design is good for businesses. All the templates are responsive, so it works well with both PC and mobile platforms. After that enter your business name and start adding essential details of your business on mobile website builder.
Step 3: Customization
The most important part for every website — customization and 8b Website Maker makes it easy for its users. The template that you choose earlier already provides all essential needed features for a website and with some mouse taps, change the visual appearance of the template and add more details about your website.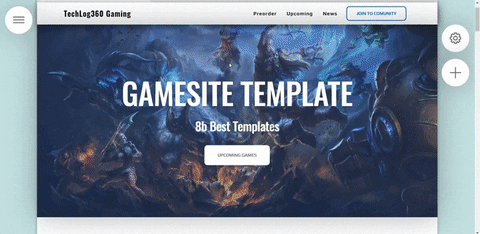 Tap on "+" sign to add a new section to the template using drag and drop. You can find all the necessary sections for almost every case of user's interaction with the site: Headers, Features, Contacts, Menus, Footers, Pricing Tables, Testimonials, Team section, Articles, Images and Videos, and a lot more. Also, you can tweak every section as you want as it has several representations.
Step 4: Making website online
After all customization, now its time to make your website live. 8b Website Builder offers unlimited hosting and domain for your website. Click the hamburger button and go to Settings to rename the existing domain or connect it to your own.
In Settings, you can also find options to change the site's name, favicon, domain; set Google Index, Site Analytics; choose PWA and remove unused CSS. After saving all changes, hit "Publish" button to make your site.
Advantages of 8b Website Maker:
Clean interface and easy to use.
Anyone can create a website with no programming knowledge.
Lots of customization available for users.
Develops a fully optimized and SEO friendly website.
Support of Google AMP and PWA.
Unlimited hosting and custom domain.
Conclusion:
If you are owning a small business and thinking to showcase your business online then 8b Website Builder will be the perfect option to create a fascinating website of your choice.