Nowadays, online business has become one of the common interests of the people. To perform a successful e-commerce business worldwide or within the country, all you need is a well-designed website. A website can be used for multiple purposes, just like expressing the services of the company or a specific person, sharing knowledge, and much more. Now you would be familiar with the importance of the website.
Everyone wants to design their website by themselves, but the lack of knowledge about coding leads them to connect with a web developer. Indeed, it is difficult as well as a time-consuming task to learn to code. Not only is learning the problem, but the expenses to set up your website by a professional will also make more burden on you.
What if we say that now you can design your website without learning programming languages like HTML, CSS, or Python? Isn't that something interesting? In today's article, we are going to discuss a fantastic free website builder software that will help you out to design a fabulous website of your dreams without the involvement of any programming language skills. Well, this software will also save you time as well as your money. Do you want to know more about this stunning free website builder? Just read this article till the end to get thoroughly familiar with this software.
Introducing Mobirise Website builder:
Now it is time to reveal the information and facts about the famous website builder, Mobirise Web Builder. Basically, Mobirise is free of cost web designing application that comes with thousands of features through which you can design a website that will reflect a professional look. The most exciting and important element that makes Mobirise accessible is the drop and drag feature.
As we have explained before that, you do not need to learn any kind of computer language because now you have an amazing option of the Mobirise. Multiple themes are also available in it that are absolutely free of cost. Whether you want to design a portfolio website, an e-commerce store, or an educational blog, just select any of the suitable themes and start creating your website.
Sometimes a user gets confused regarding the use of the tools, but now you don't need to have a sophisticated understanding of it because of the excellent graphical user interface. In case if you do not understand something, the availability of the help bar is also there. By using that help option, you can eliminate your confusion. Another interesting thing about Mobirise Free Website Builder is that it is available on multiple operating systems, including Android and macOS.
Google AMP and Bootstrap 4:
The most common reason behind the failure of the website is the slow streaming on smartphones. As smartphones are less potent as compared to the PC's or Laptops, so they load heavy sites quite slowly. But now you are going to get rid of the slow sites because Mobirise has Google AMP and Bootstrap 4. Some of you would be familiar with these two terms, but in case if you are reading these two names for the first time, let us explain them to you. In simple and easy wording, Google AMP and Bootstrap 4 are used to build mobile-friendly websites, which means that the platform that you will develop using Mobirise Free Bootstrap Builder will work adequately on the smartphones.
Fresh templates:
Till now, we have shared a lot of information about Mobirise Free Website Builder with you. Now it is time to discuss the most important feature of this website building application, the templates. One of the difficult tasks for developing a website is designing a template. While coming to this platform, you will get a vast collection of the templates. Each template is designed exceptionally, and you can make further changes in it.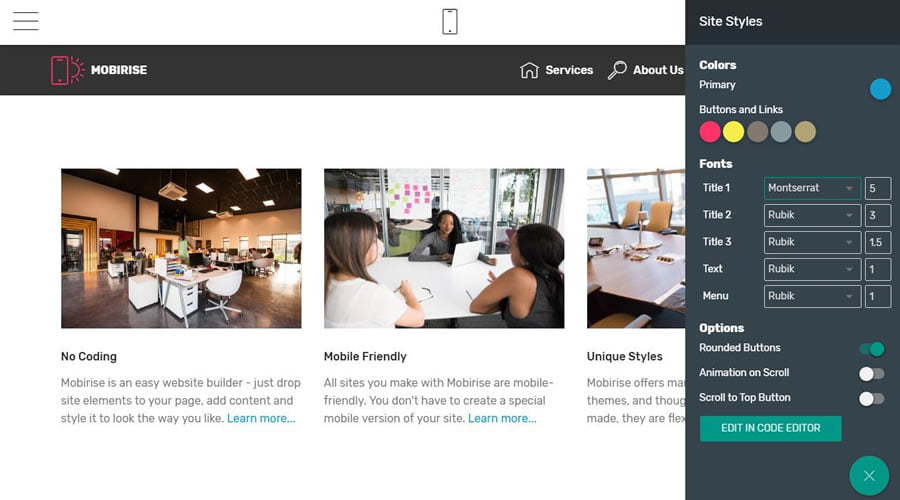 Well, the extensive collection will definitely make you confused. To make you more clear regarding the selection of the templates, the developers have divided them into multiple categories. For example, if you want to build a business website, so while selecting the business category, you will get various templates that are related to the business. Some of the most popular themes are as follows:
BranchM4
KidsM4
CourseAMP
CorporateAMP
Block pack:
Mobirise provides its users with top-class block packs. The senior developers of the Mobirise design these block packs. Well, the block packs enhance the beauty of your website. If you want to bring more excitement to your website, then you must be choosing a perfect block pack. More than 350 block packs are available on the Mobirise official website. Indeed, these packs are high in quality, but you don't need to worry about their price because they are extremely pocket-friendly.
Mobirise Extensions:
While designing Mobirise websites, some of the features will not be present in the editor. To make those features a part of your website, you have to install the extensions. Well, these extensions play the same role as the plugins of WordPress.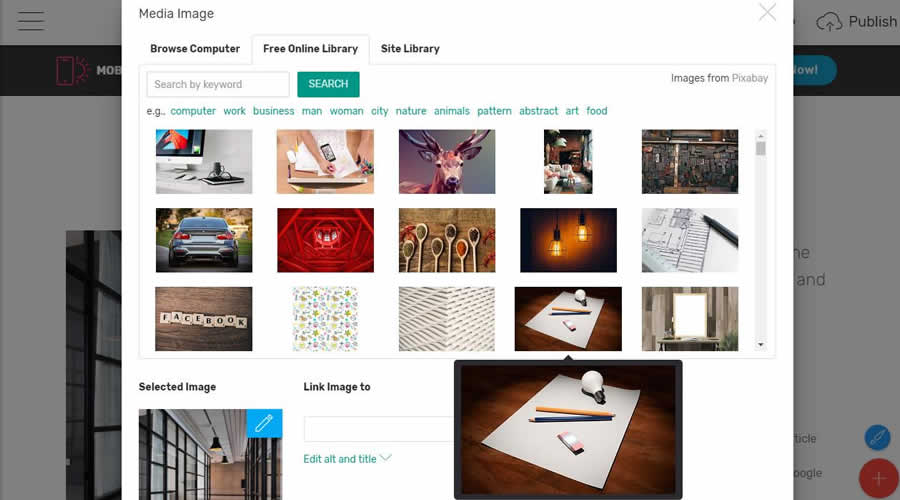 Multiple extensions are present on the Mobirise website through which you can add PayPal cart, form editor, code editor, and many more features to your platform. You can also get all of the Mobirise extension in an All-in-one pack on a 95% discount.
How to create a website?
Installing and using the Mobirise is super easy. If you haven't used this platform before, then calm down because now we are going to explain to you the proper way to use this software.
First and the most important thing is to download the Mobirise software. Visit the official site of Mobirise to download the software.
After this process, unzip the file that you have downloaded. Run the installation setup and wait until it gets completed.
After running the application, a signup page will get displayed. If you are already a member of the Mobirise family, then that's fine, but if you are new to this platform, then just add your Facebook or google email address to sign up your account. This process will only consume a maximum of two minutes, and your Mobirise account will get ready.
Now choose the template according to the niche of your website. There are no restrictions on building websites. You can create as many sites as you can.
After choosing the template, now it is time to implement your artistic skills. Just use a simple drag and drop feature to make changes in the template.
Various blocks will be present on the page. Start making changes in these blocks to set up your website.
If you want to add special features on your website, then add the Mobirise extensions.
After making changes in the content and blocks, now your website is only one click away to get published. Just click on the publish button, and your website will get viral.
Conclusion:
In conclusion, it isn't straightforward to design a website by using different coding languages, just like HTML and CSS. If you want to design the website of your dream, then install Mobirise application today. Mobirise is one of the most secure website builders. It is effortless to install and also free of cost to use. Websites made from the Mobirise works extremely fast not only on the PC's but also on smartphones just because of the Google AMP and Bootstrap 4.
A wide range of extensions, themes, and block packs are available on this platform, and they are also very affordable to purchase. In this article, we have explained the different features of the Mobirise. We have also explained stepwise the methodology of using this platform. Stop wasting your time and money on the web developers and start creating your website by using this most elegant web developing software.