AMD has presented a new processor roadmap, which for the first time includes the Ryzen 7000 for multiple segments — CPUs with the code name Raphael are planned for the desktop segment, while Dragon Range and Phoenix appear for gaming laptops.
What they all have in common is the Zen 4 microarchitecture, including support for (LP)DDR5 memory.
Raphael follows the current Vermeer alias Ryzen 5000 as pure CPUs without an integrated graphics unit. The processors are designed for the new AM5 socket with the LGA 1718 version, with AMD's roadmap confirming DDR5 as well as PCIe Gen5 and variants with a TDP of 65 watts and higher.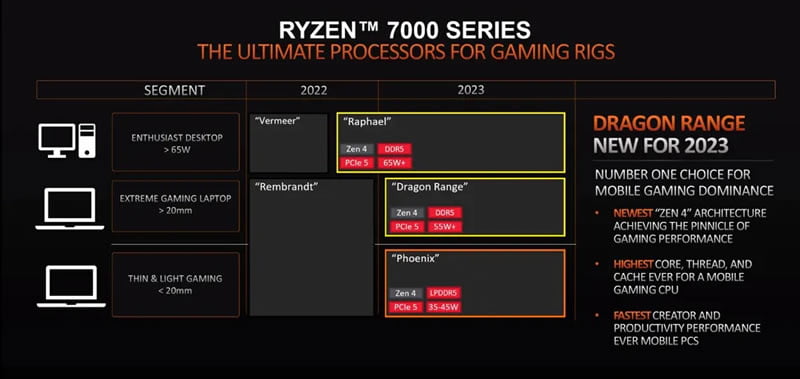 The manufacturer did not provide any information on the core number. Raphael is scheduled to appear in 2022.
With Dragon Range and Phoenix, two versions for gaming notebooks are planned for next year as a potential successor for AMD Ryzen 6000 Mobile, whereby the SoCs are categorised based on the TDP — Dragon Range is designed for 55+ watts, Phoenix for 35 to 45 watts.
While Dragon Range is listed with DDR5, AMD explicitly lists the more economical LPDDR5 in Phoenix. Whether these are really different designs remains to be seen. Dragon Range and Phoenix should both have an integrated graphics unit with RDNA2/3 technology. There are still no exact details about the graphics unit of the mobile solutions.
The inevitable war between Intel Core 13th Gen and Ryzen 7000 will see the semiconductor giants become the most competitive in recent years. While Intel is already past the innovation phase and will simply be building on the monumental success of Alder Lake with this year's release, AMD is leaning heavily on Zen 4, and so far, it looks like it's worth the wait.