Intel has officially introduced the first products corresponding to the twelfth generation of the company's processors — known internally as Alder Lake.
As expected, initially, only the flagship models of the three lines — Core i9, Core i7 and Core i5 — were offered to users. These are, respectively, Core i9-12900K and Core i9-12900KF, Core i7-12700K and Core i7-12700KF, Core i5-12600K and Core i5-12600KF. The 12th Gen Intel Core family will include 60 processor models that will be part of more than 500 PC designs from the company's partners.
Note that 12th Gen Intel Core differs from all predecessors in a completely new microarchitecture, in which there is a division into large and small cores — similar to mobile platforms for smartphones and tablets. According to the company, this is the biggest architectural change its chips have undergone in a decade.
Intel has finally moved away from using a 14nm process technology in the desktop segment — for the first time in 6 years. In 12th Gen Alder Lake processors, the new hybrid architecture, pioneered with Intel 7 process (10 nm Enhanced SuperFin process) technology, delivers scalable performance for processors ranging from 9W to 125W. This allows them to be used in all segments of the PC market — from ultra-thin and light notebooks to enthusiast desktop systems, and even in networked peripherals.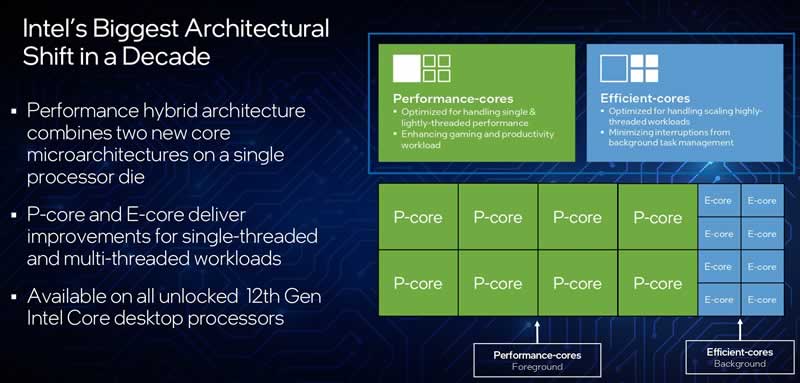 In the hybrid architecture, the Performance-cores (P-core) are specially designed to support the fullest workload in both gaming and daily productivity. In the same way, the Efficient-cores (E-core) will take care of all those secondary processes that do not require a high processor power but instead do their work with a really tight energy consumption. The company has assured that the new architecture will increase performance by 19% compared to the 11th generation processors.
The most advanced versions, starring the Intel Core i9-12900K and i9-12900KF, have a total of 16 cores divided into 8 Performance cores and another 8 Efficient cores with a maximum combined clock frequency of up to 5.2 GHz with the technology. Intel Turbo Max Technology 3.0. Separately, the Performance cores go up to 5.1 GHz and the Efficient ones at 3.9 GHz. The 11th generation had a maximum speed of 5.3 GHz, but without a hybrid core scheme.
The Core i7-12700K and Core i7-12700KF has eight productive and four energy-efficient ones, the Core i5-12600K and Core i5-12600KF have six productive and four energy-efficient ones.
The L2 cache has been increased in all models of the series and is 1.25 MB for high-performance cores and 2 MB for energy-efficient cores. L3 cache is available for all cores — its volume ranges from 30 MB in the Core i9-12900K to 20 MB in the Core i5-12600K.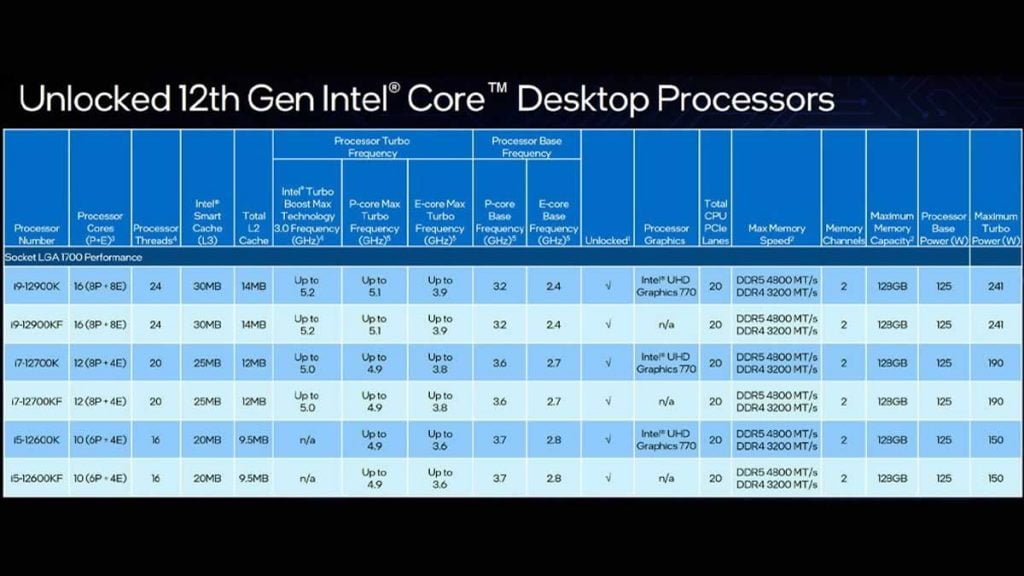 12th Gen Intel Core processors will require a motherboard with the latest Z690 chipset, which supports Wi-Fi 6E and USB 3.2 Gen 2×2 data transfer protocol. The processors will also be able to work in conjunction with DDR5 RAM. Pre-orders for the new processors have already opened and will go on sale on November 4th.