What percentage of your data do you believe is sent to third-party servers when you use an app? Whatever your response is, the reality is far worse. A' loophole' will always exist, even if we set up our accounts and applications to share as little information as possible. This week even Google had to pay a historic sum for tracking the users' location even though the option was deactivated.
DuckDuckGo was initially born as a private alternative to the Google search engine, offering similar results without recording our data or using it to show us advertising. DuckDuckGo has long made a name for itself with its popular browser that cares about your privacy, but the company has gone even further and has started rolling out 360-degree services that help users stay in control of their data.
One of these services is App Tracking Protection, a tool launched a year ago for Android in a beta version limited to a few users and allows, free of charge, to block third-party tracking within apps, even when they are not actively used. Now DuckDuckGo has opened App Tracking Protection to all users who want to test it, always in beta.
What is App Tracking Protection
App Tracking Protection allows you to block apps from being tracked. It works through DuckDuckGo's browser, where, once enabled, it detects when apps are about to send data to a list of third-party tracking companies that are listed on DuckDuckGo's (publicly available) blocklist. At this point, it blocks most requests without routing the data to DuckDuckGo's servers.
DuckDuckGo also offers the Activity Report, which shows what it has blocked. It can be seen that the apps do a real profiling activity, collecting the precise location, age, email address, telephone number, time zone, device information (including screen resolution, device make and model, language and local internet provider), and even your fingerprint.
This information can then be sold to companies such as data brokers, advertisers and even governments and used by companies such as Meta and Google to create specific advertising profiles.
According to DuckDuckGo, the average user has 35 apps installed on their phone and experiences between 1,000 and 2,000 tracking attempts from over 70 tracking companies daily.
It might seem similar to the App Tracking Transparency tool(ATT) introduced by Apple with iOS 15, but there is a substantial difference.
According to DuckDuckGo, Apple's App Tracking Transparency tool restricts only direct access to a user's IDFA [Identifier for Advertisers]. The rest is essentially an honour system, where Apple asks the user's choice to track or not. Still, it's not actually blocking any third-party trackers. Whereas DuckDuckGo's App Tracking Protection directly blocks third-party trackers, making the tool more powerful than what's available on iOS.
How to enable App Tracking Protection
Using the function is very simple. Install the latest DuckDuckGo (version 5.143.1) and enable one setting.
Open the app
Tap on the three-dot option at the top right
Select Settings.
Scroll down and select App Tracking Protection.
Turn on app tracking protection.
Give consent to set up your own local VPN.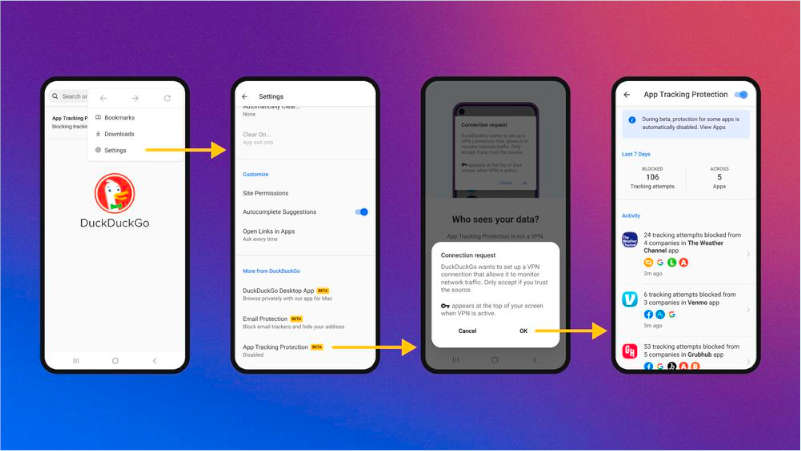 Within a minute of activating the App Tracking Protection, you will notice that numerous tracking attempts have been blocked.
It should be clarified that not all tracking is blocked. Some apps can malfunction if this type of traffic is blocked, such as Chrome, WhatsApp or YouTube, and these are not blocked by default, although we can block them if we want.