What if I say, now you can easily install Google Chrome extensions and Firefox extensions on Android browser.
We all love Google Chrome — despite being a RAM eater, we all installed and using Google Chrome as our primary web browser in our PC because of its features like bookmark and history syncing with Google and Chrome extensions to ease up our tasks — that were missing in other chromium-based browsers. Like Chrome, Mozilla Firefox for desktop also supports account synchronisation, extension, and addon installation on the browser.
But when comes to smartphone, both Google Chrome and Firefox fail to implement some of its desktop features to the Android platform — like we can't install Google Chrome or Firefox extensions on Android version. Although recently Mozilla has added this feature on Android, now you can install Firefox extensions on Android browser. Don't know why Google is not adding this feature on Chrome for Android but another Chromium-based browser is here to solve this issue.
Install Google Chrome extensions on Android:
Knowing users need, in its latest update Kiwi Browser based on Chromium added support to Chrome extensions were users can easily installed useful Chrome extensions on Android and use them just like in Chrome for desktop.
Follow these steps to install Chrome extensions on Android using Kiwi Browser:
1. Install the latest version of Kiwi Browser from Google Play.
2. First, we have to enable extension support on Kiwi browser. For that enter " chrome://extensions" in the address bar and enable "Developer mode".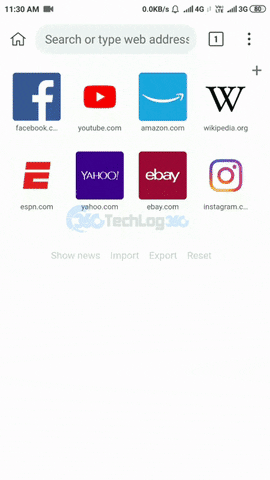 3. Next, go to Chrome store on desktop mode and choose the extension you like to install by tapping "Add to Chrome" button.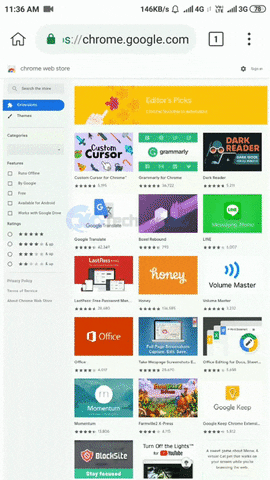 4. That's it. Also, you can see all installed extensions and disable or remove them by going to "options > Extensions"
Apart from Chrome extensions support, Kiwi browser also comes many other features like night mode with customizable contrast and grayscale mode, a custom Downloads folder, and external download manager support. It also comes with a built-in adblocker or you can easily install your own adblocker. The only thing missing in Kiwi Browser is bookmark cloud syncing but it can solve d to an extent by bookmarks import/export feature.
Looking on all browsers available for Android, Kiwi browser is the only one that let you install Chrome extensions.
Install Firefox extensions on Android:
As it's a new feature recently added on Firefox for Android, for now, you will be able to install a selection of plugins specifically recommended by Mozilla. But in the future, it is not ruled out that you can install any Firefox extension on Android browser.
To get started, you can take a look at the add-ons compatible with Firefox for Android. For now, they are few, but the list will grow over time.
Let's see how to install extensions on Firefox for Android. It's easy, fast, and it will make your Firefox work much better.
1. If you have the latest version of Firefox for Android, you will find the add-ons in the Firefox drop-down menu.
2. Now you see the list of add-ons compatible with Firefox for Android.
3. From the list of add-ons, click on the + symbol, and a message will appear asking if you want to install the said add-on and the permissions it needs to function. By clicking on Add, you will confirm the installation.
4. Depending on the plugin, you can customize its operation or simply activate and deactivate it temporarily.