Intel announced the Intel Max Series as a new family of CPU/GPU for HPC and AI applications.
The CPU Intel Xeon Max is equipped with a wideband memory that is 4.8 times faster than competing products. The company's highest-density GPU, Intel Max GPU, is scheduled to be released in January 2023. The Max series is being adopted for the supercomputer Aurora at the Argonne National Laboratory in the United States.
Sapphire Rapids HBM, aka Xeon Max
Xeon Max is a CPU known by the development code name of Sapphire Rapids, and among Sapphire Rapids, those with HBM (broadband memory) mounted on the package have been commercialized as Xeon Max this time. The company describes Xeon Max as the first and only x86-based processor with HBM, which it says can accelerate many HPC workloads without code changes. It is a look that corresponds to the fact that narrow memory bandwidth tends to be a bottleneck in HPU / AI workloads.
The main specifications include up to 56 performance cores (Golden Cove cores), 64GB of HBM2e memory that achieves a maximum bandwidth of 1TB/s, and a maximum TDP of 350W. Four tiles are mounted on the Xeon Max CPU package, each with 14 performance cores and 56 Golden Coves. The maximum specification of Sapphire Rapids is 15 Golden Coves per tile, so up to 60 can be designed. Each tile is connected by Intel's multi-die interconnect bridge technology EMIB.
It also features flexibility for running with HBM and DDR memory configurations. In addition to high-speed HBM Only, there are three types of memory — HBM Flat, which increases capacity, and HBM Caching, which uses HBM as DDR cache and balances capacity and performance.
Performance is 4.8 times higher than competing products in actual HPC workloads. According to the company's research, compared with AMD's Milan-X (3rd generation EPYC) in workload benchmarks, A 2.4-fold increase in speed for climate modelling calculations and a 2.8-fold improvement in performance for molecular dynamics calculations are said to have been achieved. In addition, it is also appealing for its high-power efficiency, as it can achieve the same performance with 68% less power consumption.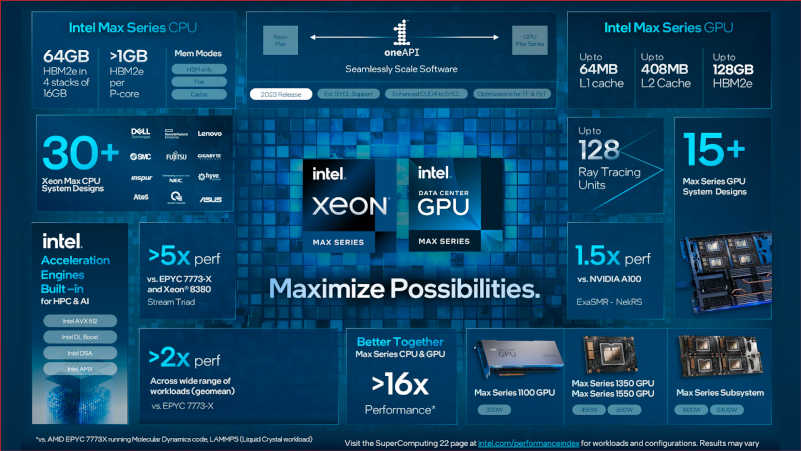 Ponte Vecchio aka Max GPU
The Max GPU's existence has been known so far under the development codenamed Ponte Vecchio and the architecture name of Xe HPC. It has already been positioned for the first customer, Intel Data Centre GPU at Argonne National Laboratory in the United States for Aurora.
On the GPU package of Max GPU, 47 tiles with more than 100 billion transistors are built in, and up to 128GB HBM2e is also installed, making it the company's highest-density processor. Up to 128 Xe cores. Arithmetic throughput reaches 52TFLOPS for FP64/FP32 and 104TFLOPS for FP16.
In addition, the product line-up of the following three models has been released for Max GPU.
Max Series 1100 GPU: Equipped with 56 Xe cores and 48GB of HBM2e memory. TDP300W. PCIe card (2 slot size). Multiple cards can be connected via an Intel Xe Link bridge.
Max Series 1350 GPU: Equipped with 112 Xe cores and 96GB HBM. TDP450W. OAM module (OCP Accelerator Module).
Max Series 1550 GPU: Equipped with 128 Xe cores and 128GB HBM, TDP600W. OAM module (OCP Accelerator Module).
In the announcement, there was also a reference to "Rialto Bridge" as a successor to this Max GPU. This second-generation Xe HPC is expected to be released in 2024. Following Rialto Bridge, it is said that it will release "XPU" (code name: Falcon Shores), which integrates Xe core and x86 core in one package.