Nothing, the startup led by Carl Pei, former co-founder of OnePlus, has announced its first device — the Ear (1), true wireless earbuds with active noise cancellation that come to compete directly against the AirPods Pro.
Nothing Ear (1) comes with a striking aesthetic and commitment to quality as well as for an attractive price — a significantly lower price: $99 and Rs 5,999 in India and will go on sale on Flipkart from August 17.
Although there are many wireless earbuds, and almost every company has its own, the Ear (1) are unlike any that can be found on the market. Something that they make crystal clear from their design.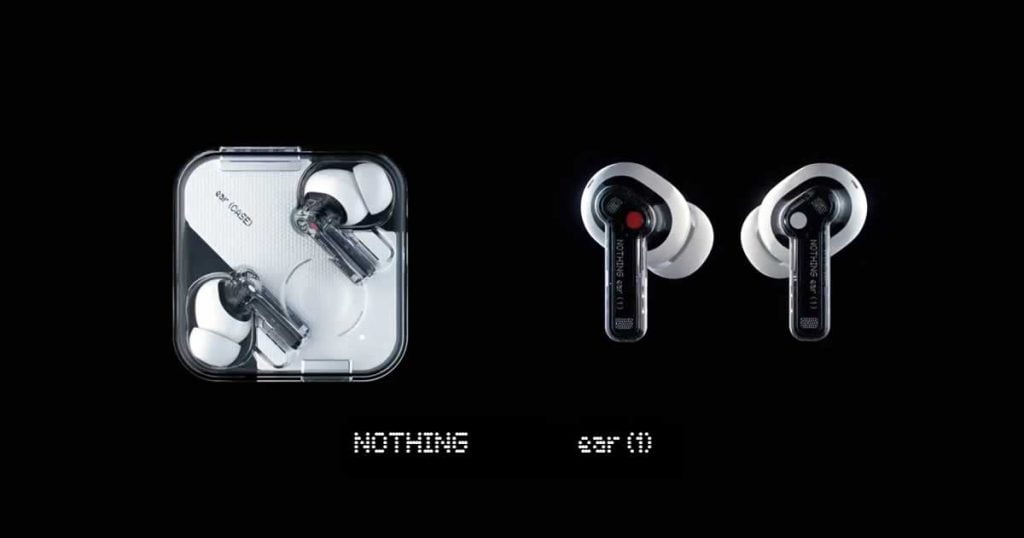 On the outside, the Nothing Ear (1) attracts attention due to the transparency of both its body and the charging case. A feature that allows you to see all the internal components and gives it a different aesthetic than other headphones on the market.
When it comes to sound, Nothing has collaborated with the Teenage Engineering company, known for its synthesizers and audio products. The Ear (1) also have a 11.6-millimeter driver and Bluetooth 5.2 connectivity. All this, together, offers an exceptional sound, according to the London company.
Ear (1) weigh only 4.6g per earphone and have touch controls that allow you to change songs or adjust their volume. They also have an opening that regulates the pressure inside the ear, which should contribute to greater comfort when using the earbuds for long periods of time.
The Nothing Ear (1) also have active noise cancellation. To do this, it relies on both the silicone pads — which isolate the inner pavilion — and the three microphones located in each earpiece. Nothing explains that it has also developed an algorithm that analyzes sound and isolates the voice to silence up to 40 km/hr winds during conversations.
Users can choose between three levels of cancellation — a mild cancellation mode, a maximum cancellation mode, and the transparency mode.
Battery life is estimated by the company at 4 hours with active noise cancellation and 5.7 hours when deactivated. The case, in transparent plastic, allows you to extend the battery life up to 24 hours (34 with ANC deactivated) and allows you to get 8 hours of music with only 10 minutes of charge. It is also equipped with wireless charging with the Qi standard.
The Nothing Ear (1) is accompanied by an application — from which various parameters can be adjusted. This is available on both Android and iOS. The earbuds are also compatible with Google Fast Pair, which simplifies pairing with Android devices.