Recently Microsoft has rolled out the new Chromium-based Edge browser for Windows 10 users via Windows update.
The brand new Microsoft Edge is really attracting the attention of many users has become a great alternative to Chrome and Firefox.
Although some people in the Windows community is very annoyed with Microsoft's new move of forcing the Chromium Edge on users by taking over their entire computer upon startup.
Microsoft Edge is working exactly like Chrome, uses a Microsoft account to synchronize data instead of Google account and has many additional features that make it perfect for surfing the internet.
We all know Chrome's notorious RAM and CPU hogging nature, and this the main area Microsoft Edge has sorted out — Chromium Edge uses less than half of the RAM and CPU of Google Chrome.
Hidden Surf game in Microsoft Edge:
Now back to the topic, we all know there is a hidden Dinosaur game in Google Chrome, which activates when we go offline or when there is no internet connectivity. Similarly, Microsoft also included a nice and fun game called Surf Game for all users, playable even when the computer is offline.
So how to play this hidden Surf game in Microsoft Edge?
Unlike the Dinosaur game in Google Chrome, Surf game in Microsoft Edge can be played both offline and online mode. To play in offline mode, simply tap on the "Launch Game" button to play Surf Game on Chromium Edge.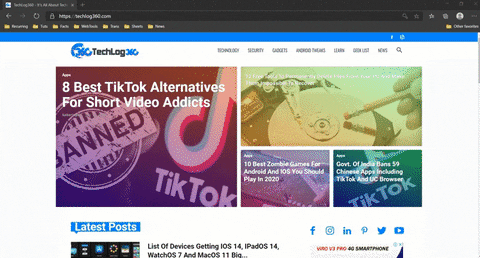 Now to play even when you are online, enter this URL " edge://surf/ " on Edge address bar to start to play Surf game on Microsoft Edge online.
More about Microsoft Edge Surf game:
In the beginning, you can choose the type of surfer to ride and then start the game, hitting the Enter button on the keyboard. To play, use the arrow keys on the keyboard or use the mouse, a joypad, or using your finger on the touchscreen.
The game includes three different modes: Endless mode, Time trial mode, and Zig zag mode. You can switch modes via the game settings menu.
In Endless mode — you have to go as far as possible, avoiding obstacles. Also, you can add lives by taking the hearts you see along the way and increase your speed by collecting the boosts.
In Time trial mode — you have to find the shortest and fastest possible route to get to the end. Here you can find coins to shorten the stopwatch even more.
In Zig zag mode — is a bit like an endless slalom race on skis, where you have to go through doors or checkpoints, without skipping one.