Most of us prefer to cast or mirror our smartphone or laptop screen to a larger display, such as a TV or projector, to rest our eyes from staring at the small screen, or to show a video, image, or application on our mobile device to a larger audience, or simply to enjoy the pleasure of a big screen.
When it comes to mirroring your smartphone wirelessly, unlike a tech-savvy individual, a normal user always becomes confused about the whole process while connecting the devices. And eventually, they backed off.
So in this article, we are seeking your attention to the ProScreenCast SC01 wireless display adapter — with which even kids and seniors can easily mirror the device screen to a larger display. With ProScreenCast SC01, you can easily access all of your games, photos, videos and other applications on your device with any OS on a big screen.
What makes ProScreenCast SC01 special
supports up to 4K resolution and HDR color
easily switch between landscape and portrait display
cross-platform support — Compatible with Android, macOS, iOS, Windows, ChromeOS
No app is required for mirroring
built-in dual-band 2.4G and 5G
transmitting in 60GHz with ultra-low latency
The ProScreenCast SC01 is a compact screen-casting adapter that connects to the TV via HDMI and can project any device to the TV itself via a wireless signal. It promises to support up to 4K resolution at 60Hz with HDR, to support different operating systems, to have extremely low latency, and to be capable of switching between portrait and landscape orientations.
What's inside the box?
The ProScreenCast SC01 is packaged in a typical white box that includes user manuals, an HDMI 2.0 cable, and a USB-A to USB-C power cable.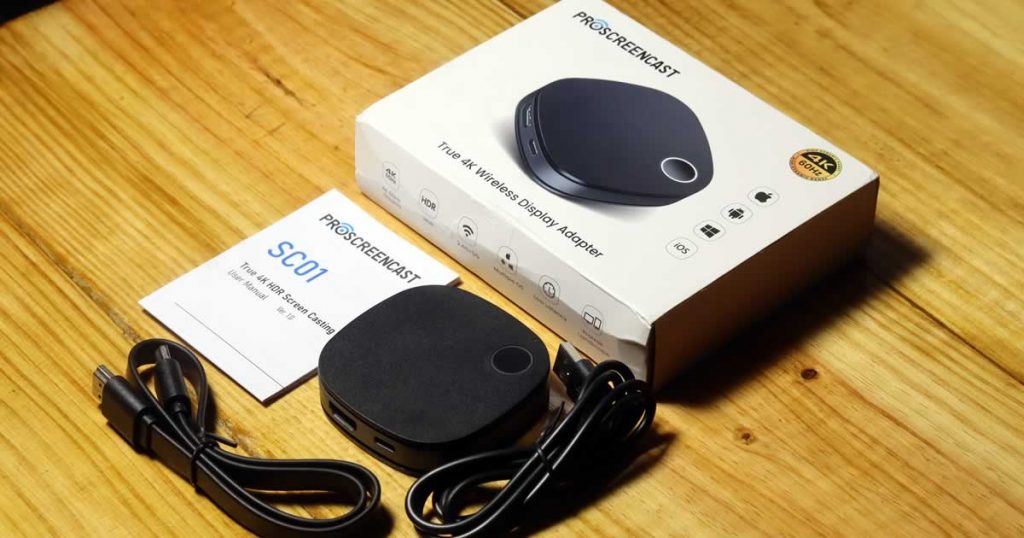 ProScreenCast SC01 initial impression
As we already mentioned, ProScreenCast SC01 is a very small and ultra-lightweight mirroring device that weighs only 50.7g and measures 72 x 72 x 17 mm — making it easy to connect and may be placed in almost any place. Regarding the design, ProScreenCast SC01 Miracast Dongle comes in a black plastic exterior shell which is complemented by curved corners and also offers excellent build quality thanks to a sturdy ABS + PC body.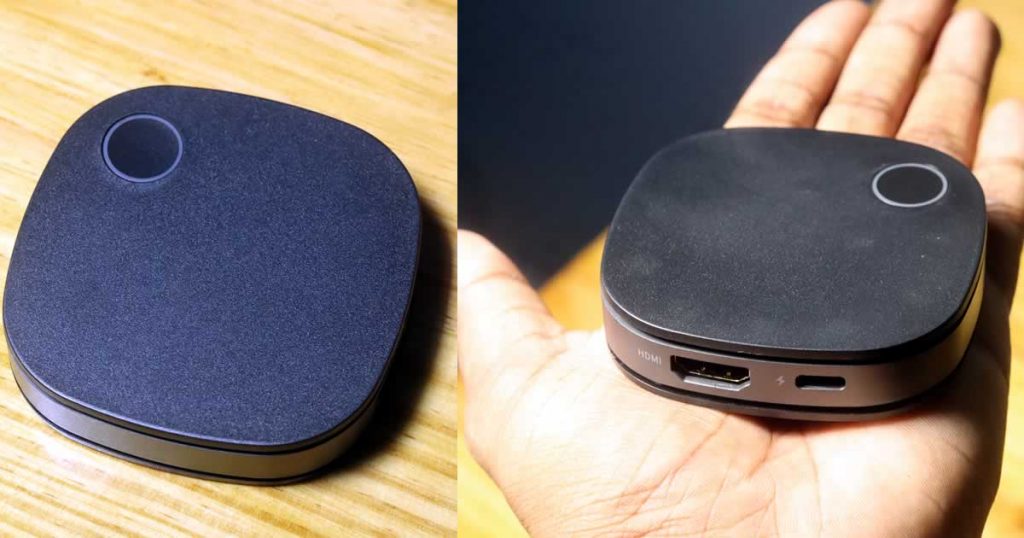 Now comes to the hardware part: at the top of the ProScreenCast SC01, there is a single circular button surrounded by a light LED ring — which is responsible for doing a factory reset and restart or to switch between portrait and landscape modes.
There are only two connecting ports — an HDMI 2.0b video output capable of 4K at 60fps HDR video and a USB-C 5V 2A port for power supply.
And a lot of small airflow vents can be seen around the device to protect it from overheating issues. The adapter includes a built-in Wi-Fi module that supports 802.11 a/b/g/n/ac standards and can connect to both 2.4G and 5G networks.
Although the wireless display adapter does not include a separate remote, and to be honest, it does not require one. After connecting your mobile device to the adapter, you can adjust any options and settings in the smartphone web browser. Keep in mind that the settings accessible will vary depending on the device connected to the adapter.
How to get started with ProScreenCast SC01
As ProScreenCast SC01 is a cross-platform support device, it can easily mirror any device with any OS to a bigger screen with an HDMI connection. Here we are testing how to cast an Android smartphone and iPad to a TV with ProScreenCast SC01. Connection is simply straightforward as we only need two cables provided in the box to get it started.
First, plug in one end of the HDMI and USB-C cable to ProScreenCast SC01. Now connect the other end to the respective ports of the receiver device, like to HDMI port of the TV and the USB-A port for the power supply, or you can use a 5V/2A power adaptor.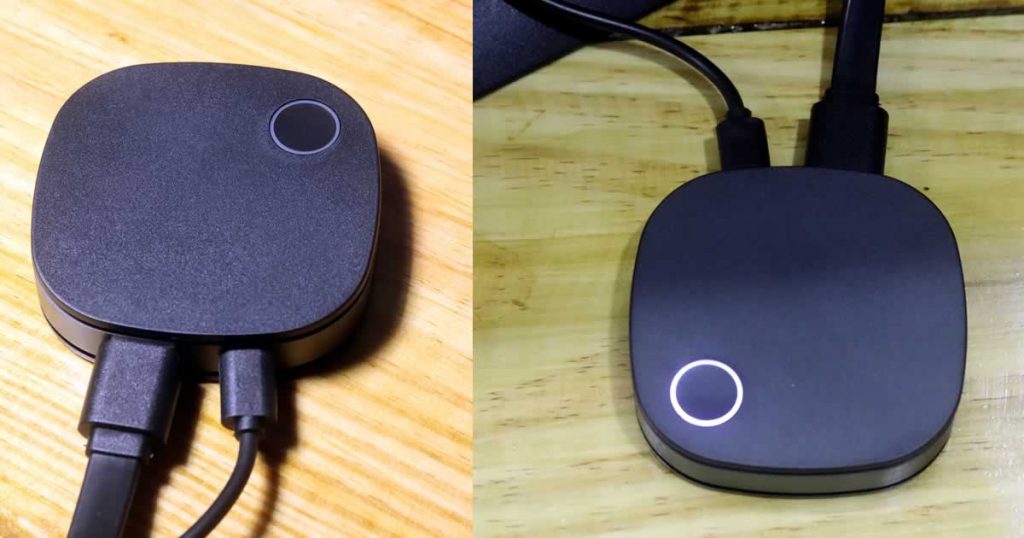 Turn on the TV and choose the source, like HDMI1 or HDMI2, as per your connection. Now you can see a welcome window with some instructions.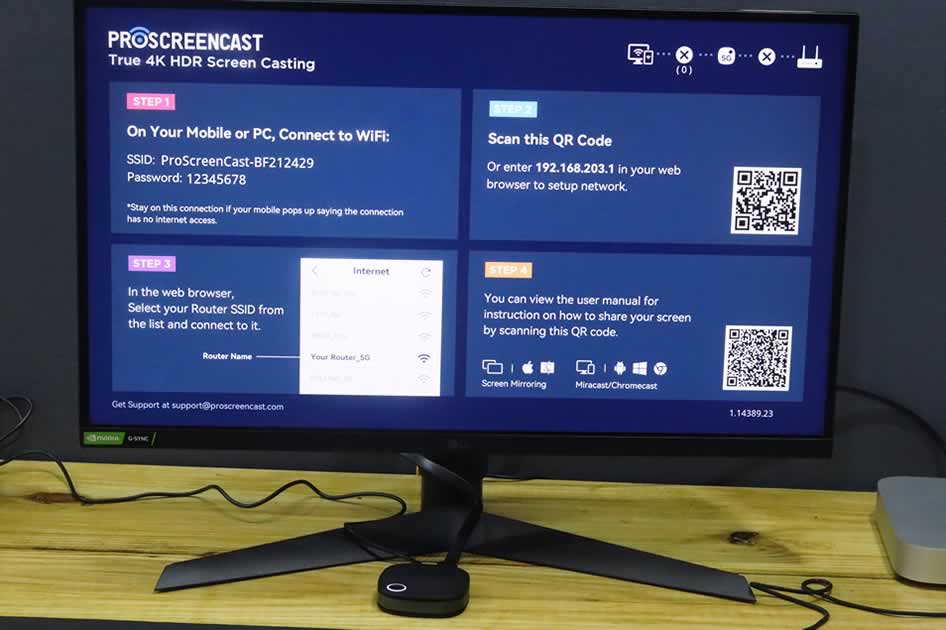 Now, go to your Android phone's Wi-Fi settings and connect to the ProScreenCast SC01 default SSID "ProScreenCast-xxxx" with the default password "12345678".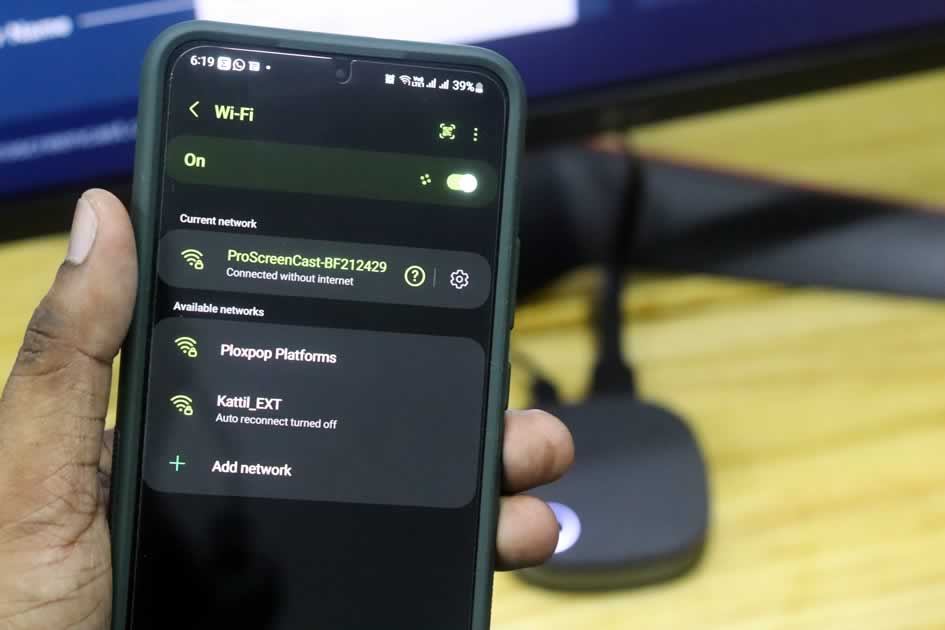 As for the first-time usage, you have to go to your phone's web browser, and in the URL field, enter "198.168.203.1" to open ProScreenCast SC01 settings. Here at first, you have to go to the "Internet" option and connect to your home Wi-Fi network. Once the device is connected, the name of the home Wi-Fi router will be shown on the screen.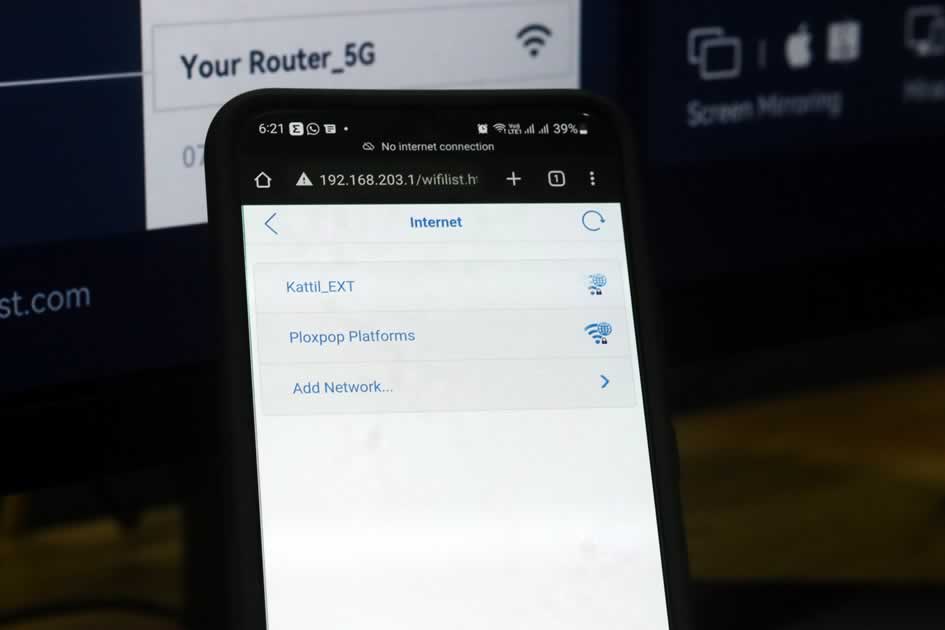 Now go back to the settings page; there, you can find a couple of options to tweak the mirroring on ProScreenCast SC01. There are options to set resolution, adjust portrait mode, turn on/off HDR, Miracast mode to adjust latency and video quality, enable power saving mode etc. Remember, some setting requires a reboot of the dongle to activate the feature.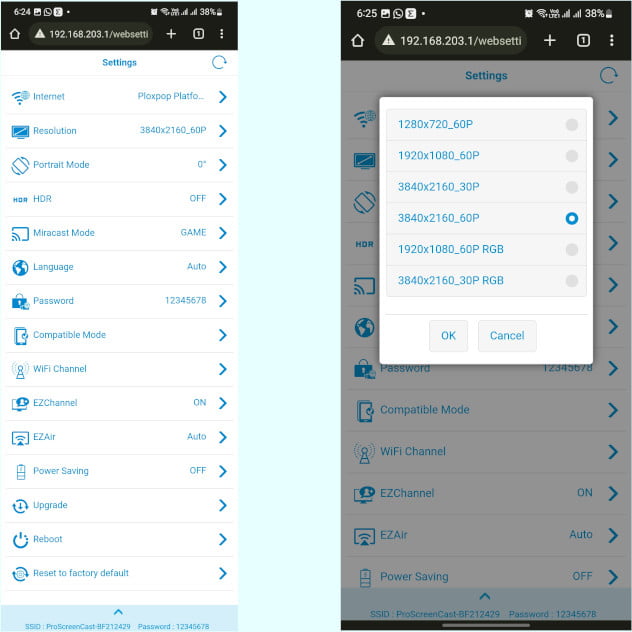 That's it; now open a media file or go to YouTube and mirror your favourite video to TV by choosing "ProScreenCast-xxxxx" option. By pressing the button on the SC01, you can switch between landscape and portrait modes.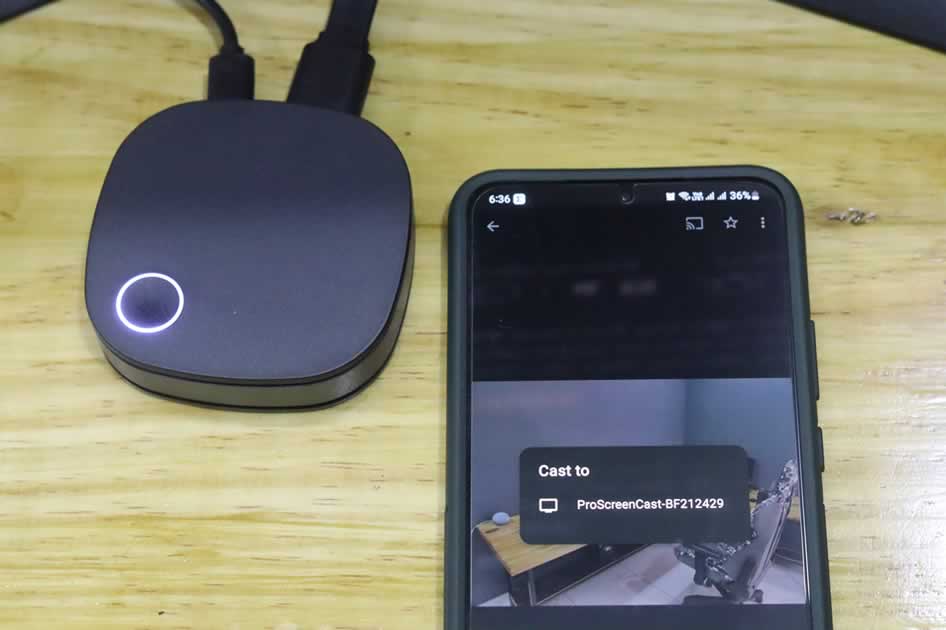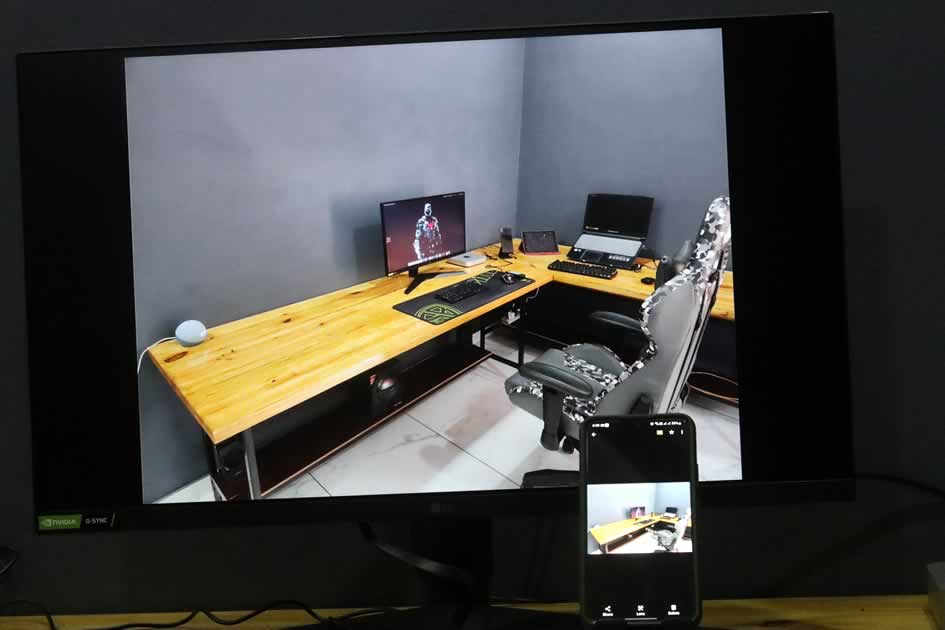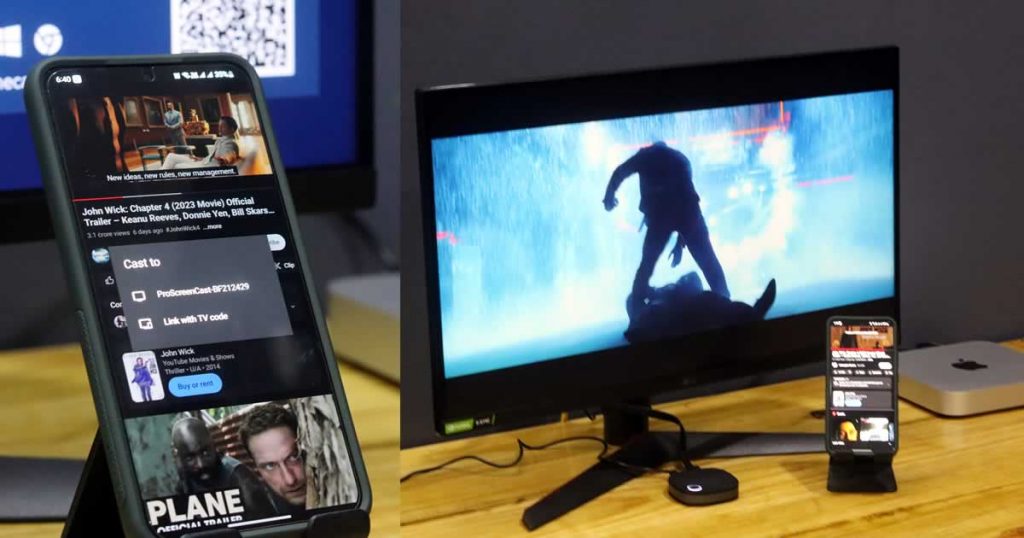 In iPadOS and iOS, first, connect to ProScreenCast SC01 SSID.
Next, swipe down the control panel and choose the "Screen Mirroring" option to "ProScreenCast-xxxxx" to mirror the iPad or an iPhone screen to a TV.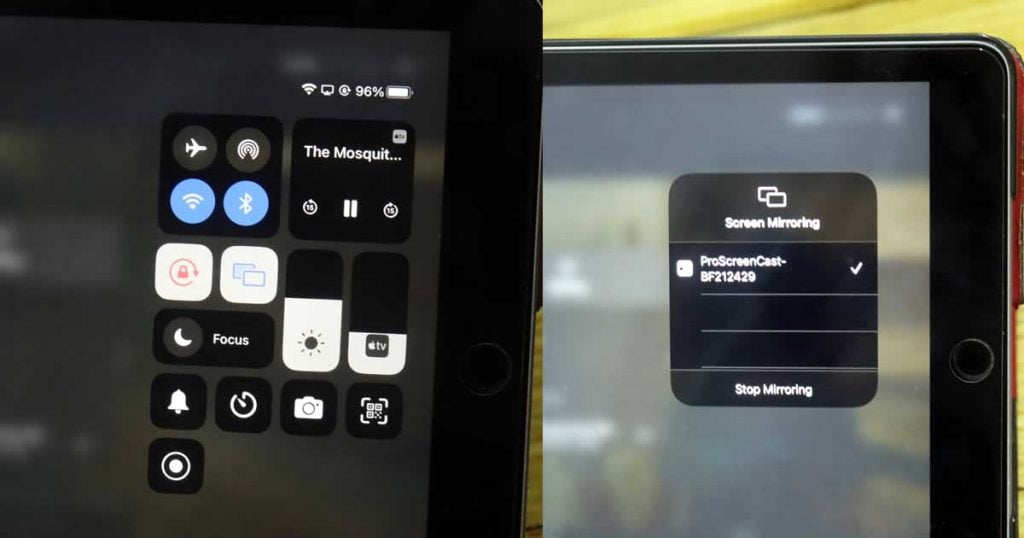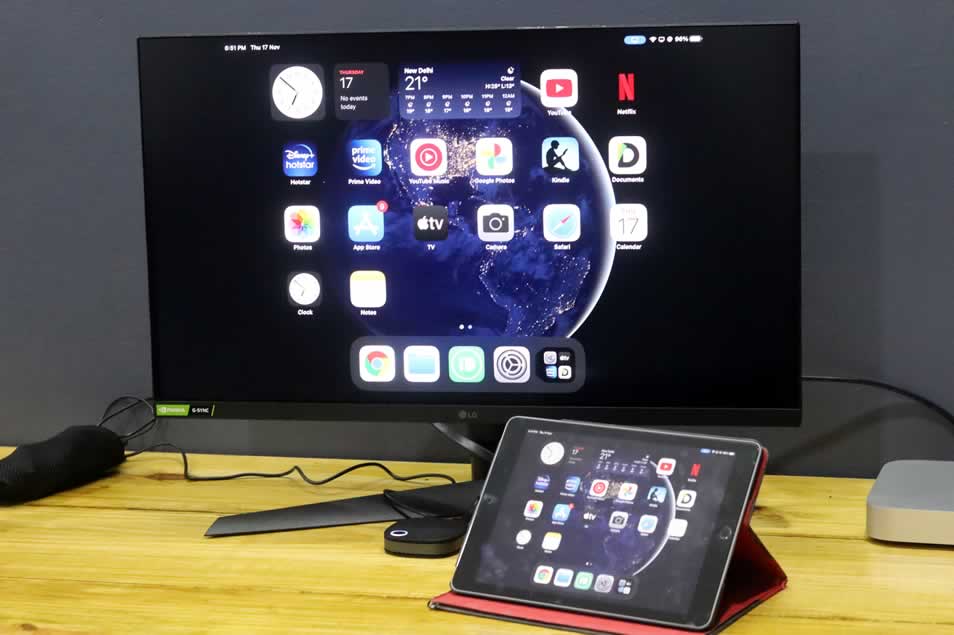 Similarly, with ProScreenCast SC01, you can mirror your Windows PC/laptop or macOS or even from the Google Chrome web browser. All you have to do is connect to the ProScreenCast SSID and choose the file to cast and "ProScreenCast-xxxxx" option for "cast to" device.
Verdict
As the company claims, ProScreenCast SC01 indeed mirror videos in 4K with 60fps quality. We have tested multiple times with different files and settings, and the little beast never disappointed us. The video stream's response time is almost imperceptible, hovering at about 50ms. Compared to other similar devices, ProScreenCast SC01's playback performance is twice as fast. Furthermore, the wireless connection is stable, and video playback is smooth.
In short, ProScreenCast SC01 is useful for meetings, video viewing, education, live broadcasting, and gaming. It is ideal for streaming vertical videos like TikTok or performing live broadcasts on a large screen.
Price and availability
ProScreenCast SC01 costs $69.99 and is available on the ProScreenCast Official website. Yes, I know this is surely not the cheapest wireless display adapter on the market, but it is one of the best and feature-rich devices available today — that makes the price justifiable.
Although you can get the ProScreenCast SC01 at a discounted price, with the special Coupon Code exclusively for our readers — you can avail of a 15% discount on the product with coupon code "TECHLOG360". Also, look out for upcoming Black Friday, and Cyber Monday deals too.