At the Galaxy Unpacked event, Samsung has officially presented the phones that make up the Galaxy S21 series — Galaxy S21, Galaxy S21 Plus, and Galaxy S21 Ultra — along with the new Galaxy Buds Pro true wireless earphones.
With a bold new style, the Galaxy S21 has been designed for those looking for a lightweight mobile phone and a compact 6.2-inch screen. While the S21 Plus has a larger 6.7-inch screen and a larger battery, so it is designed to consume multimedia content and to play.
The Galaxy S21 family stands out for having a Contour Cut design on its camera that integrates seamlessly into the metal frame of the device, achieving a more striking appearance. Both the S21 and S21 Plus have a matte finish and will be available in different colors, including a new one called Phantom Violet.
Both models offer an adaptive 2X Dynamic AMOLED display, a resolution of 2400 x 1080 pixels, and a refresh rate that reaches 120Hz. On the other hand, both panels are protected by Gorilla Glass 7, and both phones have IP68 certification, so they are resistant to both water and dust.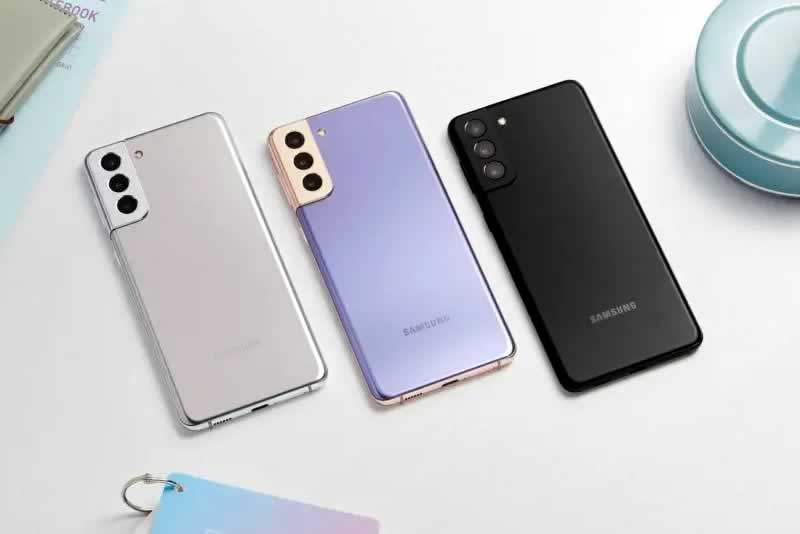 Inside, all the Samsung Galaxy S21 wears an Exynos 2100 processor. This chip brings with it several changes at the architecture level that, on paper, should translate into a similar performance to Qualcomm's Snapdragon 888.
In terms of RAM memory, the amounts range between 8 and 16 GB between the three models. And the same goes for UFS 3.1 storage, which varies between 128 and 512 GB. On this occasion, by the way, no Galaxy S21 has a microSD card slot.
The three versions of the Galaxy S21 incorporate 5G connectivity. All Galaxy S21s come standard with a 5G modem compatible with both mmWave and sub-6GHz networks.
In the photographic section is where we can find more differences between the Galaxy S21, S21 Plus, and S21 Ultra. The two cheapest models share the same sensors, targets, and performance. However, the Ultra model goes one step further with more megapixels, more zoom, and the promise of better photos.
Galaxy S21 and S21 Plus have a triple rear camera setup with a 64-megapixel main sensor, a 12-megapixel wide-angle lens, and a 12-megapixel wide-angle lens. It also includes an optical image stabilizer, phase detection autofocus, and 3x hybrid optical zoom. On the front is a 10-megapixel selfie camera located in a hole in the screen located right in the middle.
The Galaxy S21 Ultra has a 108-megapixel main sensor. It combines the information of nine pixels into one and promises 12-megapixel images with great quality. The system has also been refined. According to Samsung, this new sensor has a dynamic range three times wider, can capture better photos in poor lighting conditions, and is capable of 12-bit HDR photos, among other things.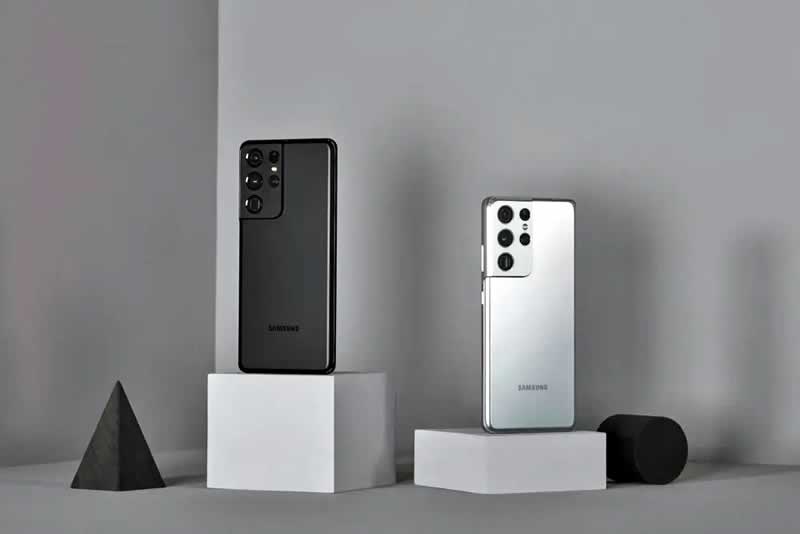 The other major change on the Galaxy S21 Ultra is the zoom. In this model, it has mounted two telephoto lenses: one with three magnifications and the other with ten magnifications.
All three models are capable of recording 8K video at a maximum of 24 FPS. They also bring with them a new recording mode that allows you to switch between different cameras with ease and a Vlogger mode.
The Galaxy S21s does not come with headphones or a power adapter. Samsung thus confirms the rumors and gets on the same train as Apple or Xiaomi, who have taken a similar step in recent months.
All Galaxy S21s supports fast charging of up to 25W of power — if a compatible adapter is used. They also support wireless charging using the Qi standard and incorporate reverse charging technology that supplies power to other compatible devices by simply placing them on the back of the phone. The battery capacity of each model is as follows:
Galaxy S21: 4,000 mAh.
Galaxy S21 Plus: 4,800 mAh.
Galaxy S21 Ultra: 5,000 mAh.
The Galaxy S21 Ultra is the first Galaxy S to support the S-Pen. The S-Pen for the Galaxy S21 Ultra is not stored inside the phone. In fact, the stylus is not even included in the phone box. Users who want to make use of this element will have to purchase the S-Pen separately. And, to store it when not in use, they will have to use a specific cover.
Price
The prices of each model and the colors in which they will be available:
Galaxy S21: It will start from Rs. 69,999. There will be two versions: both will have 8 GB of RAM but will vary in storage (128 or 256 GB). It will be sold in four colors: pink, purple, gray and white.
Galaxy S21 Plus: It will start from Rs. 81,999. There will be two versions: both will have 8 GB of RAM but will vary in storage (128 or 256 GB). It will be sold in three colors: purple, black and white.
Galaxy S21 Ultra: It will start from Rs. 1,05,999. There will be three versions: 12 GB of RAM + 128 GB of storage; 12 GB of RAM + 256 GB of storage; 16 GB of RAM and 512 GB of storage. It will be sold in two colors: black and white.
Samsung Galaxy Buds Pro
Samsung had a surprise in store for their event. The firm has announced the new members for the Galaxy Buds family, its wireless headphones. After testing a bean-shaped design, the company returns to the more traditional cut true wireless earbuds with the Galaxy Buds Pro.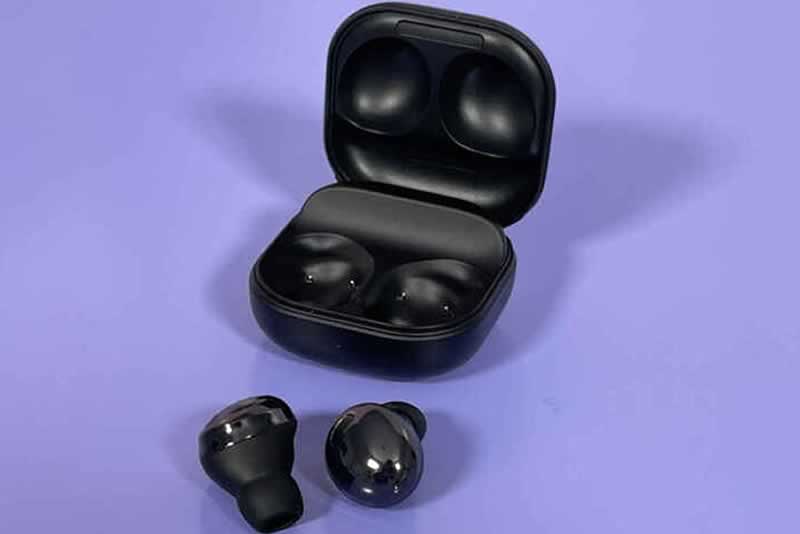 Among its main features, it stands out the presence of two speakers integrated into each earpiece, with an 11-millimeter woofer for deeper bass and a 6.5-mm tweeter for a clearer treble with the same distortion. These headphones also manage to separate voice from unwanted sounds with three microphones and a voice pick-up unit (VPU), and one of the outer microphones is capable of further suppressing background noise.
Samsung has integrated its Wind Shield technology into the Galaxy Buds Pro, which filters out wind interference allowing calls to be clearer. The new headphones include active noise cancellation (ANC), surround sound, and keep touch controls. In addition, they are water-resistant, have a game mode, and offer a range of up to 8 hours of playback, with 20 hours if the charging case is used.
With ANC on, you get 5 hours of playtime with an additional 13 hours available in the case. On the other hand, with just five minutes of charging, you get an hour of use.
The Samsung Galaxy Buds Pro is slated to go on sale in select markets from January 15 onwards and is priced at $200 (approximately Rs. 14,600).