Marketing presentation is one of the most powerful tools you can use when you need to introduce new ideas. There is no better way to show to your colleagues that you came up with a brilliant concept on how to increase sales and speed up your company's growth than to present it on a big screen.
However, most of us use the default software we already have on our laptops to create presentations. Though these tools can be really awesome, they probably don't have all the features and add-ons you don't even know you need.
So today, let us show you the tools that can step up your game and help create presentations that will bring every person on your side. Without further ado, let's get started!
Canva
Canva is one of the most popular online platforms for marketing presentations filled with various free presentation templates for your business purposes. The platform also offers templates for newsletters, business cards, brochures, and even infographics.
Basically, Canva is an all-in-one online website, and you can make absolutely any kind of business presentation using the platform. The website has thousands of designer layouts for you to choose from, but if you have something else in mind, you can upload your own images or pick something from Canva's big library of stock photos.
Canva has three basic plans: free, which is more than enough to create basic marketing presentations, and two paid ones: from $9,99 and up if you need more tools for your presentations.
PowerPoint
PowerPoint, like Xerox or Pampers, became almost a synonym to a standard software for marketing presentation. It was created back in 1987, and to this day, PowerPoint strongly holds its market leader position. The program is regularly updated, so it follows modern trends in presentations and has a wide range of tools to help you create exactly what you need.
It is more restrictive than other online and offline programs, but PowerPoint is very intuitive and if you need a simple presentation to present your marketing strategy to people, it may be the option for you. As an addition, PowerPoint can be used both on PC and Mac computers and even on Android and iOS smartphones.
The program is included in the Microsoft Office suite, and it starts from $69,99 a year for one user.
Keynote
This presentation tool for Mac users is included in almost all Apple gadgets nowadays. The program is free, which is a big advantage for small companies or marketers who rarely create presentations.
Despite being free, Keynote showed to be a very good software with a nice design, easy drag-and-drop functionality, an intuitive interface, and many other features that help users customize their presentations.
Keynote is undoubtedly one of the top tools for marketers who use Apple devices, and if you value simplicity and easy experience, you will love Keynote.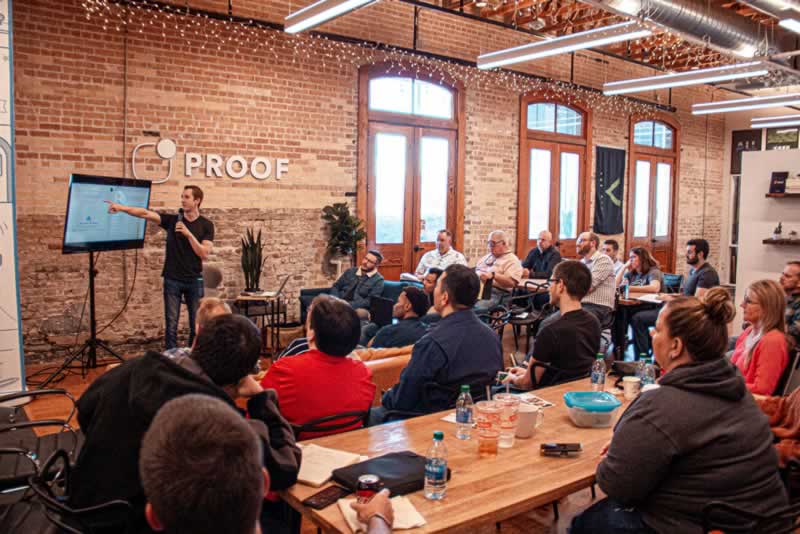 Screencapture
This tool is not for creating presentations itself, but it is one of those extra things you need in our day and age. When in 2020, the world was forced to leave its workplace, video marketing presentations became a new norm.
Nowadays, we can show our presentations and share them with others on our laptops while still being at home. So, it is only logical to use a Screencapture video camera online to record while you present your ideas. This way you will have the presentation forever and can send a copy to your colleagues that missed it.
Screencapture is that free online recorder that is easy to use, and you can even edit your videos on the website. Did we mention it is free?
Presentation Assistant
Another awesome helper with your presentations is Presentation Assistant. Like it's said on their website, this program is "a cute assistant in presentations." It has many tools for zooming, highlighting, capturing, spotlighting, and annotating on your screen.
You can easily point to the part of your presentation you particularly want to emphasize, thus expanding the definition of a simple presentation this way. If you want to purchase this assistant, it will cost you only $29,95.
Zoho Show
Another online tool that helps you create content for marketing purposes and make it unique and brilliant. Zoho Show provides professional templates that were created with marketers and business owners in mind. It has different variations for Apple, Android gadgets, Chrome extension and can be integrated into Slack, Jira, or Confluence.
With Zoho Show creating a professional marketing presentation will take you almost no time, and the result will be outstanding. Its website also has a blog, user guide, and numerous videos with tips for marketers on how to create a truly unforgettable presentation.
Its numerous features will allow you to add animation, charts, and different fun things into your presentation to make them look not only professional but convincing. It is one of the best and most flexible presentation-making tools we have on the market today, and it is truly an advanced instrument for serious companies.
Conclusion
With the list of tools we presented you today, you will be able to make any kind of marketing presentation. From "Best social media platforms to use for marketing in 2021" to "What creativity means in marketing today,": you will find a template that will perfectly highlight everything you want to say to your audience. It will be easy, quick, and no frustration at all!
So if you want to create the best presentation without a need to delete files after files (you know, not the best quality presentations) you've created, check the tools we reviewed today and start making outstanding presentations today.