Thinking about wireless file transfer between Android and PC?
Then the first thing that comes to your mind is connecting devices via Bluetooth. Yes, it's one method that helps you to transfer files between your phone and PC without using the USB cable.
But today am going to talk about connecting your Android device and PC/laptop via Wi-Fi and then transferring files in lightning speed.
As we know, there are many approaches that come to our mind, when we think of transferring files between our Android device and PC like — via USB cable, Bluetooth, Cloud, Infrared, etc. But why do we choose Wi-Fi to interconnect Android and PC?
Features of Wireless File Transfer:
Accessibility — easy to connect to any device because Wi-Fi connectivity is available in every device.
Speed — unlike any other method, wireless file transfer gives the advantage of lightening file transferring speed.
Sync anytime — since wireless file transfer method need only an Android device with portable Wi-Fi hotspot (with/without internet connection) to create a Wi-Fi network, so you can synchronize your files between phone and laptop anywhere, anytime.
Secure — If you are using your device's Wi-Fi hotspot feature to transfer files wirelessly, then you don't need to be afraid of the data breach by cybercriminals. [Always avoid file transferring over public Wi-Fi]
How To Do Wireless File Transfer Between Android And PC (Without USB Data Cable):
Using Sweech
Sweech is one of the simple and easiest Android apps to do wireless file transfer between Android and computer. Sweech comes with a clean, user-friendly interface without any complicated settings. So let's start the tutorial:
1. First, make sure your Android smartphone and PC are connected to the same network; I mean, if you have a broadband or Wi-Fi, then connect these both devices to that network. Otherwise, turn on your mobile hotspot and connect your PC to that hotspot. This is an important step.
2. Now install from Google play.
3. Open the app, in the home screen; you are welcomed with a "play" button. Simply tap on it. Now on the top of the screen, you can find a URL like this: http://192.168.1.3:4444.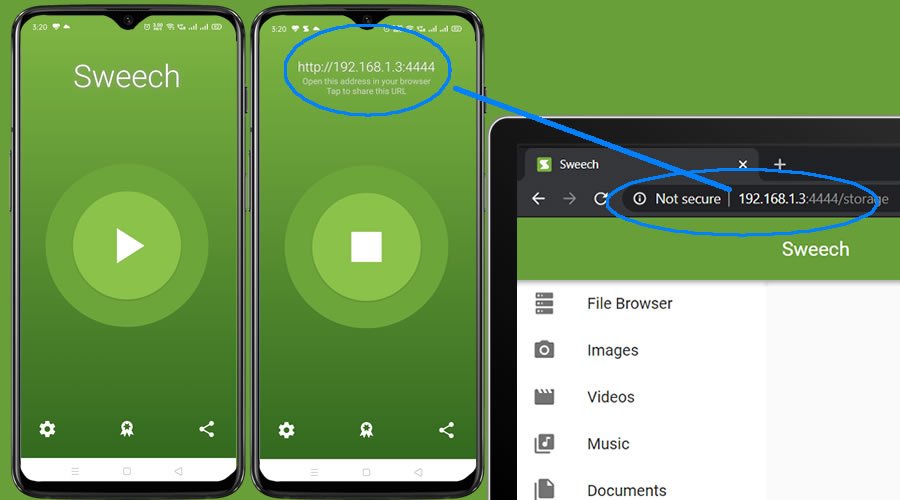 4. Enter this URL on your computer's web browser address bar. That's it. Your Android smartphone is connected to PC wirelessly — easy-peasy, isn't it.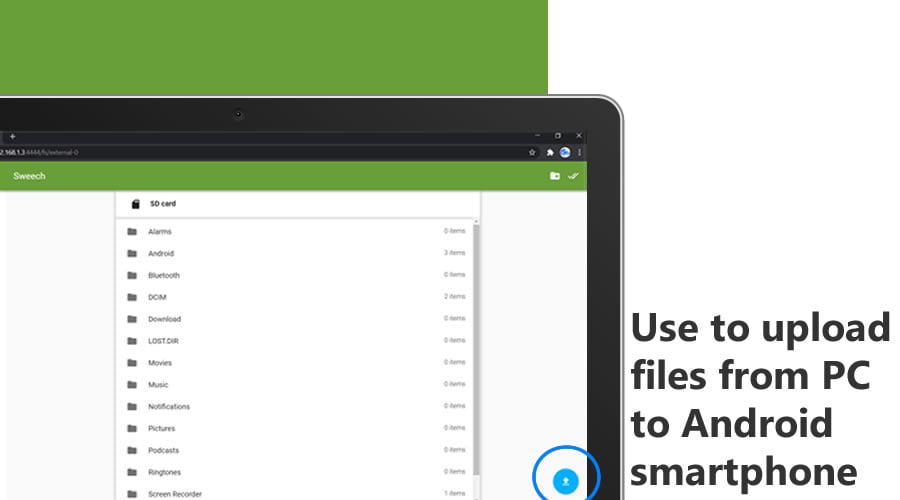 Now start to download and upload your files with Wi-Fi between smartphone and computer — also, don't worry about your limited data pack. The file transfer is not going to use the internet, so your data pack wouldn't going to exhaust.
To disconnect, press the "stop" icon on the Android screen or close the browser window on the computer. Also, don't forget to dive into some optional settings where you can enable SD card write access or keep the screen on while transferring files between Android and PC wirelessly via Sweech.
Using Xender
Here, we are using a simple Android application to transfer files between the Android device and PC without USB cable. The tool we prefer for wireless file transfer is — Xender.
Why I chose Xender over other Wi-Fi file transferring Android applications —
Easy user interface
Can connect devices within seconds
Awesome file transferring speed
Can transfer files from Android to Android, Android to PC/laptop and vice versa and Android to Windows/Mac.
Wireless file transfer is possible even with or without the internet connection
Cross-platform support — app available for Android, iOS, and Windows.
The only thing I hate about Xender is that, with every update, it changes its user interface that shifts the positioning of the setting options every time.
So, let's see how to use Xender to transfer files wirelessly or without USB cable between Android and PC.
First, you have to install the latest version of Xender from Google Play. As I already mentioned you can do wireless file transfer in Xender with or without an internet connection.
So we are discussing two methods here.
Method 1 — Transfer Files Wirelessly In Xender Without Internet Connection:
1. First, open Xender app. From the options choose "Connect to PC".
2. Since you are going to transfer files without using data connection, so tap the circular button to turn on your device's hotspot.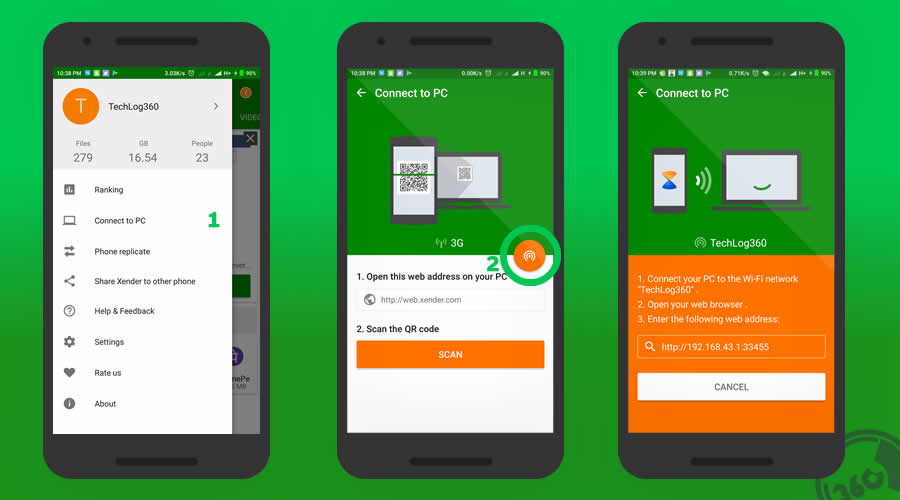 3. Next step, in your laptop/PC, connect to the Xender wifi network.
4. Now open your computer's browser and enter the URL provided in the Xender screen. (http://192.168.43.1:33455).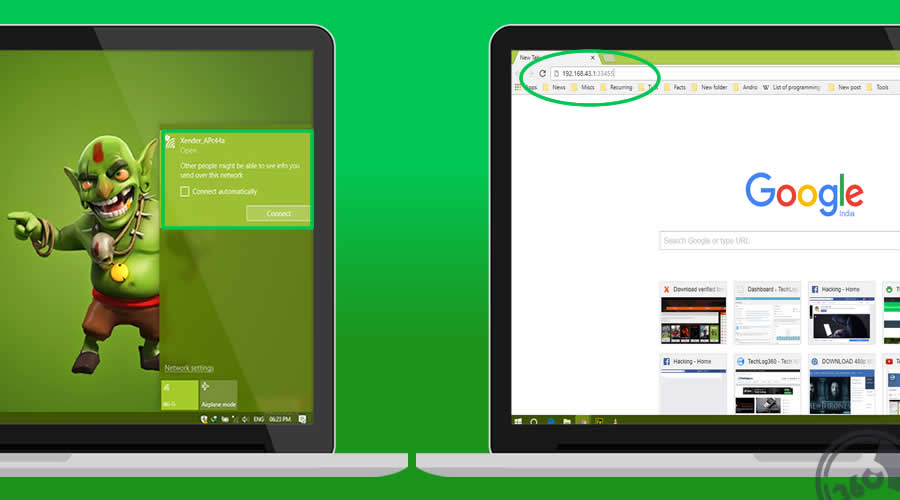 5. Next "Accept" connection permission that pops up on your phone to initiate wireless file transfer between your smartphone and computer.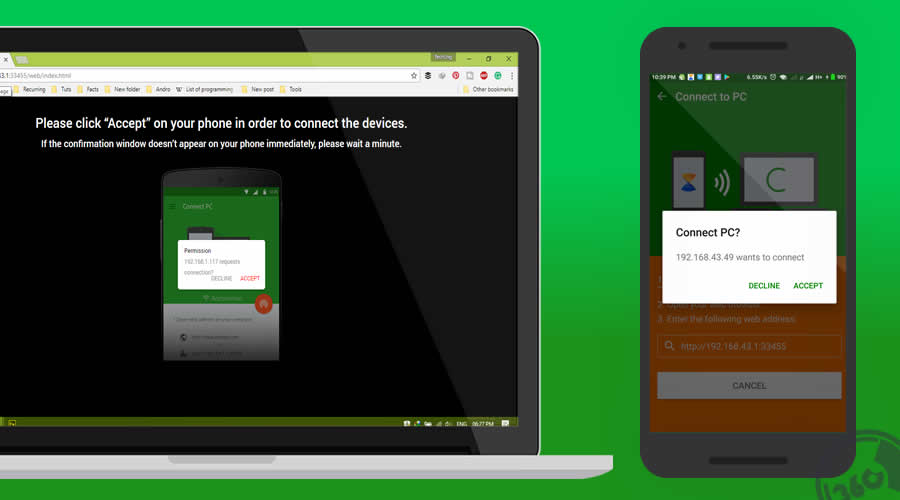 6. That's it. Now choose any category on-screen or file manager to upload and download files via Xender without the internet connection.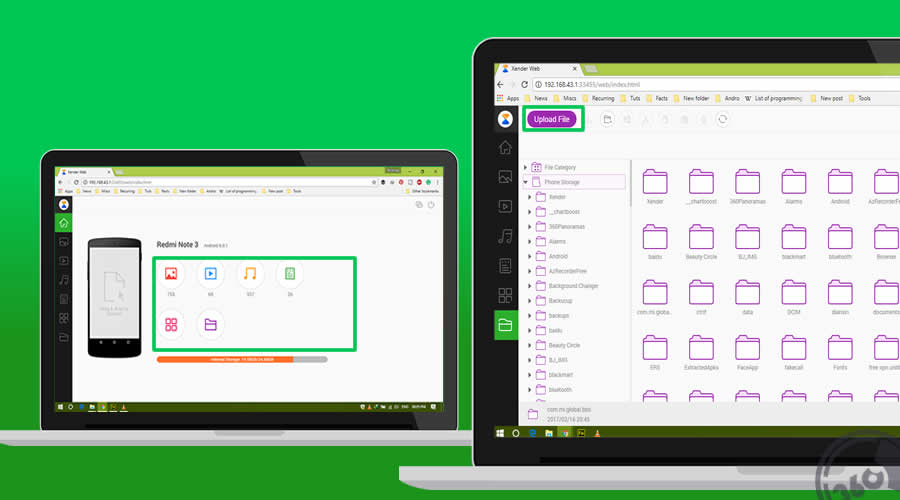 Method 2 — Transfer Files Wirelessly In Xender With Internet Connection:
If you like to transfer files in Xender with an internet connection, then make sure your Android smartphone and computer are connected over the same WiFi network that has internet access.
After that instead of tapping that circular button — that we mentioned in Step 2 of the first method — just open your computer's browser and enter "http://web.xender.com". And then tap "SCAN" on smartphone and scan the QR code displayed on your browser screen to initiate the connection.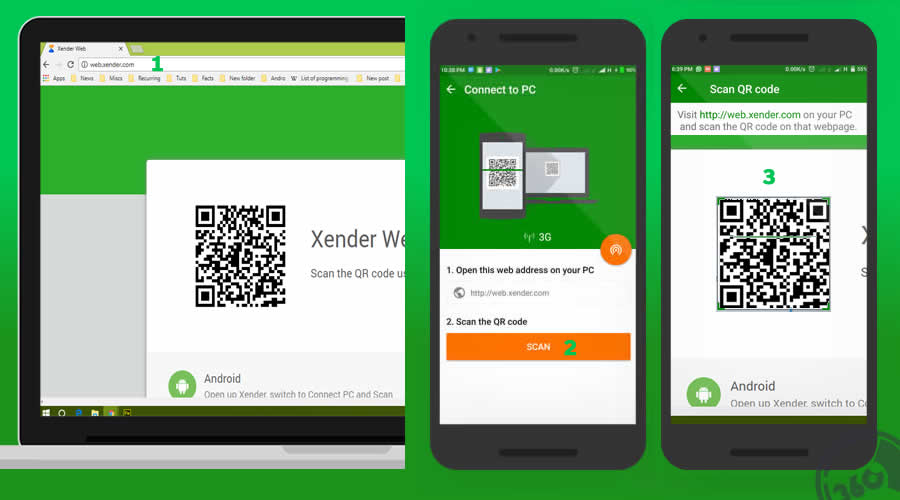 That's it. The only difference between wireless file transfer via Xender with and without an internet connection is while using the internet you have to scan QR code to interconnect Android smartphone and computer whereas with no data connection you have to connect devices via hotspot.
So how is Xender working out for you? Do you find wireless file transfer via Xender is quite easy when compared to other methods or tools? We would like to hear your opinions in the comment box below.
Also, check out our article about how to do wireless file transfer between PC and iPhone or iPad.